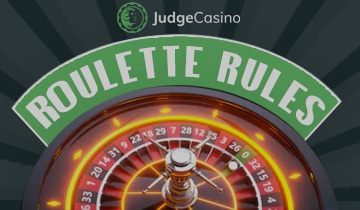 The roulette game has a long history: It first appeared during the early 19th century and in France.
According to an urban myth, it is invented by a famous mathematician named Blaise Pascal, as a result of his experiments on creating a perpetual motion machine.
We do not know whether this is true or not, but we are sure of one thing: This famous casino game first played in Monte Carlo casino and loved by the aristocrats of the era.
Casino roulette rules of that period were slightly different from the modern rules for roulette: There were additional betting options, for starters.
During the early 20th century, US casinos have adapted the roulette game and everything changed: Suddenly, lots of variants appeared (like Pinball roulette and alternative roulette) and casino roulette rules have changed.
To this date, we are still using the same rules for roulette online games and they are not complex at all: You can learn all the roulette rules in 15 minutes. Mastering them and playing like a pro, however, will take quite a long time.
And this is what our goal will be in this comprehensive roulette rules guide: We will explain what are the rules for roulette according to different variants, show you the rules of roulette payout, and give a couple of tips and tricks.
When you are done reading this roulette gaming rules guide, you will learn everything you need to know in order to play like a pro. Let's start!
Best Online Casinos Where You Can Play Roulette [2023] - Updated List
What Are The Roulette Rules? How To Play Roulette For Beginners
So, what are the rules roulette if you are a complete beginner? The first thing you need to know is online casino roulette rules and "real" casino roulette rules are the same.
These are not different games in regards to odds, winning chances, and the general ruleset. When you learn the rules of playing roulette, you can play any of these games: There is no need to start from scratch.
Of course, some variants of the game are slightly different (such as rules of American roulette) but we will talk about them too. Still, if you want to know how to play American Roulette, check our updated guide.
Now, take a look at the table before playing roulette: It tells you everything you need to know. Roulette table layouts are always the same, for classic or 3D roulette, and contain two things: A wheel and lots of numbers.
The numbers are actually your betting options, and the wheel is, well, a wheel that also contains the same numbers. The idea is simple: You will try to predict where the ball will stop on that wheel, and place a bet for that particular outcome.
For now, know that every roulette betting option has a different payout and a different odd, we will talk about these in detail below. The game starts when the wheel spins, and you need to place your bets before it stops.
Now, let's see how a sample game is played so you can understand roulette rules how to play better.
Roulette Rules For Beginners: A Step-By-Step Guide
To explain what are the rules for roulette, we will "simulate" a sample game. Let's say that you have launched the game for the first time or approached the table in a real casino. This is how it goes:
1) You will place roulette chips on to the table and on the spot where you want to bet. If you think that the ball will stop at red 7, for example, place your chips onto that spot.
2) The croupier will spin the wheel. If you are playing online roulette, you will be croupier – clicking on the "spin" button will be enough.
3) When the wheel stops, the ball will land on a random spot. If that spot matches the outcome you placed a bet on, you will be entitled to a prize according to roulette game rules payout.
4) If you lose, you can always try again.
Sounds simple, right? But you already know roulette table rules are not that simple: There are a ton of betting options to use and this seems like a complex game for that reason. Don't worry: The list above explained the basic rules which apply to all betting options. And once you learn what they are, you will be ready to play roulette. So let's start talking about how to play roulette rules in regards to betting options.
Roulette Betting Rules: How To Bet On Roulette
The roulette table contains lots of numbers, and each of them represents a betting option. Roulette rules on betting vary according to the variant you are playing. But there are some common roulette table betting rules too, which can be seen in every variant, even with the Mini roulette where there are only 13 numbers on the wheel. These are:
You can place a bet on a single number or a range of numbers.
You can place multiple bets at the same time.
You can place a bet on the "color". All numbers on the roulette wheel are either red or black (check here how to always bet on black in roulette), so there is a betting option for that outcome too.
You can also place a bet for whether the outcome will be an odd or even number.
So, these are the four basic casino roulette betting rules. Once again, there will be additional roulette rules betting according to the variant you are playing, but you can always be sure that these four options will be a part of the game.
And roulette rules minimum bets will be different at each casino: You may be required to place 1 coin for every spin or 1.000 coins for each bet.
Every roulette table has a different limit, and you should always check roulette minimum bet rules to find a game that suits your budget.
So far so good, right? Now, we can take a closer look at the roulette betting options.
Rules For Roulette Game Bets: What Options Are Available?
Rules for roulette game are always the same: You will always try to predict where the ball will stop on the wheel. Roulette bets, on the other hand, will be different for each variant.
The following casino roulette table rules will show you the common roulette bet types, which can be seen in every variant. We will also list betting rules of roulette for every variant, but let's start with the roulette rules basic betting for now.
Inside Bets
These bets are called roulette inside bets because they are physically located on the "inside" part of the table. As a general rule, these bets offer higher payouts but lower odds. Roulette players can really be rich if they win any of these bets, but the probability of that will be quite low.
EXPLANATION
Betting on a single number, i.e. red 7
Split Bet
EXPLANATION
Betting on two numbers, i.e. red 7 and black 4
EXPLANATION
Betting on three numbers that are on the same line, i.e. 1, 2, 3
Corner Bet
EXPLANATION
Betting on four numbers that form a square, i.e. 1, 2, 4, 5
Line Bet
EXPLANATION
Betting on six numbers on two lines, i.e. 1, 2, 3, 4, 5, 6
Outside Bets
And these bets are called outside because they are located on the outer sides of the table. Unlike inside bets, these options offer a very high probability but low payouts.
Professional gamblers who play the roulette game as a job always prefer outside bets, because they have a higher chance of winning. Sure, the payout will be lower but it will also be constant. In short, outside bets are the real gambler roulette.
Red/Black
EXPLANATION
Betting on whether the outcome will be a red or black color
Odd/Even
EXPLANATION
Betting on whether the outcome will be an odd or even number
Low/High
EXPLANATION
Betting on all numbers between 1-18 or 19-36
Column
EXPLANATION
Betting on a dozen (12) numbers
Dozen
EXPLANATION
Betting on all numbers between 1-12, 13-24 or 25-36
Remember that rules of roulette do not change no matter which betting option you pick. Also, there will be additional betting options according to the variant you are playing. We will explain these below, but first, let's talk about the odds and probabilities: Which roulete bets offer the highest winning chance? Moreover, what are the payout rules for roulette?
Roulette Rules And Odds: The Probability Of All Bets
First, let's talk about roulette table odds because knowing the probability of each betting option will give you an idea on which ones are better. Please note that the roulette rules odds are different for every variant: so the European roulette odds will be different from the American roulette odds.
In other words, the variant you are playing directly affects your winning chances. The roulette casino odds table below belongs to the European variant. Roulette odds payout will be different for the American variant, which we will also list below. By comparing the two tables you can see the difference between American and European roulette.
PROBABILITY (EUROPEAN ROULETTE)
Single
PROBABILITY (EUROPEAN ROULETTE)
2.7%
Split
PROBABILITY (EUROPEAN ROULETTE)
5.4%
Street
PROBABILITY (EUROPEAN ROULETTE)
8.1%
Corner
PROBABILITY (EUROPEAN ROULETTE)
10.81%
Line
PROBABILITY (EUROPEAN ROULETTE)
16.21%
Red/Black
PROBABILITY (EUROPEAN ROULETTE)
48.64%
Odd/Even
PROBABILITY (EUROPEAN ROULETTE)
48.64%
Low/High
PROBABILITY (EUROPEAN ROULETTE)
48.64%
Column
PROBABILITY (EUROPEAN ROULETTE)
32.43%
Dozen
PROBABILITY (EUROPEAN ROULETTE)
32.43%
This table clearly shows which bets offer the best winning chance. According to the roulette gaming rule and additional bets, these values will be slightly different, but you get the idea: Outside bets always offer the best odds.
In fact, three of these bets offer a winning chance of 48.64%, which is a pretty high figure. So, what is the roulette wheel payout according to these betting options? What kind of rewards you can expect?
How Do You Play Roulette With Different Variants
What is the payout on roulette? To answer that question, we will use the betting options listed above. This is because each bet option offers a different roulette payout, based on the probability. As can be guessed, the highest payouts belong to the betting options that have the lowest odds.
And since betting options are different at each variant, we must list roulette table payout values according to these variants too. Let's start with the European variant because it is the most common (and recommended) one.
European Roulette Rules And Payouts
When someone says roulette rules, the first thing that comes to mind should be the European roulette rules. This is the most common variant of roulette and due to its simple ruleset and increased odds, we recommend starting with this version.
Roulette rules European are based on the 37 numbers on the wheel, and there is a simple trick to understand whether you are playing the European variant or not: Simply look at the wheel. If there is only one zero, you are playing the European roulette (including free European roulette).
We already explained European roulette rules and odds above: So far, all of the information you are reading belongs to this variant. So, the only thing left is sharing the payout table, which can be seen below:
American Roulette Rules And Payouts
American roulette rules are mostly the same as other variants, but there is an additional betting option. Moreover, the wheel contains double zeros (0 and 00) so the American roulette table odds are different and lower.
In total, there are 38 numbers on an American roulette wheel. Traditionally, zeroes belong to the casino, and increasing their numbers will increase the house edge too. With the Triple Zero roulette the house edge is increased to 7.69%. First, let's see what this additional betting option is, according to the American roulette casino rules:
Basket: Betting on five numbers; 0, 00, 1, 2, and 3. This option is specific to American roulette. It includes both zeros, so the players are basically betting on that the casino will win.
Other than this extra bet, American roulette game rules are no different than the ones we explained above. This applies to American roulette payouts and even American roulette strategies too; they are the same as European roulette. However, we must list the probability and payout of the extra bet:
In general, we recommend you to avoid American roulette. The extra bet option is worthless; its probability is very low. And the house edge is higher, so your winning chances will be lower. You should prefer European roulette, which offers better odds and RTP rates.
French Roulette Rules And Payouts
French roulette is the original version of this game, and French rules for roulette payouts (and roulette payout chart) is the same as the European variant.
However, French roulette is the best variant of the game, due to its low house edge. In fact, the RTP percentage of this variant is better than the European roulette. This is due to its native rules, which are called "La Partage".
According to these rules, half of the wagers on all outside bets are refunded to players if the ball lands on zero. So, if the casino wins, you still get to keep half of your initial wager – this decreases the house edge and gives the edge to players.
Roulette Rules And Strategy: Basic Tips And Tricks
And now, we can start talking about roulette rules to win. There are a couple of tricks and rules for roulette, which will increase your winning chances.
1) Always prefer the outside bets. Due to their increased odds, these roulette bets should be preferred by beginners: Red/black, odd/even, and low/high. You have nearly 50% winning chance for these bets and this is a respectable figure. If you are feeling particularly lucky, you can try your chances on column and dozen bets too. Using strategies, like a
roulette dozens strategy
, wil help you too. However, outside bets should be your limit: Inside bets pay more, but you are less likely to win those. Betting on the inside bets will be a real gamble, but betting on the outside bets will be a calculated decision.
2) Pick the correct variant. For the reasons explained above, do not play American roulette. Yes, the rule for roulette is the same in this variant, but your odds are lower. Always prefer European or French roulette. In fact, French roulette with the La Partage rules will be the best variant you can play.
3) Keep track of your winnings and losses. Keeping records will let you analyze all of your decisions in detail. Why did you win, why did you lose, and what happened to your budget – by taking notes, you can answer all of these questions and more. Tracking your game history is also an excellent way of seeing whether a particular strategy works or not.
4) Practice on online roulette games. Roulette online rules are the same as casino roulette, but there is an important difference in regards to gameplay: You can play the online version of this game for free. There are lots of free online roulette games and their rules and the odds are the same as the real money versions. So you can practice, test strategies, and have fun completely for free, without taking any financial risks. Even if you are a pro, prefer free online roulette games to make practice. We can give you some suggestions in this regard, check our online casino reviews section.
Remember that these roulette rules and tips won't guarantee to win, but they will give you a better chance and slightly increase your odds. In addition to these tips, there are also a couple of roulette systems that are used by the players for a long time, and each one claims to be the
best. But is this true? Can you really use a "system" to guarantee to win in roulette? Well, let's find out: What are the casino roulette table rules when it comes to systems and strategies?
A Study Of Roulette Rules Strategy And Systems: Which Ones Work?
So, how does roulette work, exactly? Are there roulette strategies that work? Well, there are lots of systems that make this claim, and each one offers a different tactic. Strategies like Martingale, D'alembert, and Labouchere are progressive betting systems. There are also strategies that aim to cover as many outcomes as possible, such as the James Bond roulette system or roulette split bet strategies. These strategies do not change the roulette rules and regulations, but try to "exploit" them. So, how do they work?
Progressive Betting Systems: These systems are based on the idea of "every player will win sooner or later". As the name suggests, they require increasing the wager progressively and after every loss. For example, the Martingale system requires doubling the bet amount after a loss. So, if you start to play with 2 coins and lose, your next bet should be 4 coins. This will go on until you score a winning. All other progressive betting systems are built on the same idea, more or less. Some require to increase the bet amount according to a certain set, some ask you to increase after every win but decrease after every loss. In any case, your wager will keep increasing as long as you keep playing and losing.
Multiple Outcome Systems: These systems try to cover more than half of the roulette wheel. In other words, they ask you to bet on multiple outcomes. James Bond strategy, for example, asks you to bet on 13-18, 19-36, and 0 at the same time (25 numbers in total). Since there are 37 or 38 numbers on the wheel, you will always be covering more than half of all the betting options.
So, which one is better? They can really increase your odds? The answer is no, unfortunately. None of these systems can change the roulette payout rules and odds. So no matter which one you are using, your chances of winning will stay the same. These systems focus on bet amounts for this reason: They are aware that the rules cannot change the odds, but you can still affect the potential prize by changing the bet amounts. In short, they are based on the idea of "when you win, you will win enough to cover all of your losses". That's why you keep increasing the bet amounts or place bets for multiple outcomes.
Such tactics can work but only if you have a big budget to back you up until you start winning. These systems cannot guarantee anything but assume that you cannot lose forever and there will be a win sooner or later. This is true, but since your wager keeps increasing, you have a limited time frame to start winning before your budget depletes. If you are lucky enough to score a win in that frame, yes, they work. If you are not, no, they don't work and may cause you to go bankrupt. If you are a casual player, do not use any of these systems and just keep betting on the outside bets – this is the best advice we can give to you.
Roulette Games Rules FAQ
Roulette is a game based on luck but its rules are based on mathematical principles. The house edge is fixed and cannot be changed, no matter the system or strategy, the house always wins in the long run. All you can do is wager on the best bets that offer a high probability.
There is none. We used a roulette simulator and spin the wheel 300 times. The numbers that appeared the most were: 20, 29, 5, 2. So does that mean that these are the most common numbers? No. If we keep using the simulator and spin the wheel for another 300 times, these numbers would change.
House edge is the number that shows how much money the casino will win from your bets in the long run. If your initial investment is €100 and the house edge is 2.70%, this means the casino will win €2.70 from your €100 bet and your losses will be limited to €97.30.
In terms of winning chances; odd/even, red/black, and low/high are the best bets. Column and dozen bets offer the best risk/payout ratio. So, in general, outside bets are the best. Inside bets, on the other hand, requires being very lucky and cannot be considered a good option.
2.70% is the house edge rate of European roulette, but this figure is less than 2.00% in French roulette. It goes higher than 5.00% in American roulette. So, the best variant you can play is the French roulette. The European version is the next best thing. Roulette rules directly affect the house edge percentages.
This is a term for the roulette table. As mentioned above, the table contains all of the betting options, so it is called a "betting board" too. It will be slightly different according to the variant you are playing. For example, the betting board of French roulette contains additional betting options (and French terms, obviously).
This depends on your personal preference, roulette rules and odds are the same for both. If you pick a "real" casino you need to be "physically" there, which will require a budget for travel expenses too. Online casinos are much more practical and allow you to play the same game, without any restrictions.
Live roulette games offer lots of variations, based on the European roulette. You can see lots of options with interesting names, such as Lightning Roulette and Speed Roulette. The main rules of roulette (and the payouts) are the same, but there are additional prizes for certain outcomes.
According to roulette rules, yes, this is allowed. You can fill every spot on the table with chips if you want and bet on all possibilities. You will surely win that bet but you will lose more than your prize. Covering the entire wheel is possible but still result in a net loss.
There are three colors on the roulette wheel; red, black, and green. Zero (or zeroes) is always shown with green. This number(s) belong to the casino, if the ball lands heret, the casino wins. So, betting on green means placing a bet on 0. You place a single bet with a 35 to 1 payout.
Learn Roulette Terms And Rules, Play Online Roulette Today!
You have learned what are the rules of roulette – now, you are ready to collect roulette winnings. You can play this game at real casinos or online casinos, but we recommend using casino sites.
Roulette game rule in casino is the same for both versions, but online casinos offer the option of playing for free and an increased variety. French roulette, for example, cannot be seen in most of the real casinos, but you can easily find it at casino online websites.
And if you pick one of our recommended online casinos, you get to play roulette with advantageous bonuses and against real dealers. So, go ahead and choose one and create an account today: That wheel won't spin itself!
We will update this roulette rules guide often and keep suggesting you new Bitcoin roulette sites, as well as the latest roulette tips and tactics. You can also find additional roulette guides on our website, such as the best way to bet on the highest number on roulette wheel, so don't forget to take a look at them too. Good luck and see you at the tables!
Also, you might like these articles too: