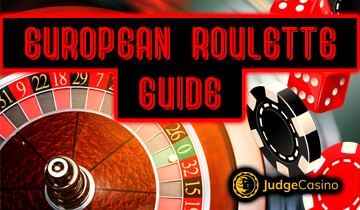 If you like to play casino table games in their original form and take advantage of higher payouts, European roulette will be the best choice for you.
This is the most common variant of roulette and it is very popular among players: You can find it in almost every online casino.
If you are thinking about trying European roulette online, make sure to read our guide first: We explain the roulette rules, payouts, and betting options of this variant.
Moreover, we share a couple of roulette strategies that work.
This will be a guide to playing roulette with European rules and it contains everything you need to know: Let's start.
Top 10 online casinos where you can play European roulette [2023]
What is European roulette game?
European roulette vs. American roulette: What is the difference?
American roulette and European roulette are the two main variants of this table game. There are two main
differences between American and European roulette
: The American variant has two zeros (0 and 00) on the wheel instead of one, and it offers more betting types, such as the "basket bet".
Thing is, the double zeros increase the house edge percentage of the game (so it favors the casino) and basket bet is known as "one of the worst bets in roulette". In short, while the general rules are the same, the American variant of this game offers less RTP (return to player) and should not be preferred, especially if you are playing high stakes roulette online.
European roulette wheel & table layout
Let's keep explaining European roulette with some visuals, so you can understand what your goal is. We will start with the European wheel layout.
These are the European roulette wheel numbers: As you can see, there are 37 numbers in total. According to European roulette rules, you can place a bet on any number (i.e. red 7), a range of numbers (i.e. 4, 5, 6), a color (red or black), or the type of the outcome (whether the number will be odd or even).
The dealer spins this wheel, throws the ball on it, and players can place their bets until the wheel stops spinning. Speaking of placing bets, you can do this by placing your chips on the roulette table. This is what a European roulette table looks like: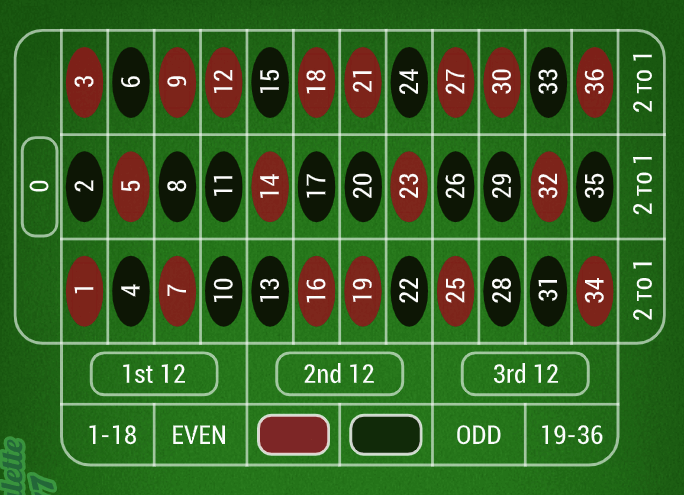 While it looks complex at first sight, the table is actually quite simple and easy to understand: Each option on this table represents a different bet. For example:
If you place your chips on black 3, you bet on a single number (and the outcome will be black 3).
If you place your chips on red 4, black 7, and red 10, you bet on multiple numbers.
If you place your chips on "1 to 18", you bet on all numbers in this range.
As can be guessed, each option offers a different payout and probability. Roulette payouts, (including European roulette payouts) are calculated according to how likely that outcome will occur. If the probability is high, the payout amount is low (for example 1:1). If the probability is low, the payout will increase (e.g. 35:1).
European roulette house edge & RTP percentages
Bet types in European roulette online
According to which numbers are included, there are two bet types in online European roulette: inside and outside bets. This distinction is based on the placement of numbers on the roulette table (inner-outer sides of the table), we can say that it is also based on how many numbers you bet on. Take a look at the roulette outside bets & roulette inside bets table below to understand what you are actually betting on:
European roulette inside bets
EXPLANATION
Betting on a single number, i.e. red 20
Split Bet
EXPLANATION
Betting on two adjoining numbers, i.e. red 4, black 7
EXPLANATION
Betting on three numbers in a horizontal row, i.e. 4, 5, 6
Corner Bet
EXPLANATION
Betting on four numbers that form a square, i.e. 16, 17, 19, 20
Line Bet
EXPLANATION
Betting on six numbers on two adjoining rows, i.e. 7, 8, 9, 10, 11, 12
European roulette outside bets
Dozen/Column
EXPLANATION
Betting on 1st 12, 2nd 12, or 3rd 12 numbers
Red/Black
EXPLANATION
Betting on color (red or black)
Odd/Even
EXPLANATION
Betting on whether the outcome will be an odd or even number
Low/High
EXPLANATION
Betting on 1 to 18 or 19 to 36 (all numbers in this range)
European roulette payout & odds
You learned the bet types so it is time to talk about European roulette odds and payouts. Once again, we will use a simple table to show European roulette probability and how much you can win for each bet:
This table also shows the best numbers to play in roulette: However, since we have a separate article for this, we will just state the obvious here: You can learn more about this topic by reading our other articles.
How to play European roulette?
Whether you play free European roulette or try your luck with real money, the steps you need to follow are the same:
Step 1
Start by placing your chips on the bet option you picked. For example, if you want to place a straight bet, place your chips on a single number on the roulette table. You can do so by dragging & dropping the chips with your mouse and you can click multiple times to increase the bet amount
Step 2
Click the "spin" button
Step 3
The wheel will spin automatically and display the result in a few seconds. If you win your bet, you will be paid according to the paytable we shared above. If not, repeat the same steps until you win
Online European roulette vs. European roulette live
Pros and cons of playing European roulette
Easy to learn
Higher RTP when compared to the American variant
Easy to find – available everywhere
Almost all other variants are based on European roulette
French roulette offers even higher RTP
Variants with bonus bets increase the house edge
European roulette tips & tricks for beginners
There is no perfect
European roulette strategy
, but we can share a couple of
roulette tips
& tricks that will increase your winning chances.
You have seen the probability rates above: It is clear that outside bets are the better option. In three options (odd/even, red/black, low/high) your winning chance is as high as 48.60%. Simply put, you will be much more likely to win your bet.
Do not use progressive betting strategies (i.e. James Bond roulette strategy, Fisher roulette strategy, etc.) if you don't have a big bankroll that can cover your losses until you win. Otherwise, you can go bankrupt very quickly. Instead, use a roulette money management system that will help you to use your bankroll more efficiently.
Before playing European roulette online for real money, make sure to practice with free roulette games: They have the same rules, betting options, and RTP & house edge rates.
When you play with real money in Latvian online casinos make sure to use a bonus: Cash bonuses of casinos can create a free bankroll (or boost your current bankroll) to play this game. We have a list of the best online casino European roulette bonuses: Check it to pick a promotion. Also, start with low stakes roulette and/or penny roulette if you are a beginner: Do not wager big amounts before you learn how to play.
Frequently Asked Questions about online casino European roulette:
You can't. Each spin is different and the results are random. Mathematically, there is no way to guess which number will be the next result: The odds and probabilities are "reset" at each spin.
All of the outside bets (odd/even, red/black, low/high) will be the best options due to their high probability. You can also prefer dozen/column bets, they offer a nice risk/payout ratio.
Place your chips either on red or black: As long as the color of the outcome matches your pick, you will win the bet, no matter what the actual number is.
If the casino has a "live dealer" section, you can. European roulette is the most common variant of this game and it always has a live casino version too.
The payouts of roulette do not differ according to the variant. Straight bet, for example, always pays 35:1 in all roulette types. The probabilities of these bets, however, are different and better in European roulette.
You can use the images & tables we shared above. However, unlike blackjack, you don't need to make the "better choice" on each hand: A cheat sheet won't be that useful.
Sure you can. Like all other popular casino games, European roulette can be played on mobile too, no matter what your device/operating system is. In addition, no download is needed for
mobile roulette
.
Spin the wheel, play online European roulette game today
That's it: You have learned what European roulette is, how to play it, and how much the bets pay. You can start playing it right now by choosing one of our recommended online casinos: Each of them offer multiple online European roulette games to play and the best bonuses to use.
We are sure that you will enjoy European roulette online: Make sure to read our other articles to learn more & increase your chances. Read our guide about the highest number on roulette wheel and see which are the odds of winning. As always, we wish you good luck: See you at the tables!