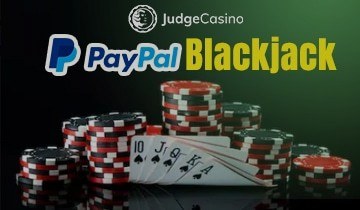 Any player who is considering playing blackjack on the internet may wish to try their hand at PayPal casinos offering blackjack casinos.
These types of online casinos generally carry a large number of top blackjack online games, but at the same time, they aren't shy about offering players access to the leading e-wallet banking option, PayPal.
In this casino article, we will look at why using PayPal to play blackjack online can be a good thing, where to find the best sites offering this service, and how to get started.
Without further ado, let's get an overview of where PayPal casinos are at in 2023.
Top 10 Online Casinos where you can play Blackjack via PayPal:
PayPal Casinos in 2023 - What Are PayPal Casinos?
As you may well be aware, many top internet casinos now accept PayPal. As one of the leading e-wallet and online banking services on the net, playing blackjack online and depositing money with PayPal makes for an ideal online casino gaming experience.
Not all instant play casino sites currently offer PayPal. In the days before the UIGEA (Unlawful Internet Gambling Enforcement Act) of 2006, quite a few US casinos did provide this payment method, as did many top European casinos.
Few of them do so now. However, in the United Kingdom, PayPal is beginning to see a resurgence at casino sites, and it is gradually returning to European domains, too.
A Bit About PayPal
You must have been living under a rock for the last two decades if you haven't heard of PayPal. Even so, our guide will help you understand what it is and how it works.
For those of you not in the know, PayPal is an online e-wallet and one which allows players to transfer cash from their bank to a merchant (be in an online shop, or in this case, a casino) without having to provide the merchant with your card details.
The way that this works is simple enough to grasp. Players who want to use PayPal to play blackjack online need to transfer money from their bank to their PayPal e-wallet.
From there, they can send that money on to the casino, using only their PayPal log-in details, even for exotic industries like online casino Ukraine places.
This method means that the casino will never know your bank account details, only your PayPal ones.
This is a valuable added security measure in a world where keeping your bank details private is of the utmost importance.
Make a PayPal Payment to Play Your Favourite Blackjack Games
If that all sounds rosy, you're probably wondering how you can use PayPal to play blackjack? What is the exact process? A few short steps will have you up and running in no time.
Step 1: Before you can play blackjack with PayPal, you need to sign-up for a PayPal account. It is free to do so.
Step 2: Players need to link their PayPal account to their bank card. After confirming this, they will be able to send money from their bank to their PayPal account.
Step 3: Sign-in to your online casino. On the cashier's page (if they accept PayPal), players will be able to enter their PayPal account details, as well as the figure they wish to deposit. A confirmatory page will open up with PayPal details. If it is correct, verify the transaction by logging into your account.
Step 4: The money will instantly find its way into your online casino account, so you can start wagering on your favourite blackjack games.
Now that you have funded your online casino account, you can start playing your favourite blackjack games online. There are numerous games to choose from. Amongst the most popular online games you can play are: American Blackjack, Blackjack Surrender, Blackjack Switch, Classic Blackjack, Double Exposure, European Blackjack, Face Up 21, Live Dealer Blackjack, Multi-Hand Blackjack, Perfect Pairs, Pontoon, Single-Deck Blackjack, Spanish 21 match the dealer Blackjack, and Vegas Blackjack, of which there are several variants.
You may also want to take a look on our NetEnt casino PayPal list.
Why Use PayPal to Play Online?
As we've already said, playing blackjack at a PayPal casino is hugely advantageous. Players can rapidly transfer funds without security risks, and since most players will already own a PayPal account from shopping online at retailers such as Amazon and others, many won't even have to make the effort of signing up for a new account in the first place.
What to Look for in a PayPal Casino
We regularly keep an eye out for the best places to play blackjack online for real money with PayPal. You can always opt to find a suitable site yourself, although you will find top-notch places to play with our online PayPal casino reviews.
We give each of these sites our seal of approval. We don't do this lightly, though. Approved sites must jump through all sorts of hoops and offer a wealth of services to win us over.
Play at Our Recommended PayPal Casino Sites
Playing blackjack at online casino sites that accept PayPal is a doddle. Our trusted sites offer blackjack online with PayPal banking options assured. Some of the nifty features our recommended casinos must offer to win our seal of approval include.
Hot Welcome Bonuses: Our recommended casinos must offer blackjack-friendly bonuses and ones which do not saddle players with huge wagering requirements.
A Vast Array of Games: We expect blackjack casinos to offer a wealth of top games, with many variants from a surplus of providers available.
Robust Security and Safety: Using PayPal makes things secure, but we also expect our PayPal casinos to offer additional security, such as licenses which confirm that they are regulated, audited and provide fair play gaming.
Quality Customer Support: Only casinos which offer quality customer support (free of charge) are represented in our collection of top sites.
Speedy Withdrawal Options: Online casinos which offer blackjack for PayPal users will naturally provide rapid withdrawal times for players. In many cases, an online casino PayPal withdrawal will be processed in 24-48 hours.
Complete Compatibility Across Devices: If you want to play live blackjack with PayPal, or fancy a touch of mobile blackjack using a PayPal-friendly app, then our recommended casinos can show you the way.
Fees and Banking with PayPal at Casinos
Playing blackjack with PayPal is generally easy to do. We've already walked through the four-step process to depositing and playing online blackjack with PayPal. But we should also talk about fees.
Making a blackjack PayPal deposit at casinos is typically free of charge. Moreover, withdrawing your winnings from a casino should also come without a cost. However, players may face a small charge when depositing into their PayPal account from their bank.
These fees are often minimal, and worth it if you wish to play blackjack with PayPal. Fees may vary from region to region.
Generally speaking, fees are applied when you receive money from a purchase, you accept payments from outside your region (or country in some cases), when you send payments with a debit/credit card, or when you send money from PayPal using a debit/credit card.
Playing Online Blackjack at PayPal Casinos for Real Money
The types of blackjack games with PayPal you can play may very well depend on where your casino is located. UK casinos accept PayPal, so playing blackjack online for real money with PayPal will be possible on games from providers who cater to players in the UK.
Some providers who cater to players in the US will have games that you cannot play. Those casinos do not accept PayPal payments, so there are of no use to us. Therefore, games that are aimed at US players aren't accessible for PayPal blackjack gameplay.
Live Dealer Games Can Be Played, Too
Aside from just RNG (random number generator) blackjack games, players will also find a wealth of live blackjack sites that take PayPal. Quite a few developers are now involved in live dealer game software, and the number of live blackjack games you can play online is growing all the time. Many of these now appear at casinos which accept PayPal.
Finding and Playing Real Money Blackjack Online
The first step to enjoying PayPal-friendly blackjack games is to find a casino which accepts the payment method. Most sites list their payment method providers at the bottom of their lobby, and via a cashier page.
However, if you want to play online blackjack for real money with PayPal, and don't want to do the homework yourself, our online blackjack PayPal casino reviews will help you.
If you do want to search for yourself, there are few things to consider.
Top Things to Consider When Playing Blackjack by Paypal
Get your pen and paper ready. There are a few tell-tale signs that separate great casinos from bad ones. The first task is obviously to find blackjack sites that accept PayPal.
Aside from that, players will also want to look for domains that offer a wealth of games, that are licensed out of respectable gambling jurisdictions, and that have a few years of experience behind them.
Moreover, customer support, fair promos and bonuses, and the ability to play blackjack with PayPal and not see your money lost to withdrawal fees is also a perk.
Advantages and Disadvantages: PayPal Perks and Drawbacks
If you're genuinely considering playing blackjack online with PayPal a go, you should know that there are advantages and disadvantages to doing so. Most of these also apply to Bitcoin blackjack and Dogecoin blackjack.
Of course, the pros by far outweigh the cons, and these include…
Instant Deposit Times: Playing blackjack by making PayPal deposits will see your funds land instantly in your account, and free of charge.
Secure Transactions: As PayPal is an e-wallet, you don't need to hand over your bank details to your casino.
Rapid Payouts from Casinos: In most cases, if you win, PayPal money withdrawals from online blackjack casinos are processed within 24-48 hours, sometimes even speedier.
The Payment Method You Already Know: You probably already have an account with PayPal if you shop online. This saves you the grief of signing up for a new account.
Easy to Use: If you are new to PayPal, you will find that the e-wallet is incredibly simple to navigate and use.
Mobile-Friendly Banking: PayPal also has a downloadable app for iOS and Android users, so you not only play mobile games on the go but deposit and withdraw on the move, too.
It wouldn't feel right if we didn't tell you about the drawbacks of playing blackjack using PayPal. These are minimal, but you need to know them anyway. They include:
Lack of Worldwide Coverage: Not all countries accept PayPal, and an even fewer number of casinos actually accept it. This is starting to change, though.
Fees and Charges: You may find yourself charged a fee at online casino for using PayPal, or for topping up your PayPal balance. These PayPal fees vary from site to site, and region to region, though.
A Quick Question - Our Paypal Casino FAQ Guide
If you still have questions and don't quite feel ready to make the jump to playing blackjack online, this brief FAQ might answer a few lingering questions you may have.
No. Most of the major online casinos will accept PayPal, but not all of them. Many PayPal casinos are only available in certain countries. Our reviews will help you find which ones accept PayPal.
PayPal is legal all over the world for the most, but that is primarily for shopping online. Playing real blackjack online for money with PayPal is trickier. If you're based in the United Kingdom or parts of Northern Europe, the most prominent casinos will accept PayPal.
If you want to play at a specific casino, and they do not accept PayPal, there are other options open to you. Skrill and Neteller represent two of the most commonly used e-wallets. They offer very similar services and are accepted across the globe.
Probably. PayPal is making a comeback at online casinos. It is already becoming a dominant force in the UK online gambling industry, so don't be surprised to see casinos offering you the chance to play blackjack with PayPal in other countries in the immediate future.
Ready to Go? Let's Start Playing Online Blackjack at PayPal Casinos!
You may have already known a fair bit about PayPal already, and if you didn't, then you should now consider yourself knowledgeable enough to start playing online.
By using our reviews, you can find what blackjack sites accept PayPal, which makes for an ideal and rapid start to playing at the finest PayPal casinos online. With our page, the latest PayPal casinos are just a click away.
Other related articles you might like: