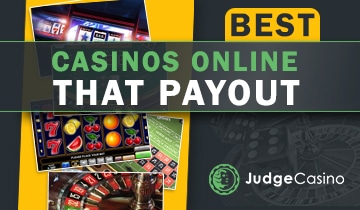 Everybody wants to play at the best paying online casinos, don't they? Many players might already be members of decent online casinos.
However, there is arguably always going to be a better paying online casino out there for them.
Wouldn't you want to be sure that you're playing at online casinos that actually payout?
Finding online casinos with the best payout rates and methods is the focus of this piece.
With our guide, we can ensure that you're a member of the best online casinos that payout.
When finding such casinos, we look at RTP and payout percentages. We also look at payment methods and processing times.
We've covered the lot for you here. It is time to find out if you're playing at the best payout online casinos and if not, we'll show you how you can get started at one.
Best Payout Online Casino Sites [2019] - Updated List
More Variety and More Choice When Playing Online
Firstly, we need to look at land-based casinos versus their online cousins. Which type of casino is best for you if you want games which pay better and faster payouts?
In almost all cases, online casinos tend to come out on top. When winning small sums of cash, a land-based casino will give you your winnings instantly, but when it comes to large, vast sums, you'll likely end up with a cheque or bank transfers.
These will take just as long as online casinos. It is also worth noting that some of the fastest payout online casino sites offer e-wallet withdrawals, and these can give you access to your winnings in just a few hours, sometimes less.
While there is no doubt that the prizes in games at land-based casinos are decent, the jackpot prizes (both progressive and non-progressive) in online games usually trump them. Land-based slots tend to have adjustable payout rates, which are set by the casino themselves.
You're not likely to be able to know what they have been set to, and you will only have a few brick-and-mortar casinos to choose from. However, in the online casino world, players have lots of choices when it comes to the highest payout casino online.
In a bid to keep players away from the competition, online operators tend to keep RTP rates (which we will come to in a moment) in slots set to their default level, making them easier to figure out. That level is chosen by the software provider, not the casino.
All put together, this means that if you want top prizes and speedy access to your winnings, online casinos are the way to go.
The Overriding Factors in Online Casino Payouts
What ultimately decides whether an internet site is amongst the best paying online casino domains? As touched upon, the best online casino payouts will be processed by super speedy transactions.
These instant payout casinos will also offer a decent array of games for you to choose from, each with fair and fixed RTP (return to player) rates.
Not every game you will find online is going to be a winner. Many players prefer slots, but those players after more authentic online casino experiences may wish to try their hand at traditional casino table games.
Slots VS. Table Games
Most table games will feature even money payouts in their games. However, betting obscurely on events which are less likely to occur, such as a straight-up bet in roulette, could see you win prizes worth 35:1, instead.
However, the range of vast cash prizes in table games and video poker seldom tend to offer better pay rates than 500:1. By contrast, even the most primitive online slot machine games will offer prizes worth around 500x your bet with increasing regularity.
Some slots also dish out progressive jackpot prizes worth many millions of dollars, which is substantially more than anything you can ever win on a blackjack or roulette table. The highest payout online casino games tend to be online slots, then.
When it comes to games, casino payouts are often (though not always) determined by the software providers, not the site themselves. The best payout online casinos will ensure that the range of games they carry is broad enough to satisfy all players' needs.
This means having a decent selection of top table games, perhaps a few live dealer titles, and of course, a spectacular collection of the fairest paying slot games online.
House Edges, Payout Percentages, and Volatility
Even if you've decided to play slots, you'll note that there can be a gulf between what one game can payout and the prizes available in another. Prizes aren't the only thing to consider when looking at games at the best-paying casino sites online.
We need to look at house edges, payout percentages and volatility. Combined, the rates you can find in all the games carried at a casino will go quite some way in determining whether it is amongst the highest payout online casino sites you can play at.
We're sure you have some idea what these features are, but if not, let's have a quick look:
House Edge: Casino games aren't played with an equal chance of success for the player and the casino. The edge is the percentage which covers how slanted a game is towards the casino. For instance, blackjack is often thought of as a 50-50 game, but it isn't really. The "dealer" wins all losing bets (even if they bust). This, and other aspects of the rule ensure that the house has a tiny advantage of you, and that advantage is known as the edge. It is often expressed as a percentage. House edges commonly appear in table games and is usually anywhere from 0.5% up to 5%.
Payout Percentages: These are also known as RTP, which stands for return to player. The RTP rate is the percentage of winnings paid out to players. For instance, if a slot machine has an RTP rate of 96%, this means that it will payout 96% of all stakes it receives as winnings. However, it is key to note that this doesn't mean that you will get 96% of every $1 you wager back. That is one of the biggest misconceptions about slot RTP. The payout percentage is programmed and calculated on an infinite number of spins (which means all players' wagers, not just your own). That 96% is likely to be shared amongst many players. You may end up with a large chunk of that, or none. However, what the RTP rate does show is that a casino is dedicated to pay out 96% of anything all players bet, keeping only 4% for themselves. The higher the RTP of the games a casino carries, the fairer the casino.
Volatility: Also known as variance, this feature determines the value of any winnings paid out. A slot of low volatility or low variance is deemed to be low risk. It will pay out winnings frequently, although they tend to be low in value. This type of game is ideal for players on a budget. By contrast, highly volatile or high variance games do not pay out often. When they do, though, the wins tend to be considerable in value. Because you can go lengthy periods without a win, these games are high-risk options, most suitable for players with substantial balances to tie them over during losing streaks.
Averages and Estimates: A Typical, Fair Online Casino
Online casino sites with the highest payout percentages tend to be those with considerable numbers of slots. This is because slots payout more frequently than table games, as mentioned. On average, most modern video slots will have RTP rates of around 95% to 96%.
These figures are the industry standard in 2019. We wouldn't recommend a slot which has an RTP lower than 95%. Naturally, any game which has a payout percentage of 97% and up is well worth your time.
For table games, it is a lot trickier to calculate. However, the best paying casinos will generally have table games which feature house edges of no more than 5%.
The best online casino sites that payout to players will not only feature good payout percentages in their games, but they will have those rates, audited and verified by independent auditors. This is the next topic we need to look at.
Audited, Checked and Legal: Certificates of Fair Play
There are several organisations which ensure that casinos are offering fair play games. They regularly test and audit the games at casinos and ensure that they are paying exactly what they claim to be to players.
Any casinos which have been inspected and examined (and passed with flying colours) will receive a certification. Those certificates identify them not only as the best online casino sites with the highest payouts but also as a safe and secure, fair places to play.
eCOGRA is the leading auditor in this regard. However, casinos with TST (Technical Systems testing), iTech Labs and GLI (Gambling Laboratories International) certificates will also be amongst the best online casino sites for payouts.
Any casino sporting these credentials will likely display them at the foot of their lobby next to their licensing information, so they are easy to spot.
Where To Find Info Related to a Casino's Payout Percentages
While you're examining the lobby for those fair play certifications, you may want to have a look for a site map or other buttons. There will generally be one for payout percentages, too. The highest payout percentage online casinos will want to advertise that fact.
Online casino sites with the highest payout rate will regularly display how often their games have paid out winnings to players.
These are often expressed in reports, spanning either the previous month, quarter or six months. These, too, are frequently found at the foot of the lobby and make for exciting reading.
A casino is not required to publish their payout percentages on their domain, though. If you don't see such information, it doesn't necessarily make a casino a lousy place to play.
If they have one of the certificates mentioned above, that is a good indication that they d have high payout percentages. Moreover, you can always request that information from customer support.
The Fastest Paying Online Casinos
It is no good having great RTP and house edges in games if a casino fails to deliver fast and reliable payouts. It is also worth noting to see if your chosen site is one of the best casinos which payout fast.
Top payout online casino sites will generally feature plenty of payment methods. However, those which offer e-wallet and Bitcoin methods usually tend to be the best online casino sites for fast payout options.
E-wallet and Bitcoin transactions can often be processed in a few hours or less, which is far superior to bank transfer or card options.
As well as speed, the best online casino payouts will be processed without fees and lengthy pending periods. The best payout online casino sites will also carry low wagering requirements on their promos and bonuses.
Why is this important? Well, the longer it takes you to clear wagering requirements on any bonuses you have claimed, the greater the wait you will have to pocket your winnings.
Where to Find the Best Paying Online Casinos
You can always Google online casino sites with the highest payout percentage, and you'll get an array of hits. However, how can you trust those results?
Some casinos deliberately promote themselves through dodgy affiliates. Instead, there is a better way. We have plenty of reviews of quality casinos, all of which come highly recommended.
Why not use our casino review site to find fast payout online casinos? You already know what we look for.
You can rest assured that any internet casinos we recommend all meet the standards described above and are amongst the best paying online casinos around.
Highest Payout Online Casino FAQ:
Yes, but that shouldn't be your only priority. When looking at the best online casino payout percentages, you should also factor in the speed of the withdrawal options, the selection of game, low wagering requirements, as well as licenses and certificates, for all the reasons we have listed earlier.
The licenses and certificates that an online casino carries should ensure that it is safe and genuine. Alternatively, any domain which has received our seal of approval is amongst the best for fast online casino payouts.
Slots tend to feature the highest payouts. If we're talking about cash prizes, then progressive jackpot slots win the day. Slots with RTP rates of 96% or higher are a good value for money but having a high RTP rate in games doesn't necessarily mean a slot can offer massive prizes, though.
They shouldn't. Online casino games have will generally have the same RTP, no matter where you play. Land-based casinos are different, though, and these are set by the owners, who frequently change them. The highest payout ratio is found at online casino sites.
You can win all you want, but if you can't cash out, a site can hardly call itself the best "paying" casino. You kind of need the "paying" part. Having a choice of different banking methods when it comes to online casino payouts is a plus, and low wagering requirements on bonuses allows you to cash out your winnings quickly.
Slots generally use RTP, and table games typically talk of house edges. Some slots permit players to adjust the level of volatility (variance) in the game, which naturally adjusts the RTP. Others allow players to buy bonus rounds or purchase features directly, raising their odds of landing a win. This also changes the RTP rate. Aside from those options, there isn't much you can do about slot RTP.House edges in table games can be adjusted (even if only marginally) by using betting and gaming strategies, though. A site with the best online casino payout rates will likely carry several different "variants" of the same table game (such as blackjack), and these will feature varying house edges. They will also carry a wide range of slots, allowing you to choose a game with your desired RTP if you can't change it via the means mentioned above.
They are not rigged, as such. Almost all casinos games are designed to favour the house; this much is true. However, they aren't necessarily programmed to see the house win. The phrase "the casino always wins" is not accurate. It doesn't mean that casino games are rigged, so casinos always win; it means that with the "edge" in play, the casinos will generally win something. In the case of slots, the best payout online casinos around win 4% of every wager in a slot with an RTP of 96%, for instance. Of course, if you lose, they win your stake, too.
Play at the Best Paying Online Casinos Today!
Now that you know about the highest paying online casino sites out there, how they work, and where to find them; it is time to get yourself started at a top site.
Keep in mind what we've said about payout percentages, RTP, house edges, volatility, withdrawal fees and wagering requirements, and you'll end up at a top site.
Alternatively, save yourself the trouble by choosing to join one of the best paying online casino websites in our collection.