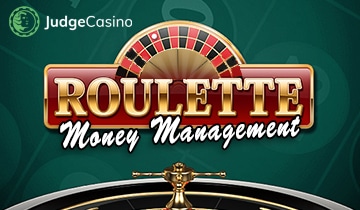 Effective roulette money management is what makes the difference between a beginner and a professional roulette player.
If you don't have a good roulette money management strategy, you may end up losing your winnings within a twinkle of an eye.
This may seem like a bizarre topic; interestingly this is what makes the difference.
Imagine losing all your money on a single bet. That can be very frustrating.
To avoid some of these mistakes, there are fundamental basics that you need to know. You can only find them here!
For a better understanding, let's start with the basics.
Top Online Casinos where You Can try Roulette Money Management Systems [2023] - Updated List
How to Start IUp the Best Money Management System For Roulette?
The first step you must take is to ask yourself this question "what is my motive of playing this game?" The answer you provide will help you create a good roulette bankroll money management plan.
Don't just give into chance and allow circumstances to determine your next move. You can also play for entertainment.
The next question you must ask yourself is "can I forgo the monies I intend to bet with?" Please, if you can't forgive yourself peradventure you lose a particular sum, don't stake it. Rather, you can divide your bets into small units.
Let's take you through strategies that will help you win while playing a roulette game.
Roulette Strategies that Will Help You Win
As you keep reading, you will discover that one reoccurring factor is that you must have a strategy before you start playing roulette online games (such as the Pinball roulette variant). There are two notable roulette strategies that work when playing a roulette game.
The Martingale approach
This strategy is also called a negative progressive strategy. This strategy entails that you increase your bet by doubling it whenever you lose. The reason is that it will help you regain the lost bet. For example, if you staked $10 and lost, this approach advises you to stake $20 in the next bet. Most often, those who engage in using this approach have a huge amount set out for gambling. However, the question is; how effective is this approach?
If your luck runs while you are using this approach, you may become bankrupt. When using the Martingale system as a roulette dozens strategy you should increase the stakes at a lower frequency. If you want to remain sane, please avoid the Martingale approach completely. Even the most seasoned gamblers will tell you that it is the most destructive strategy to play roulette or any other game.
The positive progressive strategy
This approach is totally different from the Martingale approach. Seasoned players believe that this strategy is the most effective.
Do we think so? You will find out shortly.
The positive progressive strategy involves increasing your winnings after you have won. This is entirely the opposite of what Martingale approach that advocates more bets after losing. It is also helpful if the wagering requirement is small.
However, you must have it at the back of your mind that the roulette wheels spin within seconds. So if you want to play for a longer time, then you must adopt a strategy that will keep you winning.
Our view on the positive progressive approach is as follows:
Good if you need to meet the wagering requirements quickly
It may increase your chances of winning more since your staking with your winnings.
Regardless of the strategy you choose, please don't try to take revenge on the casino. Such a move is disastrous. Instead, you can read this guide on how to get lucky at the casino and improve your income, or the gamblers to lost it all to avoid that.
The Best Money Management Systems for Roulette
Although some analysts have suggested that the best money management system for roulette is to bailout when you start losing, they are a few more. As simple as it may seem, bailing out when you start losing can be quite difficult too. You will find out the trick you need to do that as you keep reading.
Single session strategy
This strategy entails that you must manage your betting session within a particular time frame. The aim of this strategy is to help you meet your expectations and stay away. It focuses on getting a player to spell out his expectation and quit when it has been met.
For instance, if your aim is to win $20, your bankroll for this goal should be about $100. This simply means that your aim is to get an additional $20. This online roulette money management strategy implies that you should quit as soon as you get an additional $20 on a single session.
The advantage of this roulette casino money management system is that you don't have to pick up a loss limit. In this case, the entire session is a loss limit. However, assuming it doesn't go as planned, don't chase after your losses. Just stay clear for a while or apply the next strategy on the list.
Monthly bankroll management system
Just like the name implies, a player is expected to stipulate a monthly amount for playing roulette. You must be willing to lose the particular amount set out for your monthly roulette.
Instead of depositing the entire sum into your account once, you can split them into 4 weekly units. This will ensure that you don't spend more than your budget weekly.
Ensure that your profit is safe
Assuming you hit a jackpot, it will be best if you split your winning into two. Remove your profit and set aside some amount for your bankroll. This will help you to retain your profit. If you keep playing without doing this, the possibility of losing your entire winnings is possible.
Run away when start loosing
Discipline is very important here. The best you can do for yourself is to stay clear from playing when you start losing on every bet. Stipulate a limit lose so that you can check your progress. Try as much as you can to log out when you have reached your limit lose. The best limit lose is 50 percent of what you have in your bankroll.
Unfortunately, most players give themselves false hope and end up losing more. Exhausting your budget is not the right way to go. The fact that you didn't win today doesn't mean that you won't win the next day. Don't lose control, stay focused.
The Secret for Behind a Successful Roulette Money Management
This article covers both the European roulette rules and the American roulette rules. So it doesn't matter if you prefer the American vs European roulette, what matters here is how to manage your bankroll. Check here our European roulette strategy or how to play American Roulette guide for more info.
If you want to become one of the world's successful roulette players, you must have a smart money management roulette strategy. Below are the basic issues that should be part of your money management for roulette;
Find out the motive for playing a roulette game. Most people are interested in playing roulette for money and nothing more. However, also play for the purpose of getting entertained. Those who play for the money often get carried away find hard to step on the brake. Trying to recover your loses on roulette will definitely do you no good.
You must have a budget and stick to it. Smart roulette players always have a budget dedicated to playing roulette. Notwithstanding how lucky or unlucky they turn out to be, they always stick to their budget.
As a roulette player, it is always important to know when it's time to stop. Although there is always the temptation to go after lost monies, a professional gambler knows when to stop. Give it a try another day, you might just win a jackpot.
Tips that will help you manage your roulette money
The following tips will aid you to effectively manage your roulette money;
Discover the rules of the game. Perfecting a roulette game will be easier if you have an understanding of what the rules are. To become a professional then you must have a better idea of what you are getting into.
You must plan or strategize. Before you start playing roulette, spell out a plan. It may seem stupid but it will guide you and let you know when to quit. Without a plan or strategy, it will be very difficult to
If you must plan roulette with real money, your budget should be such that you can afford to lose. Why most players go bankrupt is because of greed. Their aim is to send the Bitcoin roulette casino or online out of business by staking high amounts. Unfortunately, not everyone gets lucky.
Go for games that don't give the house too much edge. Some people may argue that playing European roulette will give you a better winning chance than the American roulette. However, this argument may swing either way depending on who you ask. Some will argue that the American roulette has a double-zero advantage, unlike the European version. The Triple zero roulette has the highest house edge, of 7,69%, and casinos try to attract players by offering bonuses or lower stakes to play this roulette version. Actually the Mini roulette has the same house edge, but it may be lowered to 3.85% with the La Partage rule.
Playing with the right frame of mind will also help you manage your roulette money properly. Don't gamble when you are angry, tired, or sick.
What Are Your Odds Even with the Best Money Management for Roulette?
Frankly, the aim of this topic is to give players a guide against losing all their bankroll. The truth remains that the house will always have an edge over the player.
So what makes the difference here is adhering to any whichever roulette money management system that is suitable for you. The best you can do is to play safe and don't stake all your money at once.
Notwithstanding that the house has an edge, sometimes you can get lucky. It is what you do with the winnings that roulette management is all about.
Don't forget quickly that roulette is a game of chance. You can't always predict the outcome. It is completely different from live betting.
Key Elements About Roulette Money Management
It is not a guarantee that any particular method will work.
The best roulette money management strategy remains self-discipline.
You can always win no matter the strategy
Bailout as soon as you starting losing
Sticking to your budget remains the only method that will help you stay away from bankruptcy
Roulette is a game of chance, so you can predict when will win
Good money management in roulette can only help you stretch your bankroll and play longer
You may have read it here, but for purposes of emphasis, avoid the Martingale approach completely.
If you win, simply split the winnings into two and take away your profit
There is no "seasoned roulette player", they only win by chance
A bigger budget doesn't necessarily mean that you will win
If you can bet in smaller units, it is possible that you will win as time goes
FAQ About Roulette Money Management
Most of the time, using 10% of your bankroll will be a good choice in roulette but this is a personal decision: You can choose to allocate less (i.e., 1%) or more (i.e., 25%). Never use all of your bankroll in a single game, that's the most important thing.
Not much. There are roulette games that accept bets as low as 0.10 EUR/USD per spin. There are also games with a minimum bet limit of 1.000 EUR/USD. In other words, there is enough variety in this regard.
Prefer outside bets as they offer a winning chance of more than 48%. And always play the European or French variant of this game because they have higher RTP rates. American roulette, for example, offers a lower rate.
No, there is no app for roulette bankroll management. However, all you need is an app that lets you track your wins, losses, and the previous bet amounts. In this regard, any finance app can be used for this purpose too.
Roulette Money Management - Play Smart and Keep Your Money!
The crux of it all is that somehow roulette money management is a deceptive principle. All you need to take away here is that you must know when to quit. What makes a roulette player look good is self-discipline.
If you pursue your loses, then all your efforts will be undermined. Roulette casino money management may seem difficult to handle but determination will compliment all your efforts.
You must not necessarily play this game for the money but if you will improve your skills you will beat the longest roulette streak or you can play it for entertainment. Even if you want to play for real money to win big, a game of chance like roulette may not the best choice. Play roulette to get entertained, if you hit a jackpot, then that's fine.
The summary here is to encourage self-discipline. So it's time you test your new found knowledge to a test. Maybe you might hit the jackpot you have been longing for. Knowledge not put into practice is a waste.
Other articles you might like: