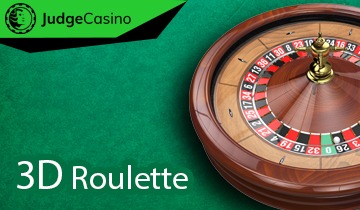 If you like playing roulette but also think that the graphics don't look like "real life", 3D roulette may be the solution: Roulette 3D games offer three-dimensional graphics and offer amazing visual quality.
You still get to spin the wheel, place the same bets, and play the same game, but with much better looks.
In this article, we will talk about 3D roulette games in detail and explain everything you need to know: We even selected the best roulette 3D games for you!
What is roulette 3D?
🥇 Best online casinos where you can play 3D roulette [2023]
How to play 3D roulette online?
Step 1
When you click the "play" button, the wheel will start to spin and a ball will be dropped on top of it
Step 2
The wheel contains 37 (or 38) numbers and each number is marked with one of the three colors, red, black, and green
Step 3
You can place a bet on where the ball will stop. In this regard, you can place a bet on a single number, a range of numbers, the color (red/black), or whether the outcome will be an odd or even number
Step 4
Each of these options has a different probability and therefore, a different payout. If you win, you will get paid according to the paytable
Best 3D roulette casino games to play in 2023
If you want to start playing 3D roulette for free or using real money, you will need some suggestions: There are literally hundreds of options out there. We picked the best roulette 3D games for you and listed them below. We offer a short 3D roulette review for each and list the provider information too, so you can also find out which ones are the best 3D roulette software providers. Remember that you can play all these games at our recommended online casinos (such as 3D roulette William Hill casino) and they offer you the chance to play for free or for real with a bonus.
3D roulette download is not needed
The good news is mobile roulette games are everywhere: To spin the 3D roulette wheel on mobile, you don't have to download a program or an application. You can simply click the "play now" button and start playing American, French, or European roulette, it is that simple.
Thanks to HTML5 technology, all casino games, including 3D roulette, work on all devices (desktop/mobile) and platforms (iOS/Android/Windows) nowadays. The best online casino software supports all operating systems and as long as your device has a browser & an active internet connection, you can play roulette 3D without a download.
Should you try 3D roulette online?
All variants of roulette are available
Amazing graphics quality
You can play on any device
You can play for free or use real money
You need to pick the right variant
Due to the graphics quality of the roulette 3d model, you may need a powerful device
FAQ: Your questions on 3d roulette answered
Yes. The term "3D" refers to the graphics quality of the game, not a new or different variant. The rules are still the same, but the game looks much better.
We believe that European roulette offers the simplest rules and the ideal RTP percentage, so as long as the game is based on European rules, any 3D roulette game will be fine.
Yes, and 3d roulette game free download is not needed at all. You can play on any mobile device (iOS or Android) without a download or using an application.
There are still Flash-based 3D roulette games out there but even Adobe, the developer of Flash, forces you to uninstall this platform from your devices. Stick with modern and HTML5-based roulette 3D games.
Play 3D roulette game free online right now
Pick a variant, check the roulette wheel 3d model, and start spinning it now: We already picked the best casinos for 3d roulette. All you need to do is choosing one and creating your account – from Playtech casinos to other providers, we offer you a wide selection and lots of options. In order to increase your chances, make sure to read our guides for roulette strategies that work and roulette money management too. Good luck out there!