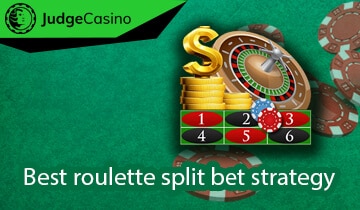 The simplicity of the roulette game shines the brightest when it comes to betting on numbers. The straight up bet is preferred because of its high returns, but the roulette split bet comes a close second.
Risk-averse punters might frown upon both of them, but if you hope to win a lot with a single bet, this could work for you. In this guide we take a closer look at this inside wager and suggest the best roulette split bet strategy for you.
We explain how to bet on adjacent numbers to enjoy the best roulette payouts.
What is a split bet in roulette?
🥇 Best online casinos to play roulette in 2023
Roulette split bet varieties
When playing roulette online and using the roulette split bets strategy players can try some of its cool varieties. They can be used successfully at low stakes roulette and high stakes roulette to spice things up but they're not changing the house edge.
You can still expect the same payouts based on the type of roulette chosen while accepting the standard risks of roulette inside bets.
What's the house edge and payouts in a roulette split bet?
The roulette rules are the same when playing European, American and French roulette. This means that the same roulette strategies that work can be successfully tested on all these games. What differs is the house edge and that is the consequence of American roulette having an additional zero on the wheel.
If you bet on split numbers, the house edge will be 5.41% for American roulette, and 5.26% for European and French. Overall, these roulettes have an edge of 5.26, respectively 2.70 and 1.35 for French roulette.
European Roulette Probability
American Roulette Probability
Split Bet
Payout (in both games)
17:1
European Roulette Probability
5.4%
American Roulette Probability
5.2%
Any guide to playing roulette will highlight the discrepancy in the house edge and suggest the French and European versions. Not surprisingly, the best roulette split bet strategy will also work better on games carrying a lower house edge.
When it comes to payouts, you can still expect to win 18 times the amount invested, which makes this a high-paying wager. Because of the high variance, you need to use a roulette split bet strategy that helps you stay afloat until you strike it lucky.
Top roulette split bet strategies
In your quest for the best split bet strategy roulette, you will surely stumble upon these 5 systems. They are not a substitute for solid roulette money management and the outcome will still depend on luck. In conjunction with the right roulette tips they can help you spice things up and give you a better chance of winning in the long run.
1. Kavouras strategy
Is a complex system that has players betting one unit on 5 split bets, another on a corner bet and two chips on a double street bet. Overall, you bet on 20 numbers, so the probability of winning is higher. The profits depend on where the ball lands after the spin.

2. Snake bet combination bet
Unlike the Martingale roulette and Paroli system that are progressive systems, this one is completely arbitrary. The goal is to lay down the chips in a way that will create a snake shaped sequence of 12 bets across the roulette table. You end up betting on 1, 5, 9, 12, 14, 16, 19, 23, 27, 30, 32 and 34 using split bets, which can be visually satisfying.

3. Cover the table roulette strategy
This roulette split bet strategy is perfect for risk-averse punters who want to boost the odds of winning. You bet on 17 splits, therefore you have a nearly 50% chance to win, so variance is greatly reduced. The net roulette split bet payout is also diminished since you have so many chips placed, but it is one way of reducing volatility.

4. Red/Black splits strategy
Is just as the name indicates, a combination of all the splits possible on the same color. You can cover a total of 10 numbers, which means that you will have five split bets and a 27% chance of winning. This is on par with the standard roulette dozens strategy and provides an avenue to more frequent wins.

5. The 666 roulette system
There is nothing nefarious about this split bets strategy roulette, but it can be expensive. You bet 36 chips on red, and 4 chips on these pairs of numbers: 0/2, 8/11, 10/13, 17/20, 26/29 and 28/31. An extra two chips are bet on 3 distinct single numbers from the following: 4, 6, 15, 22, 24, 33 and 35. So the total sum wagered is 66 chips. If you win you get 6 chips and lose 66 if the ball stops on one of the left out numbers.

Pros and cons of split bets in roulette
Easy to learn and master roulette bet
High potential payouts in lucky
Multiple split bets roulette methods
High volatility and low odds of winning
Frequently Asked Questions
There are 24 split bets possible when placing bets horizontally between two numbers on the betting board, and 33 split bets possible by placing chips vertically between two numbers. This makes for a total of 57 possible split bets. However, on the roulette wheel itself, only 17 split bets exist.
Split bets pay 17:1. The odds of success are set to 5.3% in American Roulette, and 5.4% in European Roulette. This is roughly half the prize you can win with straight-up bets.
There is no guaranteed winning strategy in roulette. However, the split bet strategy gives you a chance to "cover the wheel". It offers you a marginally better chance of success than having a stab in the dark with a straight bet, but you stand less chance of winning than with a simple outside bet.
That depends on what you bet. Each roulette game has its own table limits. The payout for a single split bet is always 17:1, so you can take whatever you want to wager and multiply it by seventeen. Prizes for Voisins du Zero, Orphelins, Tiers du Cylindre and Jeu du Zero split bets vary.
Win the most with a smart roulette split bet strategy
We have reached the conclusion of our guide dedicated to roulette split bets tips. If you don't mind volatility and are not afraid of taking bigger chances for a shot at big winnings, betting on split numbers can work for you. Second only to straight-up number bets, it produces winnings equal to 18 times the stakes, so there's a real opportunity for big profits. Use the split bet strategy roulette that works the best for you and make each gaming session fun and profitable.