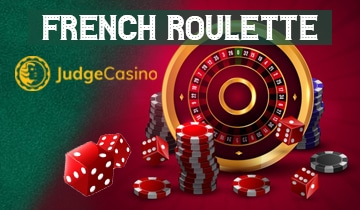 There are three major roulette games you can play online. These are, namely European roulette, American roulette, and French roulette.
There aren't as many instances of French roulette online as its counterparts. However, finding the best online casino websites which offer it is very much in your interest.
French roulette comes with the smallest house edge of any roulette game. It also has arguably more bets available for you to make than its counterparts.
On this casino page, you will find out how to win at roulette online. We'll discuss the ins and outs of the game, as well as introduce you to a few sneaky tips and tricks. Read on to find out more about playing French roulette, also available at Bitcoin roulette sites (or Dogecoin roulette sites), where you can play Bitcoin high limit casino games.
Top 10 Online Casinos where you can play Roulette [2023]:
Your guide to betting on French roulette
As with most of our how to play roulette games, we aim to make this as simple a process as possible. Over the next few sections, you can learn the history behind the game. You will understand how bets in French roulette work. You will also learn what types of games you can play and how to turn the game to your advantage. Without further ado, let's begin.
Understanding French roulette
Playing French roulette online is all about finding the right game and understanding it. Most of the best online casino software developers have many games you can play. Playtech has a French roulette game you can find at all Playtech casinos. You can also play French roulette at casinos on our Netent casino list.
Of course, French roulette games from Microgaming are available, too. Here you can find our Microgaming casinos full list.
Virtually any major casino carrying several roulette variants (like Pinball roulette) is likely to offer French roulette. However, before you can sign up and play, you need to understand the basics. Let's start at the beginning, then, with a brief bit of roulette history.
Tracing the history of French roulette
The history of roulette goes back to the seventeenth century. Blaise Pascal, a French mathematician and scientist, was working on a machine to help him understand probability. What he developed was the roulette wheel. Unsurprisingly, his perpetual motion machine became rather popular.
In 1842, Francois and Lois Blanc saw potential in it and added a zero to the game as it gave the house a more significant edge. French roulette has remained relatively the same since that all-important zero appeared.
Americans would later add a double zero, but we can forget all about that. The double-zero only doubles the house edge even further, so we have no interest in it. Nor do any serious gamblers. However, we are interested in the French wheel. So, how does it work? Let's look at a basic French roulette wheel in closer detail.
How does a French roulette wheel work?
A French roulette wheel is the same as the wheel used in European roulette (including free European roulette). There are thirty-six numbered pockets, in both red and black (check here how to always bet on black in roulette). There is also a green pocket, which represents zero (0).
The French roulette table layout is also marginally different from those found in American roulette. In the original French version of the game, the outside bets were along both sides of the betting table. This contrasts with American roulette, where they are on the left-hand side. But more about how to play American Roulette you can find in our updated guide. You will also note the French roulette table layout features it bet names in French, not English. You will come to learn those throughout this guide, though.
In principle, players place their chips on specific sections of the betting table. We'll show you how in just a moment. After wagering, the croupier spins the wheel. If the ball lands in a pocket favourable to the bet placed, a win pays at a predetermined rate.
If the balls lands in an unfavourable pocket, the bet is lost. If it lands on zero, one of three things could happen. You could lose your stake, you may get half of it back, or you could get to place half of it again. All this, we will discuss in detail in the next few sections.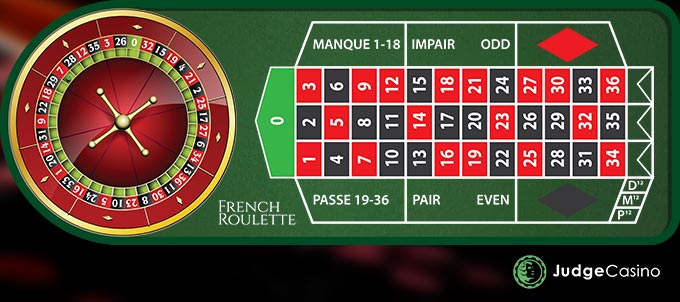 Getting started – 6 steps to playing French roulette
The next six steps will guide through the process of placing a bet. Consider these roulette rules the key to betting successfully.
- Placing your bets: You can scroll down to see each available bet in detail. Once you've chosen a bet, you must put it on the betting board (in a specific spot) before the roulette wheel is spin.
- Bets which need announcing: Some bets require you to shout out your bet. These are known as announced bets and exist land-based games. They can include Tiers du Cylindre bets.
- Always announce full/maximum bets: A full or maximum bet involves wagering on 12 bets with one stake. As this bet consists of putting chips in several places on the table, you're going to want to announce this bet to the croupier.
- The ball is dropped: Once bets are active, the croupier will start spinning the roulette, and the ball is dropped down into it.
- Payouts and losses: Once the ball pops into a pocket, the outcome of each bet can be determined. The croupier will collect the chips of losing bets and payout winnings accordingly from successful bets.
- Payouts are predetermined: The amount you can win from successful bets is set by the amount you have wagered. Roulette uses fixed odds from a paytable. We'll go into these in detail later.
That is roughly all you need to know for the procedure behind playing roulette. However, there are more ins and outs to cover. Let's make some ground.
Having a crack at French roulette online
Choosing to play French roulette online is a touch easier than in a land-based, brick and mortar.
The RNG (random number generator) roulette games such as European Roulette Gold will automatically know whether you are placing announced and full/maximum bets.
Naturally, there is no need to "announce". Some games, such as William's Hill's French roulette can be played for free, too. We advise this, as it gives you a bit of practice in a no-risk environment.
Ultimate realism – live dealer French roulette online
If you opt to play live French roulette, you may still be able to announce your bets. However, most live dealer roulette games only have one-way audio, so this is unlikely.
In live dealer games played over a video stream, you can hear the French roulette dealer. However, you often converse with them via a chat box instead. Firing off a simple message that you wish to announce your tiers du cylindre, or full/maximum bets will suffice.
Know your bets: French roulette bet types
Now let's look at the most important thing when playing roulette online games  – the bets themselves. French roulette arguably has more examples of bets than its European and American counterparts.
With that in mind, it is ideal if you learn most of the types of bets in the game. The next section of this how to bet on roulette guide covers that.
There are three types of bets in French roulette. Inside Bets, Outside Bets and Call Bets.
The latter being the "announced bets". Let's begin.
Inside betting
Roulette inside bets have a smaller chance of coming off than outside bets. However, they pay out more significant prizes. There are seven for you to get to grips with, and they include:
Straight-Up bet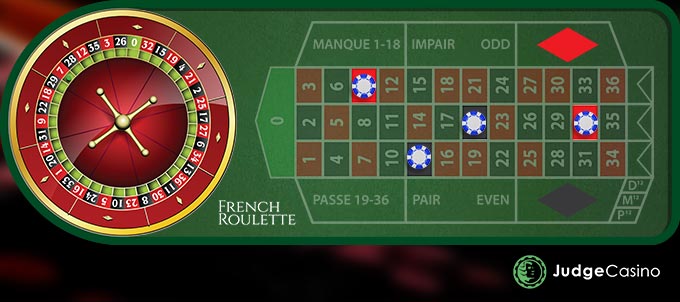 Split bet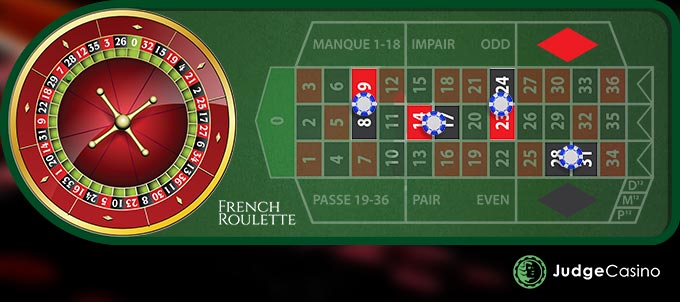 This involves wagering on two numbers. These must be adjacent to one another, with the chip placed on the line between the numbers. For instance, a split bet can involve 6 and 9.
Street bet: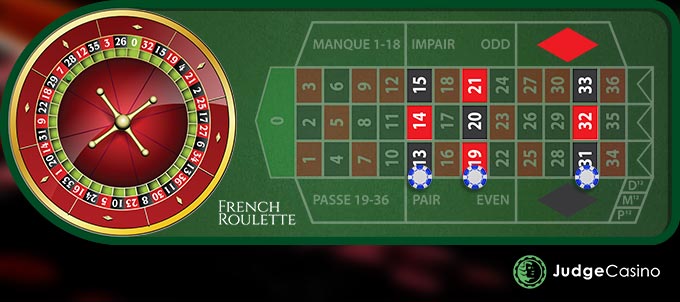 Street bets are wagers on three numbers (for instance, 13, 14 and 15). These three numbers must all appear on the same row. For a street bet roulette place your chip at the beginning of each row.
Corner bet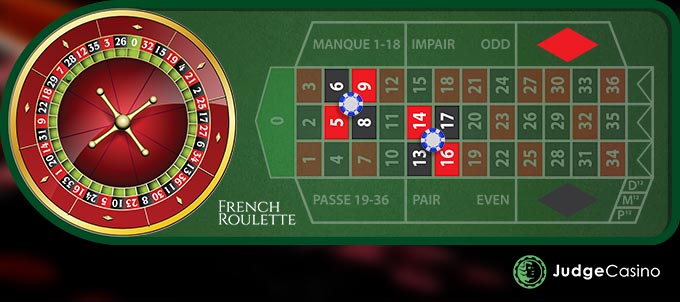 A corner bet sees your chip placed on the line where four numbers meet. For instance, the intersection between 10, 11, 13 and 14. It is a bet on four numbers.
Six-line bet: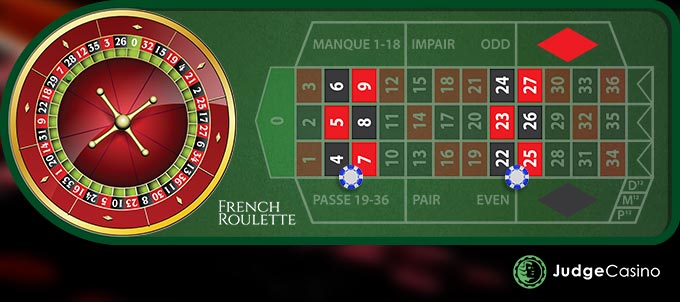 A wager on two rows of numbers, for instance, 1, 2, 3, 4, 5 and 6. Your chip is placed on the left-hand side of the two rows in question, on the border line between them.
Trio bet: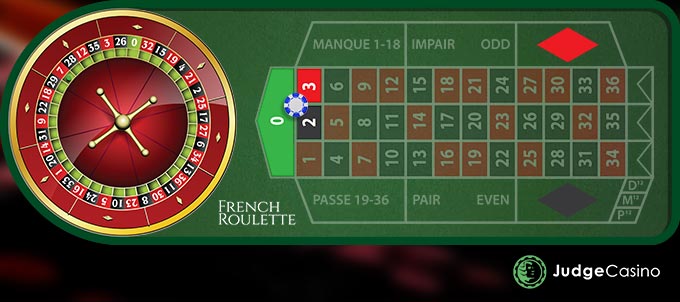 Trio bets are bets on 0, 1 and 2, or 0, 2 and 3. Place your casino chip on the intersecting line between them.
Four-number bet: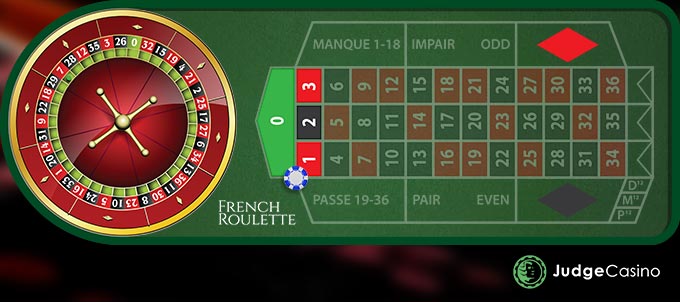 This bet is on 0, 1, 2 and 3, with your bet placed at the left-hand side of the intersecting border line between zero and the first row.
Outside betting
In French roulette, outside bets are more likely to be won, but they pay out smaller prizes. As the odds of landing these are better than other types of roulette bets, outside bets are ideal for beginners. The French names for these bets are in parenthesis, and they include:
Red/black (rouge/noir) bets: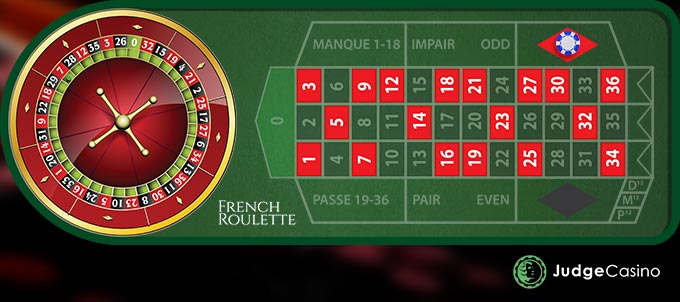 Red/black (rouge/noir) bets: Known as even-money bets, these involve betting on a single colour, either red or black. Put your chip in the red or black diamond on the table to bet. If the winning pocket matches the colour of your bet, you'll win. Have a look at our guide on how to win at roulette red and black.
Odd/even (impair/pair) bets: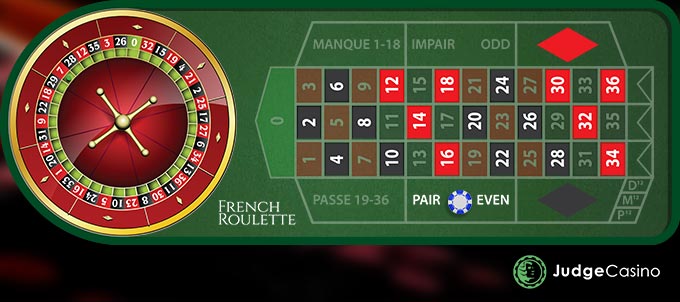 Odd/even (impair/pair) bets: Another type of even money bet. This time, you put your chip in the impair (odd) or pair (even) spot, and again, any number which matches your bet will result in a win.
High/low (passe/manque) bets: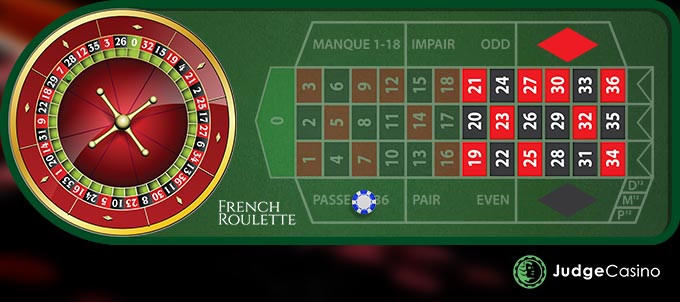 High/low (passe/manque) bets: The final type of even money bet. Placing your chip in the passe spot will see any high number between 19-36 win. By contrast, a chip on the manque spot will see any low number between 1-18 win, if it appears.
Column bets: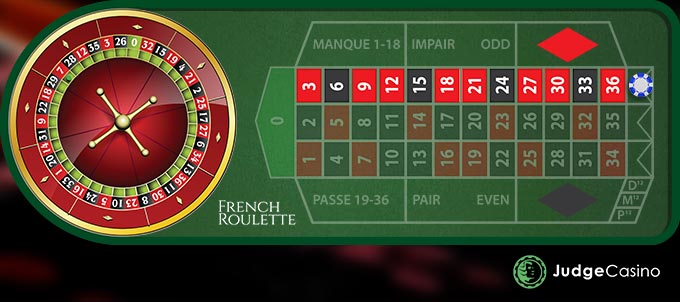 Column bets: Players can bet on twelve numbers with column bets. Place your chip on the space below the final number in the column. A column, for instance, is shown as 1, 4, 7, 10, 13, 16, 19, 22, 25, 28, 31 and 34. If any of those numbers pop up, you'll win.
Dozen bets: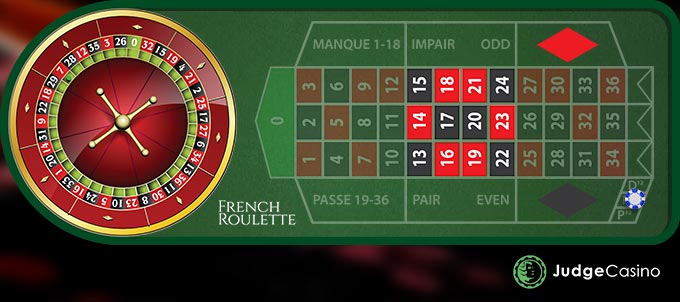 Dozen bets: Dozen bets involve wagering on twelve numbers, too, although this time they include 1-12 (Premier Douzaine), 13-24 (Moyenne Douzaine), and numbers 25-36 (Dernière Douzaine). A dozen bet is placed in the P12, M12 or D12 spot, accordingly.
Call betting
Announced bets can also be known as racetrack bets, French bets and call bets. Place these bets in a separate part of the betting table, known as the racetrack.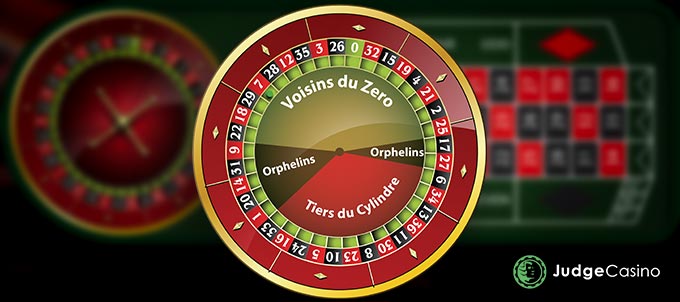 In roulette, four French bets typically appear, and they include:
– Voisins du zéro: Meaning "neighbours of zero", it includes all the numbers between 22 and 25 on the roulette wheel. Players stake 9 chips on splits, corners and trios, all pertaining to those numbers.
– Tiers du cylinder: Translated as "thirds of the wheel", this bet involves twelve numbers from 27 to 33, those opposite the zero on the reel. At the cost of six chips, it requires six split bets on those numbers.
– Orphelins: As you will guess, this means "orphans". It involves a five-chip bet divided into four split bets on all the numbers not featuring in the other two call bets, as well as single straight-up bet on number 1.
– Final bet: Also known as "finales", this bet involves wagering on all numbers which end with the same digit. For instance, a wager might include stakes on 5, 15, 25 and 35. Final bets with numbers ending in 0-6 involve four chips, while those ending in 7-9 require just three chips. These are straight-up bets on each number.
Learn the règles Françaises – Specific French roulette rules
French roulette brings two rules to the table, which you are unlikely to see in other roulette games. These are the En Prison and La Partage rules. This is how they work:
En prison: If the ball lands on zero, either 50% of your bet or the entire bet will be "En Prison". This varies from game to game. The prison rule dictates that if you win on your next spin, your bet will be released to you, although with no winnings.
La partage: The La Partage rule can occur if you place an even-money bet and the ball lands on zero. This rule sees 50% of your wager returned straight away and lowers the house edge of the game to 1.35%.
What can French roulette pay victorious players?
French roulette uses fixed odds. European roulette odds are also fixed. This means that whatever you can win is predetermined before the event, according to a paytable. The amount you wager on which type of bet will determine your prize. The paytable below covers all possible payouts in French roulette.
Split
Call bets
Tiers du cylinder
* Orphelins payouts vary depending on the exact numbers you bet on
French roulette house edges are advantageous for players
French roulette is more beneficial than other roulette games because it has a lower house edge. Because of its double-zero, American roulette has a house edge of 5.26%.
The house advantage drops to 2.70% in European roulette because it uses just a single zero. However, with its La Partage rule, the French roulette house edge is only 1.35%. Naturally, French roulette's RTP is higher than its counterparts, so it is a more attractive proposition for players.
Tips and strategies for betting on French roulette online
Why play French roulette?
In short, even without French roulette tricks and strategies in place, the benefits of choosing this game over American and European roulette are there for all to see. The lower house edge and a greater variety of bets make it well worth a punt.
Play at the best online casinos offering French roulette
Now that you know a thing or two about how to play French roulette, it may be time to play. You will find plenty of the best online casinos for French roulette online on this page.
Some are notable for offering you French roulette with low limit wagers.
Others can cost upwards of $10,000 a spin and are very much French roulette VIP limit games. It is up to you to decide which option you go with, but all our websites come highly recommended.
Your questions about French roulette answered
If you still have a few lingering questions regarding French roulette, we aim to answer them in this next section.
Yes. There are a few mobile casino apps that offer French roulette gameplay. Even online casinos can provide roulette games on the go via their
instant play casino
sites. Dedicated French roulette apps are rare, though.
Yes. In fact, we'd advocate doing just that. Playing online roulette for real money is an exciting experience, but it is better to learn the game first. Playing free to play games is a great way to learn roulette terms and bets, as well as practice strategies.
That varies from game to game. Low stakes roulette games typically cost between $0.10 and $10 a spin. Penny roulette (as its name suggests), costs as little as $0.01 a bet. VIP limit games and high-roller games can have table limits of $10,000 or more.
If you're a beginner, we'd recommend sticking to even money bets at first. More experienced players may wish to look at racetrack bets which cover more of the wheel.
The two games are very similar. A quick look at European roulette vs. French roulette reveals that the latter has a lower house edge and offers up more bets than its European counterpart.
Apparently, the best numbers to play in roulette are 17, 23 and 24. Both 23 and 24 sit close together on the wheel, while 17 is statistically the most hit number.
A full bet is typically a 12-bet wager. Also known as a complete bet, they involve wagering on all possible inside bets with a specific number and are popular bets with high rollers.
Not all local casinos call their games French roulette. In Europe, for instance, it may just be known as roulette. In the US or elsewhere, it may be called European roulette, but still feature the perks and betting options of French roulette.
For the most part, yes. Systems such as the roulette attack strategy claim to have found weaknesses in the game. These can help, but there is no such thing as a 100% winning roulette strategy. After all, roulette is considered a game of chance, not skill.
The probability of getting red in French roulette is 48.60%.
The probability of getting black in French roulette is 48.60%, the same as red.
Play French roulette online like a pro today
Now that you're familiar with how to play roulette, and how to take advantage of it, it is time to play. Check out any of the top French roulette online casinos listed on this page.
Each is guaranteed to offer you the game. Some even have free-to-play versions, which you can use to put the knowledge you've just gained into practice. All our recommended casinos have been vetted, checked and approved for fair play and secure gaming.