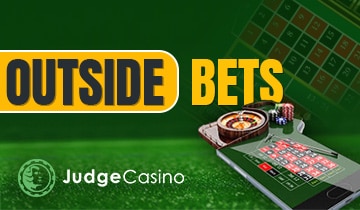 Even if you've never tried roulette before, you will likely have a rough idea of how the game works. You place a bet on a number, and the ball is dropped into a spinning wheel.
If your number comes up, you win, right? Not exactly. There is more to roulette than that. For starters, the bet we have described above is known as an inside bet. You could also play outside bets if you what the longest roulette streak.
Throughout this casino game guide, we will look at the best outside bets in roulette. We'll look at the difference between roulette inside bets and roulette outside bets, and help you learn a few tricks of the trade.
If you've never played a roulette online game before, outside bets are easily the way to go. Why is that the case? Read our guide on outside bets to find out more.
Top 10 Online Casinos where you can play Roulette [2023]:
Inside Roulette – Outside and Inside Bets
There are two types of main bets in roulette, and they are known as inside bets and outside bets. The names can appear a bit misleading. Roulette inside bets involve staking money on something which isn't likely to occur, but if it does happen, you'll win a substantial sum of money. By contrast, outside bets involve wagering on something which is far more likely to occur, although you'll win far less money because of that heightened probability.
Oddly enough inside and outside bets in roulette mean the exact opposite that they do in sports betting. For instance, outside bets in horse racing, or outside bets on the US Open require a bet on an outsider. You stand a small chance of success but can win vast sums if your dark horse comes good. In roulette, outside bets are more likely to occur. As such, in roulette at least, inside bets are less favourable than outside bets. In roulette, outside bets get their name from the fact that they are located around the "outside" of the roulette betting board.
Typical Inside Bets You Should Know
Obviously, our focus in this article is outside bets, but we should at least brush over inside bets a touch. Inside betting is not advised for newbies, as you're going to want to start small and gradually migrate to such bets, once you understand their probability. However, here is a brief rundown of inside bets:
– Straight Up Bet: A bet on a single number and worth 35:1
– Split Bet: A similar wager but on two adjacent numbers, and worth 17:1.
– Street Bet: A bet staked on three numbers (a row) which can payout at 11:1.
– Corner Bar: Wagering on four numbers (adjacent to one another) which can dish out wins worth 8:1.
– Line Bet: A stake which involves two adjacent rows of three numbers and is worth a decent 5:1 payout.
The probability of landing these bets is not brilliant. For instance, when playing European roulette, you have a 2.7% chance of landing a Straight Up bet. The probability of pocketing Split, Street, Corner and Line Bets stands at 5.4%, 8.1%, 10.8% and 16.2%, respectively. Either way, the odds of success aren't high.
The World's Most Popular Outside Bets
By contrast, roulette outside bets give you a substantially better chance of landing a win. When playing with outside bets, the minimum chance of success is 32.40%, which is double the probability of the most optimistic inside bet.
Inside bets are placed by wagering chips on the red and black numbers on the betting board. By contrast, outside bets sit around the outside of those coloured numbers. When thinking about outside wagering, the types of roulette bets you can make include the following:
– Blacks and Reds: A bet on the ball landing in either a red or black coloured pocket. Unlike inside bets, it doesn't matter which number that happens to be. If you predict the colour successfully (and avoid the zero pocket), you will win a 1:1 payout. The odds of this occurring are a high 48.6%. These odds can't be increased but you can learn how to win at roulette red and black in the long run by applying strategies and systems.
– Odds and Evens: Odds and evens work in much the same way as black and red bets. This time, players are betting on the ball landing on any odd or even number. Again, if this bet is landed, players will win a 1:1 payout, and the bet has a 48.6% chance of success.
– High and Low Bets: The same is true of high and low bets. A low bet is a wager that the ball will land in one of the pockets numbered from 1-18. By contrast, a high bet is a wager that the ball lands in a pocket numbered 19-36. If successful with a high or low bet, players will win the same 1:1 payout as the other bets mentioned. Again, there is a high 48.6% chance of this occurring.
– Column Bets: Column bets are simple enough to grasp. The betting board's three main columns of numbers can be wagered on individually. The first column consists of 1, 4, 7, 10, 13, 16, 19, 22, 25, 28, 31 and 34. The second column offers numbers 2, 5, 8, 11, 14, 17, 20, 23, 26, 29, 32 and 35. The third and final column is built up of numbers 3, 6, 9, 12, 15, 18, 21, 24, 27, 30, 33 and 36. A bet landing on any of the numbers in "your column" will result in a win worth 2:1. There is a 32.40% chance of this occurring.
– Dozen Bets: Dozen bets are a touch different. The betting board features three columns of twelve numbers. A dozen bet is a wager on one of three dozens. These include 1-12, 13-24 or 25-36. If the ball lands in a pocket which is associated with the dozen you have bet on, you will win 2:1. The success rate of these bets is 32.40%.
– 2 to 1 Bets: Both column bets and dozen bets are also known as 2 to 1 bets. They take this name because of the payout they offer to players. This is worth considering when you're looking at outside bets in roulette.
Before wagering on roulette with an outside bet, players should take note of the betting board and familiarise themselves with it. Whether you're playing in a land-based casino or even at a Bitcoin roulette site or a Dogecoin roulette one, you may be under pressure to wager within a specific timeframe. If so, knowing where the bets on the roulette table are located will be handy.
Learn the Perks of Using Outside Bets
As we've already discussed in our guide, there are plenty of perks to using outside bets over inside ones. When starting out playing roulette for the first time, it is advisable to go with outside bets. You can build up your confidence by winning with somewhat regularly, even if it is only small amounts of cash. Playing roulette with inside bets from the start (particularly if you don't know what you're doing) could lead to successive losses. This will likely put you off playing roulette.
Even when playing the so-called 2 for 1 roulette outside bets, payout rates are valuable enough for you to make a decent fist of it. There are few other reasons why outside bets have perks which should be taken advantage of. Using betting strategies is far simpler when playing with outside bets.
Let's look at that next.
Use Outside Betting Strategies to Win at Roulette
Certain roulette betting strategies are more effective to use when placing an outside bet. One of the more popular ones you can have a look at is the Martingale System. If you're going to be using roulette outside bets strategy, the Martingale System is the first one you should have a look at.
For those roulette players who aren't aware of it, here is how the Martingale works…
The Martingale System is the most popular outside bets roulette strategy around. As betting strategies involve calculation, you're going to want to use the most straightforward bets possible. Wagering on outside bets on roulette strategy with highs, lows, reds, blacks, evens and odds is the way to go, as they offer the same prize as you wager – in short, 1:1. This makes those bets very easy to calculate.
With the Martingale System, players start with the smallest bet they can make (often $1). They keep betting the same $1 bet until they lose. When a player loses, they double the size of their bet ($2) and keep doubling it ($4) until they win again. Once they win once more, the bet returns to its lowest figure, so a single dollar. In theory, when they do eventually win again, the amount they will pocket will equate to everything they have wagered (and lost) during their losing streak.
There are two flaws with the Martingale System, which are worth noting. Firstly, you need a significant bank balance to keep doubling your bets during losing streaks, or you could be priced out of the game. Secondly, you are unlikely to walk away with millions using this betting system. The Martingale is efficient at ensuring that you don't lose too much, but it cannot be used to ensure you win vast fortunes. Even so, it is better to use the Martingale System to aid your betting and gameplay, than to not.
The Best Roulette Variants to Improve Your Fortunes
Another great way to ensure that you put yourself in an ideal position to win with outside bets is to pick the right game. There are three main roulette variants out there for you to play. While they all except outside and straight odds, some are more prosperous and put you in a better position to win than others. Let's look at those next…
– European Roulette: This game is the most common form of roulette you can play and comes in many variants online, like the 3D roulette, for example. It only features a single zero pocket and therefore has a house edge of 2.70%. The European roulette odds are better than the American roulette ones. As it is commonly found across the net, this is an ideal game to start with.
– French Roulette: French roulette features a lower house edge than European roulette, at 1.35%. The game offers the same single zero pocket, but also has En Prison and La Partage rules, which can see half of a losing bet (provided the ball lands in the zero pocket) either moved onto the next betting round or returned to the player. As French roulette is not as common as European roulette, we'd advise you to start with European roulette.
– American Roulette: This game is to be avoided at all costs. It features two zero pockets, and so the house edge rises to 5.26%. You stand twice the chance of hitting the zero pocket (and thus, losing) in this game. Only if you have no other choice should you play American vs European roulette or French roulette. Having a good American roulette strategy may help too or basically, you can first learn more about how to play American Roulette.
Hot Tips and Tricks for Outside Betting on Roulette
Once you feel sufficiently confident to place outside bets on roulette games, you might want to look at a few other betting options. One of the hottest tips and tricks for learning how to win roulette with outside bets is the 3:2 Roulette System.
This betting system is primarily designed to dish out wins rapidly, although, like the Martingale, it only delivers so-so winnings. The way it works is a touch complicated. It relies on combinations of colour and column bets to improve the odds of winning. As you will know, red/black bets offer you the chance of winning with 18 numbers, for a prize of 1:1. Column bets offer you the opportunity to win on 12 numbers, with a prize worth 2:1. What happens if you place bets on both at once?
The first column of numbers has 6 red pockets and 6 black pockets. We're going to ignore this column and focus on the other two. The second column has 8 black pockets and 4 red pockets. Lastly, the third column has 8 red spaces and 4 black numbers. Players will note that by betting on reds and column two, they have 18 red and 8 black numbers covered with their bet, for a total of 26 pockets. That gives them 70% of a European roulette wheel covered by their bet. At the same time, betting on blacks and column three offers 18 black and 8 red numbers, with the same probability of success.
Of course, there is a chance that players may lose their coloured or column bets, or even both bets. However, if they successfully land both their colour and column bets, the winnings are far more generous than single outside bets can muster.
The Top Places to Place Outside Bets Online
There are many places where you can find top roulette games available. Of course, your first stop should be online casinos. However, bingo sites, sportsbooks and poker rooms may also be able to dish out roulette games for real money. Players do tend to have a more substantial choice of games when it comes to online casinos, though. In a typical online casino, you should be able to find:
– Live Dealer Roulette
– European Roulette
– French Roulette
– American Roulette
– and a few variants, such as Double Ball, Mini, Pinball Roulette or Progressive Jackpot Roulette
Choosing an ideal place to play is just as important a step as discovering the answer to "what are outside bets in roulette?". If you're going to play roulette with outside bets today, you need to find a top domain to play at.
Some of the criteria we seek in our leading casinos include licensing, game selection, customer support, compatibility and promotions. Each is given serious consideration when we form our casino reviews. Keep these things in mind when looking for somewhere to play roulette.
– Licensing: You're going to want to play at a secure, safe and legal online casino. We ensure that our casinos are licensed to offer roulette gaming to you legally.
– Game Selection: You're going to want to place outside bets and stand a decent chance of winning; therefore, our recommended casinos all offer a top variety of different roulette games.
– Customer Support and Compatibility: Our chosen casinos all offer support, so you can always get help and assistance on anything, whenever you need it. On top of that, they are also mobile-friendly and designed to run whatever your device.
– Promotions: Choose to play with our casinos, and you'll be guaranteed to end up with top bonuses which feature fair wagering requirements. Moreover, some of those casinos' promos can sometimes be specific to roulette and casino table games.       This could see you start with a sizeable chip stack, which is ideal for putting the Martingale System into effect.
FAQ about Outside Bets
Outside bets involve wagering on something which is far more likely to occur, although you'll win far less money because of that heightened probability.
Yes, you can make real money from outside bets as long as you are playing with real money.
Yes and No, your outside bets can be safe as long as you are a gamble at an authorized casino and no, because the roulette is still a game of chance, so, nobody can guarantee that you will win.
Yes, as long as you have some mobile apps for roulette or your operator is mobile-friendly for sure you can use outside bets on your mobile.
Play at Our Leading Roulette Online Casinos with Outside Bets
Are you ready to slap down an outside bet? By now, you will likely know just how outside bets on roulette work. You should also be aware of what you can win, which betting strategies are the most efficient to use for outside bets, and which type of game is most suitable. Moreover, you will know what to look for in top places to play.
You can use the advice we've given above to find a leading place to play roulette games. However, if you want to start playing straight away, and don't want to do the dirty work of finding your own site, why not use our recommended sites. Each of our recommended casinos has been tried, tested, vetted and approved for roulette. They offer a great variety of roulette games. More importantly, they are the sort which works well with outside bets. Find a site, have a think and start placing outside bets on roulette to win today.