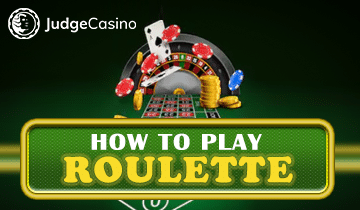 As one of the big three traditional casino games (alongside blackjack online games and baccarat) roulette online games are a must play game for many.
If you're new to casino gambling, you might be wondering "how do you play roulette?" Fortunately, this is the guide for you.
We have prepared the ultimate "how to play roulette for dummies" guide to make you play like a professional, even if you are a complete newbie.
The beginners guide to roulette has the merit of encouraging new players to try real money games sooner, instead of dwelling solely on free roulette.
In other words, our how to play roulette for beginners will teach you everything you need: If you want to learn how to play roulette, this is the only guide you ever need (also available for online roulette in Canada).
By the time you have finished reading this how to play roulette guide in few minutes, you'll be ready to start betting on this legendary casino game (here you can find our "Types of casino games" list).
To kick things off, let's start right at the beginning with the basics of roulette.
But before starting the how to play roulette for beginners guide, let's give you a list of our recommended casinos to play this legendary table game online. Get familiar with the roulette rules for beginners and see where this takes you.
Personally, we would start with Playfrank casino French roulette because of two reasons: PlayFrank is a good casino alternative roulette and French roulette is the best variant you can play.
(Keep reading the rules of roulette for dummies to find out why it is the best.)
But honestly, you can pick any of these casino sites to play roulette – right after reading this how to play roulette for beginners guide, of course.
Best Online Casinos Where You Can Play Roulette [2023] - Updated List
Playing Roulette - Starting with the Basics
Before you learn how to play roulette table games, you will need a little background on the game itself. You'll want to familiarise yourself with the wheel, how it looks, and what it offers. These roulette tips for beginners will help you move up the ladder and feel more comfortable playing this popular game, even at Bitcoin roulette sites or Dogecoin roulette sites.
You will also want to check out the betting board, located by the side of the wheel on a casino roulette table.
Of course, if you're thinking of playing in land-based casinos, you'll have to get to grips with croupiers, pit bosses, and other players who can sometimes crowd the board.
This doesn't make for an ideal environment to learn how to play roulette or study casino roulette rules. With that said, it might be better if you learn how to play roulette online to start with.
A roulette wheel will typically have 36 numbered pockets, with half of those coloured red, and half coloured black (check here how to always bet on black). Any how to play roulette for dummies guide will tell you that, but there are other things to be aware of as you start playing roulette. As well as that, there will also be one or two green pockets.
These are known as zero pockets. In European and French roulette, there will be just one zero pocket, represented as 0. In American roulette, there will be two such pockets, expressed as a single zero (0) and a double zero (00). In the Triple Zero roulette there will be another additional pocket, a triple zero (000).
Learning how to play roulette will involve looking at the betting board, too. Located beside the wheel, you will find a series of numbers spread down three columns. Beside those columns are a series of other spots, which contain various types of bets you can make.
When you wager on roulette, where you place the chip is essential. Our first piece of advice is to study the betting board and familiarize yourself with it. If you want to learn how to play roulette like a pro, you should begin by analyzing this board before the ball is set in motion.
If you're going to learn to play roulette, you'll need to ensure that you become aware of the types of bets you can make via that betting board, as well as your chances of success.
We'll look at the rules of roulette, as well as the roulette basics over the next few sections, but before we do that, let's introduce you to how the game is played.
The Ins and Outs of Roulette Gameplay
By finding a table in a casino and watching what is happening, you can get a relatively good idea of how to play roulette and possibly win. However, it is far better to read on and discover how the game is played. This is where our beginners guide to roulette gets exiting, as you'll get some truly useful tips.
Players will have a narrow window with which to place their bets unless they happen to be playing an online RNG (random number generator) game without a croupier or other players.
This is where it pays to know the betting board and the types of bets available, so do make yourself aware of your betting options and how to wager. We'll cover those next.
Once your bet has been made and placed on the betting table, the ball will be dropped by the croupier (the roulette equivalent of a dealer) into the spinning roulette wheel. If the player lands in one of the numbered pockets which favor their bet, players will snap up a win.
However, if the ball falls in an unfavorable pocket, they will lose. A ball landing the zero pocket will always result in a loss unless you are playing French roulette with the La Partage or En Prison rules, which we come to in just a moment or two.
Let's now turn our attention to one of the essential parts of our roulette how to play guide – the types of bets you can make. This is yet another key piece of the puzzle called how to play roulette for beginners.
Familiarising Yourself with the Bets
Learning how to play roulette is about much more than just discovering the types of bets you can make, although, admittedly, they do have a prominent role in playing roulette. The first place you're going to want to turn your attention to is the roulette betting board.
All the bets you can make in roulette stem from that board. Roulette bets are divided up into three different categories, inside bets, outside bets, and neighbour bets. The latter may or may not be available, depending on the type of roulette game you are playing.
Inside Bets
Roulette inside bets are a series of roulette wagers which can pay out the biggest prizes. However, there is a reason for that; namely, they stand the least chance of success. Not surprisingly many roulette tips for beginners state that these risky bets should be avoided by casual punters.
These can include:
Straight Up Bet: This is a bet on a single number. The chip is placed on the exact number you wish to bet on.
Split Bet: Split bets are wagers on two numbers at once. Players place the chip on the horizontal or vertical line which separates two numbers on the betting board. To increase your chances of winning with these bets you should use a roulette split bet strategy.
Street/Trio Bet: A bet on three numbers, a street bet roulette is placed when players place a chip on the line at the end of one of the rows of three numbers.
Corner (Four-Number) Bet: To place a corner (also known as a four-number) bet, players must place their chip on the intersection between the four numbers they wish to wager money on.
Five-Number/Basket Bet: Only available in American roulette, a five-number bet involves putting your chip just below the zeros. It is essentially a bet on a sequence of numbers, with those numbers being 0, 00, 1, 2 and 3. It is not a good American roulette strategy to bet on the five number bet as the house edge is very high, 7.89%.
Six-line Bet: Players who make six-line bets are wagering on two rows of three numbers. With this bet, the chip must be placed on the intersection between two rows of numbers, but at the end of those rows.
Outside Bets
Outside bets are the simplest types of bets to make in roulette, and they are ideal for newbies who are just starting to get to grips with the game. If you want to skim through this roulette guide and start playing immediately, these are the bets you may wish to learn first.
Outside bets pay out far more frequently, but the winnings they offer pale in comparison to inside bets.
These include:
Column Bet: These involve betting on one of the three columns of numbers on the betting board. Your chip will be placed at the top of the column, that takes your fancy.
Dozen Bet: Players will note that the roulette board also features 1st 12, 2nd 12 and 3rd 12 boxes. These allow players to place bets on numbers 1-12, 13-24, and 25-36. Naturally, your chip must go into the relevant spot on the betting board.
Odd/Even Bet: Odds and even bets involve wagering on whether the ball will land in an odd or even numbered pocket. There are two spots on the betting board for these options.
High/Low Bet: High and low bet spots can also be seen on the betting board. Here, players can place a chip on a low bet (numbers 1-18) or a high bet (numbers 19-36).
Red/Black Bet: Another even money bet, and almost identical to odds and evens, putting a chip in the red or black box on the board means that you are wagering on the selected pocket being a red or black number. You shouldn't need any further information on how to play red or black bets in roulette. It is self-explanatory. But you may want to read more on how to win at roulette red and black.
Additional Bets to Consider
If you're playing French roulette, you may find a few other bets. Learning how to play French roulette is a lot trickier than American or European roulette, on account of their being neighbour bets to contend with. Once you get up to date with the roulette rules for beginners, you can start considering some of the special bets, just to spice things up.
Also known as announced bets, these take a bit of practice to get used to. They can be found on a separate part of the roulette betting board known as the racetrack and aren't present in all roulette games.
They include:
Voisins du Zéro: Also known as Neighbours of Zero, these bets include the zero, as well as the seven numbers on either side of that zero. In short, you're betting on a total of 15 numbers, but that bet is made up of 9 chips.
These include 3 chips on a 0, 2 and 3 trio, five split bets costing one chip each (on 4 and 7, 12 and 15, 18 and 21, 19 and 22, and finally, 32 and 35), and one single corner bet which costs two chips.
The latter consists of pocket numbers 25, 26, 28 and 29.
Tiers du Cylindre: These bets are based on the side of the wheel opposite the Voisins du Zéro.
It means One Third of the Wheel and is a bet made up of six chips, covering the following split bets: 5 and 8, 10 and 11, 13 and 16, 23 and 24, 27 and 30, and lastly, 33 and 36.
Orphelins: This bet covers the final third of the roulette wheel, the bit which doesn't form Voisins du Zéro or Tiers du Cylindre bets.
Here, players are placing four chips on a straight bet (on number 1), as well as four split bets on pockets numbered 6 and 9, 14 and 17, 17 and 20, and lastly, 31 and 34.
Jeu Zéro: The final racetrack bet is known as the Zero Game.
It involves placing a straight bet on 26, and three split bets on 0 and 3, 12 and 15, as well as 32 and 35, as these numbers cover just the three neighbouring pockets on either side of the zero.
Players are strongly advised to play American or European roulette (be it free European roulette) before tackling French roulette and its racetrack and neighbour bets.
The Surrender Rules in French Roulette
Two other rule changes may commonly be found in French roulette. Like surrender rules in card games, the En Prison and La Partage rules can save you from an instant loss on the zero pocket. These two rules represent two of the most popular tricks to play roulette.
Here are how these two roulette tips work:
En Prison: The En Prison rule becomes active if the ball lands in the zero pockets, but only if you have wagered on an even money (red, black, odd or even) bet. If this occurs, the croupier will mark your bet (freeze it by putting it "in prison"), and should your next bet be a winner; he will return your stake.
La Partage: By contrast, the La Partage rule will see players receive 50% of their bet back should they in the zero pocket. However, once again, this is only the case on even money bets.
Players should not expect to find these rules in standard European and American roulette games.
Other Aspects of Roulette to Think About
Up to this point, you will have learned about the various types of bets you can make and have a basic understanding of how the game is played.
However, there is more to pay attention to if you want to learn how to play roulette and win, or at least if you're going to master how to play roulette more effectively.
We won't get bogged down with online roulette tips here, although it is worth pointing out that choosing the right type of bet and learning about roulette house edges can be advantageous.
By returning to a topic we first mentioned at the start of this guide, the number of zeros in roulette, we can work out the house edge.
Roulette House Edge
As mentioned, a touch earlier, at the start of this guide, there are three main roulette variants, and the number of zeros in them differs. The number of zero pockets will directly affect the house edge in the games.
While there is no guaranteed way to learn how to play and win all the time, choosing your game based on the house edge it offers will put you in a better position to do so.
First and foremost, if your sole interest in being successful and putting yourself in the best position to win, then forget about reading how to play American roulette. American roulette features two zero pockets (0 and 00, remember?).
If the ball lands in those pockets you will lose your bets, as you now know. This gives any chosen casino a house edge of 5.26%.
On the other hand, European roulette only has one zero pocket. This means that the house edge in this game is half that of its American cousin, at 2.7%.
Immediately, players will see that European roulette is more advantageous for them than American roulette. However, we're not done yet.
Ordinarily, French roulette has the same single zero pocket as European roulette, so it will have a house edge of 2.7%. However, if your chosen French roulette game also has the La Partage rule worked into its design, the house edge drops further still, to 1.35%.
However, players must remember that this is only true if you're playing with even money bets.
When learning how to play roulette online, you may come across several other roulette variants out there (such as Pinball roulette), and these may have their own take on the rules. 3D roulette follows the European or American roulette rules, depending on its variant.
Naturally, these will alter the house edge further still, although by what degree and to whose advantage (the casino's or yours) varies from game to game.
Choosing the Right Bet
Choosing the right game is an important place to start as it helps you cut down the house edge. However choosing roulette strategies that work can be just as if not even more important.
When playing roulette, the following two bets are generally thought of as good ways to go.
The Best Bet for Rookies: If you are new to the game, then starting with even money bets is the way to go. An even money bet will see you double your money if it comes off. This is about as close to a 50/50 bet as you're going to get with any roulette bet.
The Red and Black Column Bet: When betting on columns, it is worth looking at the number of reds and blacks on them. They vary. The third column contains twice as many reds and blacks. If you were to put a single bet on the third column and double that stake on blacks (all of them), you've got wagers on just over half of the roulette wheel. If the ball lands on reds, you lose your blacks bet, but will win double your bet, thus breaking even. If the ball lands in a black spot (but not one in your column), you'll also break even. However, if the ball lands in a black pocket which is a part of your column, you'll win both bets. There is, of course, still a risk that you will lose your bet (if you land on a red which isn't in your column), but the risk is reduced. Moreover, the same process can be used to bet on the second column (which has twice as many blacks as reds), with a bet worth double the stake on reds instead of blacks.
These bets, as well as many other exciting options, can be found by paying close attention to the betting board or reading how to play roulette strategy guides.
The Worst Bets
While the two bets above are a great way to get to grips with how to play a roulette game and win, there are a few bets out there which you probably want to avoid. In American roulette, players should try and avoid the basket bet. This is the five-line bet we talked about earlier.
It comes with a house edge of 7.89% and is officially recognised as the worst bet of any roulette game. In fact, you would be better served just ignoring American roulette altogether and learning how to play European roulette online instead.
Even though European roulette rules favour you more than American roulette, there are still bets to avoid. Straight bets and split bets are appealing as they pay out large sums of cash.
Unfortunately, the odds landing them aren't brilliant, and you want to learn how to play roulette like a smart player. Let's have a closer look at roulette odds, and you'll see what we mean.
Learn the Roulette Odds and Payouts
How important are the odds to general roulette gameplay? Quite staggeringly important, as it turns out. These essentially dictate how likely you are going to be to pull off a win.
If you don't just want to learn how to play roulette with red or black bets, and you want to learn how to play roulette like a pro, you'll need to study these odds. Below you will find the odds of each bet mentioned earlier in this guide, as well as the roulette payouts associated with them.
As mentioned earlier, inside bets pay out more but have a lower degree of probability of turning up regularly. You may want to learn how to play roulette online for big money, but we would never start with these sorts of bets.
It is far better to begin with outside bets.  The biggest roulette win was $3.5 million by Pedro Grendene Bartelle in Uruguay. To best showcase the European roulette odds, Frenc roulette and American roulette odds, payouts, and to help you study them, we've come up with this handy table.
European/French Roulette Odds
Straight Up
European/French Roulette Odds
2.7%
American Roulette Odds
2.6%
Split
European/French Roulette Odds
5.4%
American Roulette Odds
5.3%
Street/Trio
European/French Roulette Odds
8.1%
American Roulette Odds
7.9%
Corner/Four-Number
European/French Roulette Odds
10.8%
American Roulette Odds
10.5%
Six-line
European/French Roulette Odds
16.2%
American Roulette Odds
15.8%
Column/Dozen
European/French Roulette Odds
32.4%
American Roulette Odds
31.6%
Low/High
European/French Roulette Odds
48.6%
American Roulette Odds
47.4%
Even/Odd/Red/Black
European/French Roulette Odds
48.6%
American Roulette Odds
47.4%
As you can see from our paytable above, there is quite a difference between the inside bets and the outside bets. Learning how to play the roulette wheel is very much about studying odds and probability. You can find out the best way to bet on the highest number on roulette wheel with this valuable guide.
After looking at the table above, and revisiting everything we've discussed thus far, you should now understand how to play roulette. Even so, there are still a few tips for playing roulette that we'd like to share with you.
One Last Lesson – A Few Handy Roulette Tips
If you think you already know how to play roulette and win, think again. There is no bona fide, sure way to guarantee to wins. However, there are roulette games which can teach you how to play, and there are guides (like ours) which offer you advice.
The last part of our how to play roulette guide provides tips.
These might make the difference between winning and losing. Here are a few further things to keep in mind:
Outside Bets: As mentioned earlier, you will win less with outside bets. However, they are far more likely to come good, so if you're a rookie or prefer to win small sums somewhat frequently, outside bets are the way to go.
Profit Betting: Players should only ever play with profits. Roulette, like most gambling games, can be addictive. Learning how much to bankroll yourself with to play roulette is a crucial thing to do. Make sure you only wager winnings, or at the very least, avoid redepositing.
Practice Makes Perfect: While it is possible to play roulette at the drop of a hat using outside bets, mastering the game is no easy process.
Learning how to play roulette casino games, and how to play roulette with chips and bets that you aren't familiar with is best done for free, via demo games, before you tackle the real thing for actual money.
Lingering Thoughts: Our Brief Roulette FAQ Guide
Aside from "how does roulette work", there may be a few other questions you have? We've tried to put together those answers to cover any lingering questions in this very brief FAQ guide to roulette.
For the most part, yes. There are subtle changes in roulette rules from game to game, but most of those have been covered above.
Yes, it is. Not many online casinos offer a surplus of roulette tournaments, but some certainly do. The rules of those tournaments vary. Each casino should be able to provide you with their own quick how to play roulette tournaments guide.
Yes. Roulette gambling games can be played as live dealer games. Some even feature progressive jackpots, two balls, or even several wheels. These games are now commonplace across the net.
Yes and actually is the recommended way to learn how to play roulette. You can find a lot of roulette games and online apps when you can play for free.
Play Roulette Like a Pro and Get Started Today!
If you've made it this far, our guide will no doubt have been a bit of a journey for you. However, at the end of it all, you will surely feel that you know enough about how to play roulette to get started?
Remembering our advice and our tips to playing roulette should see you in good stead to enjoy one of the most popular and legendary casino games in both the internet betting industry and the land-based casino world.
If you want to play online, you can find a wealth of top casinos which offer leading roulette games at this page. Armed with what you know, there is no better time to get started.