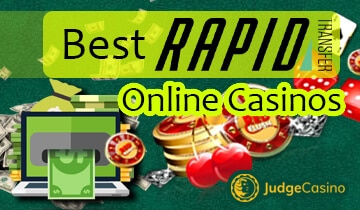 You do not have to look extremely hard to find Rapid Transfer casino sites.
Many of the top betting portals which accept Skrill are also amongst the best Rapid Transfer online casino sites around.
The main reason for this is that Rapid Transfer is a payment method brought to consumers by Skrill.
If you are wondering how to use Rapid Transfer for online casino gaming, though, you have come to the right place.
In our review, we will not only provide you with a list of casinos accepting Rapid Transfer but also take you through the process of depositing and withdrawing with this increasingly popular casino payment method.
Top 10 online casinos that accept Rapid Transfer [2023] - Updated list
Your guide to using Rapid Transfer at online casinos in 2023
Rapid Transfer is owned by the Paysafe Group, much like Skrill. It is an instant banking option that allows you to deposit money from your local bank account using the same credentials as those linked to your Skrill account.
Because of the way that it works, you do not need to hand out any personal banking details at a Rapid Transfer online casino. This presents a superb added layer of security to Rapid Transfer banking at online casinos, making it a popular payment method to use in 2023.
Rapid Transfer is accepted in the United Kingdom (see here our online casino UK list), Germany, Italy (here are our best picks of online casino Italy sites), Austria (check our list of online casino Austria sites), France, Norway (see our Rapid Transfer casino Norway sites list) Hungary (we have also prepared an online casino Hungary list), and Spain. Most EU countries can also use this payment method, although players in Canada (check our online casino Canada sites), the US, Australia, India, and anywhere where Skrill is not accepted are set to miss out.
As well as being affiliated with over 170 banks, Rapid Transfer permits transactions in the Euro, Bulgarian lev, Danish krone, Hungarian forint, Norwegian kroner, Polish zloty, Swedish kronor, and British pound sterling currencies. Let us now continue our guide by looking at how you can use Rapid Transfer.
How to use Rapid Transfer
The security side of Rapid Transfer
Depositing at Rapid Transfer casinos
The smartest way to deposit with Rapid Transfer at casinos is to have a Skrill account. Whether you choose a Rapid Transfer casino site or a Rapid Transfer casino Finland site follow these steps:
Step 1
If you already have one, you can confirm any Rapid Transfer casino deposit you make with your Skrill login information.
Step 2
Skrill will then deduct those funds from your bank account.
Step 3
Alternatively, those of you without Skrill can still deposit at online casinos that accept Rapid transfer transactions, though you will need to enter your bank details (and have an applicable bank account) and the amount you want to deposit through Rapid Transfer. This is done via a second screen.
Rapid Transfer deposits should take place instantly, just as soon as the payment method has contacted your bank or Skrill to confirm the transaction.
How to withdraw winnings at Rapid Transfer Casino
Rapid Transfer casino withdrawals are not possible at all internet betting sites, but the same is true for an online casino PayPal withdrawal and other options. Wherever Skrill is accepted, Rapid Transfer usually is, too. The process is the same as depositing, albeit in reverse.
Step 1
Head to the cashier, select Rapid Transfer, and the amount you wish to cash out, then follow the on-screen instructions.
Step 3
Moreover, you may be charged a fee for using this service. This varies from casino to casino.
Claiming Rapid Transfer bonuses at casino sites
Alternative options to Rapid Transfer casinos
Pros and Cons of using Rapid Transfer at online casinos
Rapid Transfer allows you to deposit without handing over your bank details to a casino
It is a part of the hugely trusted Paysafe Group
The payment method offers instant deposit times
Not all casinos accept Skrill or Rapid Transfer
Rapid Transfer transactions can cost money
Frequently Asked Questions about Rapid Transfer Online Casinos:
Yes. Rapid Transfer is a part of the Paysafe Group, which has a proven pedigree for processing, safe, secure, licensed, and legal banking transactions at online casinos.
No, though, it is advised. If you do not have a Skrill account, you must provide your bank details through Rapid Transfer and have an account at an accepted bank. It is just easier to do things via your Skrill login details.
No. There is no such thing as a Rapid Transfer account. Rapid Transfer is a service offered via Skrill.
Yes. There is a 1% fee when uploaded funds from your bank to Skrill using Rapid Transfer. You may also find Rapid Transfer fees when withdrawing your winnings from an online casino. These vary from site to site.
Mobile casinos that accept Rapid Transfer may have their own dedicated apps. However, aside from a Rapid Transfer casino app, there are mobile apps for both Skrill and Rapid Transfer which you can use.
For the most part, any typical
Skrill casino
should accept Rapid Transfer. Similarly, most Rapid Transfer casinos will also accept Skrill. However, there are one or two rare exceptions where one method is accepted but not the other.
Play at top Rapid Transfer casino sites today
Depositing at a Rapid Transfer casino is a simple, fast, and affordable process. Moreover, you can withdraw at most top Rapid Transfer casinos, too. If you are looking for a few of the hottest, most popular, and new Rapid Transfer casinos, we can help.
On this gambling page, you can find a variety of the safest, most secure, and licensed casinos offering this payment method. Check out our Rapid Transfer online casino list to find a reputable place to deposit, wager, and play today.
Other related articles you might like: