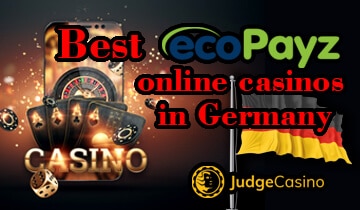 German players can deposit and wager at licensed casinos using multiple payment methods, but many prefer the Ecopayz casino Germany solution. This financial instrument has been around for many years and since 2000 its customer base grew ever larger.
EcoPayz, operated by PSI-Pay Limited, it is licensed by the Financial Conduct Authority and widely regarded as a secure payment method for gambling. Users can make a free transfer between accounts and also pay for goods and services over the Internet.
Let's take a closer look at this payment method and what it can offer you when gambling online.
What is the forecast for online gambling in Germany?
A brief look at Ecopayz payments
The moment you land on the websites of German casinos that accept Ecopayz deposits you are allowed to use this payment method to make a deposit. It's important to know that there are three distinct ways of using the service and they go by the name of ecoAccount, ecoCard and ecoVirtualcard.
The popularity of this payment method in Germany means that there are plenty of gambling operators where you can use it to deposit and cash out winnings. Once you sign up for an ecoAccount you will be able to use it as a regular e-wallet to make fast and inexpensive money transfers. The only thing left is to find the best Ecopayz online casino Germany, so you enjoy the finest and most secure gaming experience.
🥇 Best EcoPayz casinos in Germany [2023] - Updated List
How secure is Ecopayz for online gambling?
Using Ecopayz at online casinos in Germany is virtually risk-free, as long as you don't share the private details with anyone. Choose any one of the licensed operators from the list of safe online casinos recommended by us and you'll be in good hands.
👉 The payment method is secure and protected by SSL encryption technology that prevents cyber criminals from stealing sensitive information or money. The Ecocard is actually a Mastercard so it benefits from the same secure protocols as their credit cards.
👉 Ecopayz is regulated by the Financial Conduct Authority (FCA) through the Electronic Money Act 2011.
👉 Over the years, Ecopayz has built a reputation as one of the best casino payment methods and was the recipient of prestigious awards. It won the FStech Award 2015 and the Payment Award 2014, which certify the attention it pays to privacy and security.
👉 Players won't have the gambling transactions appearing on the banking statement, and enjoy the same confidentiality when using Ecopayz Paypal.
Do German casinos offer bonuses for Ecopayz deposits?
How to set up an ecoAccount?
Once you choose a reliable operator from the long list of Ecopayz accepted online casinos in Germany you need to proceed with depositing. The first step is to set up an ecoAccount, which is absolutely free and there are just three steps to complete to have one up and running.
Step 1
Enter your personal details such as address, name, date of birth

Step 2
Choose a valid email address that you used to confirm the account
Step 3
Provide Ecopayz with scanned ID, a utility bill and a bank statement to verify identity.

Step by step deposits with Ecopayz at German online casinos
Once you have an account, you can use it to make a deposit and operators from our Germany Ecopayz online casinos list. This is a fast process that consists of 4 steps and it is identical to what other e-wallets are using, so those familiar with Neteller casinos and PayPal casinos will enjoy a smooth ride:
Step 1
Top up your ecoAccount with funds

Step 2
Choose Ecopayz as your preferred payment method

Step 3
Select the amount you want to deposit at the Ecopayz casino Germany
Step 4
Funds will be credited immediately so you can use it to gamble
Successful players will want to cash out their winnings from the
Ecocard online casinos
of choice. If you decide to transfer funds straight to your
ecoAccount, the waiting time shouldn't exceed 48 hours.
When you choose to cash out winnings via debit or virtual card, you might have to wait slightly longer, but no more than five business days.
The limits can differ greatly from one gambling operator to the other, with minimum deposit casinos usually having lower withdrawal limits too.
Advantages and shortcomings of Ecopayz casinos Germany
As with any other payment method, there are pros and cons of using Ecopayz for gambling. The good news is that there are more reasons to trust this payment method than to look for alternative banking options. These are some of the key strengths and weaknesses that Ecopayz casino players must consider:
What are the costs of depositing with Ecopayz?
Few things are as important as the costs incurred when using a payment method and this applies to Ecopayz online casino Germany players as well. The good news is that the overall costs are relatively low and comparable to what a legit online casino Paypal charges.
▶ Setting up the account is free, but a wire transfer will cost up to 7%, compared to less than 3% for credit cards.
▶ If the currency is converted, you will be charged a 2.99% fee for a regular account and as little as 1.25% for VIP members.
▶ Transfers between accounts will result in a 1.5% fee unless you are a Gold, Platinum and VIP user.
EcoCard
▶ You won't have to pay a dime for activating the card, but making withdrawals from an ATM will result in a 2% fee.
▶ The 2.99% fee will be charged when you make payments in a different currency.
▶ There are maximum transaction limits that start at $1000 for Silver players and increase significantly for Gold, Platinum and VIP users.
EcoVirtualcard
▶ Transactions made using the virtual card are charged at the same rate as the ecoCard ones.
▶ The difference is that you can't use it to withdraw at an ATM, so there are no fees for such transactions and you don't have to pay anything for the card to be issued.
Ecopayz vs similar casino payment methods
Ecopayz casinos Germany usually allow players to deposit in other e-wallet, including the most popular ones such as

PayPal, Neteller and Skrill. The differences are negligible, with all of them offering similar product and deposit options. You'd be able to use any of them to load your account at a 10 dollar minimum deposit casino

and also cash out your profits in the same manner.

All these e-wallets are faster than credit and wire transfers when it comes to cash outs, while deposits are performed instantly.
German players can also use the locally popular Sofort and Giropay, but unlike PayPal, Neteller and Skrill they are not accepted in many other countries.
Like PayPal, Ecopayz can be used in more than 200 countries, and Neteller or MuchBetter (here is the list of MuchBetter casino sites) in more than 150
Credit cards are charged a fee between 1.70% and 2.90% when you use

Ecopayz, while

Neteller and Skrill have a flat 1.9%.
Withdrawals to bank accounts revolve around €10 for all these e-wallets, while paying at shops is free in all cases.
Your FAQs on ecoPayz casinos in Germany answered
There are plenty of licensed Ecopayz online casino Germany that accept this payment method, but also unregulated operators. Players should choose casinos that operate legally for enhanced security.
You have no problem in finding dozens of Ecopayz casino Germany. This is one of the most popular e-wallet in this country next to Sofort or Giropay and payment methods such as cards and wire transfers.
If deposits are declined, this usually happens because you don't have the ecoAccount funded. Top it out and if the problem persists get in touch with customer support to see what's wrong.
Some Ecopayz casinos Germany allow players to deposit larger sums, while others limit them to smaller payments. The strength of this payment method consists in the speed of its transactions, not its limits.
Yes, you can talk to a customer specialist in German if you play at an Ecopayz online casino Germany.
The Ecopayz app can be downloaded on mobile devices and used for free by iOS and Android users.
EcoPayz make casino deposits fast and secure
German players who choose to gamble at a local casino have plenty to gain from using EcoPayz as their payment method. This is a fast, secure and proven financial instrument that can also be used to make transfers between accounts and shop online. Granted there are some costs and fees associated with these transactions, they are in line with the industry average and won't set you back financially. You'd be able to claim bonuses and take part in the promotions Ecopayz online casino Germany has for their players.