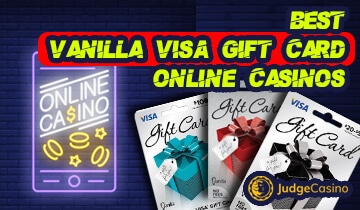 Vanilla VISA gift card online gambling sites are starting to spring up frequently of late.
For those of you not familiar with this payment, Vanilla is a company which produces VISA-backed "gift cards".
Available in both e-mail and plastic card formats, they essentially allow you to purchase things online without using your proper bank card.
If you are wondering, "can I use Vanilla VISA at online casinos?", the answer is yes – you can.
In the past, we have written guides about various payment methods, such as Bitcoin and many more.
Now, we will turn our heads towards Vanilla VISA casino sites. If you are interested in learning what this payment method can offer you, read on to find out more…
Top 10 online casinos that accept VISA deposits [2023] - Updated list
Your guide to Vanilla VISA gift card gambling in 2023
Before you dash off to find a Vanilla VISA online casino, it helps to get an idea of what this payment method can do for you. How does it differ from, say a legit online casino with PayPal options, or a Neosurf casino?
Our review will help you understand those things. We will explain how it works, where you can obtain it and why you might consider playing at online casinos using the Vanilla payment method. Let us begin…
What is a Vanilla VISA gift card, and how does it work?
Top tips for online gambling with Vanilla VISA gift cards
As with any betting site, such as a typical
Pay n Play casino
, there are a few things you should note about Vanilla VISA gift cards. They include:
Always check whether you can use Vanilla VISA at online casino sites before you sign-up.
Vanilla VISAs work in the same way as prepaid cards and vouchers.
You can view your balance at any time via the VanillaGift.com website.
Online casinos that accept Vanilla VISA will typically accept other prepaid vouchers, too.
You are unlikely to be able to withdraw via this option.
How to deposit with Vanilla VISA gift cards at online casinos
Depositing at online casinos that accept VISA gift cards is straightforward stuff. Here is how to use a Vanilla VISA at online casinos:
Step 1
Acquire a Vanilla VISA gift card, either via Vanilla's website or at a retailer in your country
Step 2
Check the balance of the card at Vanilla's website, to be sure what is on there
Step 3
Head to a casino that accepts VISA prepaid vouchers and gift cards
Step 4
Enter the gift card's details and the amount you wish to deposit from the card
Step 5
Your deposit should land instantly in your account
Our recommended pick for playing via Vanilla VISA gift card
Twin Casino Welcome bonus: Up to €400 + 400 Free Spins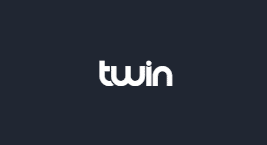 To help get you started, we recommend
Twin Casino
. This popular
instant play casino
is safe and secure and is already accepting Vanilla VISA gift card deposits.
Just head over to the deposit screen and select "eVoucher VISA" as your payment method to use Vanilla VISAs there.
Vanilla VISA gift card - Unique features worth noting
Some online casinos are offering a reward and bonuses to players who deposit using VISA eVoucher and prepaid options. You can often find this at some casinos which accept e-wallets, gift cards, and typical
POLi casino
sites.
In effect, you can usually claim an added deposit bonus if you opt to use a preferred payment method. For some casinos, this may mean Vanilla VISA. However, always read the terms and conditions of any offer before you decide to deposit and claim it.
Why not just use VISA at online casinos?
Arguably the most unique selling point of using Vanilla VISA at online casinos is that you do not need to hand over your bank details at the site. Instead, you are only using your prepaid VISA for online gambling. This makes it considerably safer than depositing with your credit or debit card at a typical VISA casino or USA casino that takes credit card payments.
Those of you who regularly play at MasterCard casino sites have similar options and methods from EcoPayz. EcoCard online casinos work in much the same way as Vanilla VISAs, albeit with a MasterCard instead.
Help and workarounds for Vanilla VISA gift card users
Pros and cons of online gambling via Vanilla VISA gift cards
Allows you to deposit without disclosing your bank account details
Has good coverage, and is available to players in many countries
Each card has a fixed value, so you cannot overspend
Not ideal for cryptocurrency deposits at Bitcoin casino sites
Cannot always withdraw with this option
Frequently Asked Questions about Vanilla VISA online gambling:
Yes. We have a list of which online casinos accept VISA gift cards, so we will recommend starting with that.
Absolutely. In fact, they are one of the
best casino payment methods
you can use, as they offer maximum security and safety when depositing online.
Not really. Even
instant withdrawal casino sites
do not really allow you to withdraw via a prepaid card. You will need to find another payment option to use to cash out your winnings.
No. VISA gift cards such as Vanilla's can be used to deposit into casino accounts and purchase goods online, but not to deposit into your bank.
Yes. Cards that are valued at $10 to $75 have a $2.95 fee. Cards valued at $75 to $150 have a $3.95 fee. This rises to $4.95 with cards valued at $150 to $250. Cards can reach up to $500 in value and have a $6.95 fee.
No. If you want to continue using Vanilla VISA to deposit at casinos, you will either need to order a new plastic card from the website, purchase a digital (sent via e-mail) one from VanillaGift.com, or order a new card from a participating retailer.
It takes 3-4 days for plastic cards to arrive, and 24-48 hours for you to receive digital ones. However, depositing into a casino account once you have your card is just as quick as at a typical
RoyalPay casino
, or
PurplePay casino
- in short, instantaneous.
Starting using Vanilla VISA gift cards for online gambling today
You can start using Vanilla VISA gift cards for online gambling right now. Check out our list of hot online casinos that accept VISA gift cards, and you will come across those online casinos which accept the Vanilla payment method.
If you want to deposit with total security, then choosing our recommended casinos and using Vanilla VISA gift cards is the way to go.