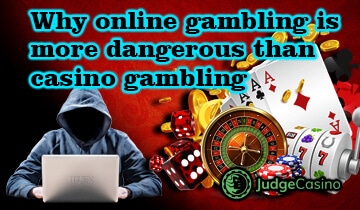 Have you ever wondered why online gambling is more dangerous than casino gambling? Perhaps, you have never given it a thought. If you have, the dangers of online gambling addiction are probably familiar to you already. If not, we are here to help.
To answer the question, "why is online gambling more dangerous than high street gambling?" we need to take a closer look at the perils and dangers of online gambling in general.
It is not all doom and gloom, though. It is possible to stay safe when wagering online, provided you are playing at the best online casino websites. We will cover both sides of the story in our guide.
Putting online gambling into context
Before exploring why online gambling is more addictive than casino gambling, we need to put the industry into context. Firstly, not all betting sites are bad for business. Many are amongst the most trusted casinos you can play at. However, even at these sites, it is still possible for you to fall victim to casino gambling addiction. Online gambling risks are not necessarily limited to the "fairness" of a casino.
Does gambling affect your health? It can do. The COVID pandemic has seen a dynamic shift in the number of people betting online. Sure, not being able to visit a land-based casino has impacted those numbers, but so too has boredom and having excess cash from not going on holiday.
In the worst cases, desperation may have driven people to gamble, especially those who may have lost their jobs and need cash fast. Many of these people did not join casinos perhaps as willingly as they might have liked (circumstances may have coaxed them into doing so), and as such, they are not enjoying their time as much as they could. This can lead to problem gambling, and that in turn can play a detrimental role in your health.
🥇 Best safe online casinos in 2023
11 reasons why online gambling is more dangerous than casino gambling
We think the question of "is online gambling more dangerous than casino gambling" deserves a clearer answer. After all, what does brick-and-mortar casino gambling have which makes it less dangerous? Why is online gambling so addictive? Below, you will find some of the reasons why online gambling is more dangerous than casino gambling.
1. Risk of scams, rogue and blacklisted casinos
A brick-and-mortar casino is usually deemed safe. However, it is a lot easier for online sites to scam people. Playing at casinos that are illegal in your country is a bad idea, as they do not offer you the protection that players residing in legal countries can get. Rogue casinos (sites without a license) and blacklisted casinos are hard to spot if you do not know what you are looking for.
2. Possible bank account hacks
Internet gambling addiction is not the only issue plaguing some players. When betting online, there is always the risk that someone will hack your account and steal your data. The best casinos in the world have SSL encryption to protect against this, but there is no danger of it happening at land-based sites.
3. Easy to lose track of losses
As you cannot see physical cash or chips when betting online, it is easy to lose track of your losses. Instant deposit options can exacerbate this issue. Continually depositing is simply not the answer to how to recover lost money in casino sites.
4. Easy to hide habits
In a land-based casino, it is easy for the staff to spot problem gamblers. Online, nobody can see you. The accessibility and anonymity online betting provides makes it easier for you to hide your gambling habits from your family. This makes it trickier for anyone else to spot any online gambling problem that you may have.
5. Too good to be true online casino bonuses
Land-based casinos seldom offer substantial amounts of free money. However, at online casinos, you can find yourself drowning in online casino promotions and bonuses. Top new casinos can offer a wealth of the best online casino bonus offers. However, some sites have extensive terms and conditions, and you could end up having to spend thousands before you can withdraw your winnings. Learning about terms such as online casino wagering requirements is essential before betting online.
6. Varying odds of success: free play vs real money play
This does not happen often, but it is possible for some casinos to "wire" their free play games to look more generous than their real money ones. Unless you know your onions, you could fall into this trap.
7. Increased speed for online casino games
Online games are played far faster than land-based ones. The ability to skip the spinning of reels or deals ensures fast-paced gameplay. Impatience on your part could be a sign of a gambling program developing.
8. Gamble online 24/7
Although you can take a break at any time online, it is also far easier to bet anywhere at any time, even from your phone. This may increase the amount of time you spend gambling. Going to a brick-and-mortar casino takes a lot of effort by comparison.
9. You can play multiple games at once
Online casinos allow you to play several games at once. There is no reason to do this in the real world. Auto spinning several slots at once is a clear sign that you are not enjoying your gameplay.
10. More addictive gameplay
The gameplay in online slots is more addictive. The wealth of features, many types of casino bonuses and free spins can make you bet more than in a real casino. There are fewer safeguards against addiction and nobody to spot problem gambling. True, there are arguably better help programs online, but you still need to make a conscious decision to join them.
11. Booted out? Join another site
If you get kicked out of an online casino, there is extraordinarily little to stop you from joining another. In the real world, you would have to physically go to another casino, and casinos tend to talk to one another, so they may also deny you entry if you are a problem gambler.
Top tips for maintaining control when gambling online
As you can see, there are reasons why online gambling is more addictive than casino gambling. We do not want to go bogged down with answering "why is gambling bad" or is online gambling dangerous? There are, after all, things you can do to maintain control when you bet. You can avoid pathological gambling problems, and we will show you how below…
👉 Play at regulated and licensed casinos:
You should always aim to play at licensed and regulated casinos. These
best casino websites
allow you to play responsibly and are certified as fair and trusted.
👉 Use tools to set limits: Responsible gambling tools at trusted sites allow you to set deposit and wager limits, restrict your real money betting to a specific timeframe, and provide you with the tools you need to opt-out, such as quit gambling apps.
👉 Note your wins and losses: Most top casinos have wager history options that allow you to monitor your wins versus your losses. Keeping an eye on how much you wager is highly recommended. 
👉 The casino always wins: The casino will always win (overall), but are online casinos rigged? No. You just need to be sure that you are playing at a site that has fair, certified games to stand a decent chance of success. There are top domains amongst the highest paying online casinos that certainly are not fixed and are perfectly safe to play at.
👉 Do not be shy about asking for help: You should never shy away from asking for help. Reputable online casinos will provide responsible gambling tools and access to renowned problem gambling programs. These are worth exploring if you are even slightly worried that you have a problem.
Play safely at top, secure and regulated online casinos
We have covered why online gambling is more dangerous than casino gambling. However, while the reasons to weigh online gambling vs. casino gambling are compelling, it is still entirely possible to have a nice, safe, and fair experience betting online.
All you need to do is sign up to legit online casinos and take full advantage of the responsible gambling tools that they offer. You can find many of these domains with our list of safe online casinos.