May 28, 2019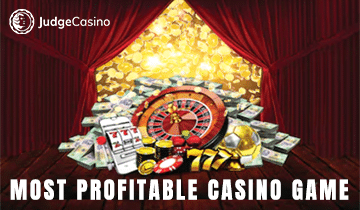 Online casinos are filled with games: Even an ordinary casino site is able to offer you more than 500 games in different categories. There is really a game for everyone: slots, cards, dice, roulette, keno, bingo… But, which ones offer better odds for players? What is the best game to play in a casino? And more importantly, which one is the best casino game to make money? Professional gamblers prefer only a couple of casino games to play and avoid all others – there is a reason for that. And you should do the same too, if you want to increase your chances. In this article, we will explain why your winning chances are different at every game and how you can use this to your advantage. We will show you the best game to play at a casino to win money and give some basic strategies that will further improve your chances.
And finally, we will show you which ones are the most profitable casinos to play. Let's start: Welcome to our most profitable casino game guide!
How Did We Decide The Most Profitable Game To Play In A Casino
Before we answer what is the most profitable casino game question, we must talk about RTP and house edge terms. Most of the players are not aware of their existence, but these two terms determine how much you will win in the long run (and how much you will lose). As a player, your goal is to play games with higher RTP rates – doing so will increase your winning frequency. And the goal of the casino is to increase its house edge rate, in order to win more from your bets. But we are going too fast: First, let's explain what RTP and house edge are.
RTP is short for "return to player". It is shown as a percentage and determines how much of your initial investment you can recover. Or, what will be your maximum loss in the long run. Here is a simple example: Let's say you are playing a slot game with an RTP rate of 96% and you invested 100 EUR. This means you will be able to recover 96 EUR back in the long run. In other words, your losses will be limited to 4 EUR.
House edge is the opposite of RTP. It is also a percentage and shows how much money the casino operator will make from your bets in the long run. Let's go back to the example above: If the RTP rate of a slot machine is 96%, this also means the same game has a house edge rate of 4%. In other words, the casino operator will be able to win 4 EUR from each of your 100 EUR bets in the long run.
So far so good, right? These are not complex terms and they are very important if you want to find the best game to play in a casino. If the RTP rate is high, you will win much more often and lose less. If the house edge rate is high, you will win less and lose more often. As a player, your goal should be playing games with high RTP and low house edge rates, simple as that. Doing so will also reveal which one is the most profitable game at the casino.
Best Casino Game To Play To Win Money: Actual RTP Rates
Since you learned the RTP/house edge concept, we can continue by giving actual RTP rates. However, before we start listing this data, we must mention a couple of things:
Winning casino games will always require a bit of luck. Even if you play a game with a 99.99% RTP rate, you cannot eliminate the chance factor entirely. Yes, you will be increasing your chances but nothing is "guaranteed", do not forget that.
Higher RTP rates do not mean that you will win "automatically". These rates are decided according to optimal gameplay. For example, blackjack has a very high RTP rate but if you don't make the optimal decisions, this won't be any use to you. You still need to use tactics, strategies and learn how to play these games.
The data we will share below is for online casinos only. As a general rule, online casinos offer higher RTP rates than their brick-and-mortar cousins. If you want the highest odds, always play at online casinos. (and take a look at our most profitable casino list to find out where to start.)
That being said, here is the list that shows the best games at casino to make money:
Blackjack: 99.67% RTP, 0.33% house edge
Video Poker: 99.54% RTP, 0.46% house edge
Roulette: 97.30% RTP, 2.70% house edge
Baccarat: 97.35% RTP, 2.65% house edge
So, there you go: These are the answers to what are the best casino games to play question. We know you still have some questions regarding this list, so let's continue with answering them.
Casino Card Games With Best Odds
First, let's explain what do these rates mean: They show the average RTP rate of a particular variant. For example, classic blackjack really has a 99.67% RTP rate, but this game has tons of variants too, such as where you can place bonus bets, get additional betting options, etc. The RTP rate of these variants will be different and much less. In other words, this rate does not show the RTP percentage of all blackjack games – it just shows the classic version. Same goes for the video poker: 99.54% RTP rate can only be achieved in "Jacks or Better" variant, and all other variants offer much less. In other words, do not take this list for granted: You still need to check the actual RTP rates of each and every game. This best gambling card games list only shows you which options to focus on most profitable casinos, and nothing else.
So, how do you do that? Every casino game has a paytable, which includes the rules of the game. This table also contains the RTP rate of that game – check the paytable and see what is the actual RTP rate is before starting to play. Here is a tip: The classic versions of card games always offer better odds and higher rates. Prefer classic stud poker instead of "Caribbean Hold'em Super Duper Deluxe Poker". Play classic blackjack instead of "Multi Bet Awesome Spanish 21". The exotic variants of a specific game always offer worse odds, as a general rule.
Back to the card games list: Among these options, blackjack is the overall best game to play at the casino. This is for a very simple reason: Its RTP rate never falls below 99%. In fact, it is even possible to get a 100% RTP rate in this game, at least in theory. Mathematical calculations show that if you really play an optimal game, you have a chance of winning each and every blackjack round. In reality, this won't be possible of course, but blackjack is still the best game to play at casino.
Video poker is the second best option. In some variants such as Double Joker Poker, it is even possible to see a positive RTP rate (for example, 102%). This is an extremely rare situation and such games are removed from the casino site once the operator becomes aware, but they still exist. If you pick the right most profitable casino, you can still find these variants.
Lastly, baccarat is the third most profitable casino game. It is harder to learn and play than both poker and blackjack, but we can say that it is the "coolest" one, also the preference of Mr. James Bond. If you are a true professional gambler, baccarat will still be an option for you. Otherwise, stick with blackjack and poker. And here is a simple tactic that will work on all card games at a casino: Learn how to count cards. The simplest way to do this is by counting the picture cards only. If you have an idea of which cards remain in the deck, you can make better decisions.
Most Profitable Casino Table Games
Roulette is the best casino game to play according to lots of gamblers. It is really one of the most profitable casino games, but only if you pick the right variant. Roulette has three main variants: European, American, and French. The American variant is one of the easy casino table games but you should stay away from it: This variant has the highest house edge rate, which is 5.40%. The European variant offers higher rates and the figure above belongs to this variant, actually. However, there is still something better: The French roulette. This is the best casino table game to make money and the house edge can be as low as 1.02%. This is due to this variant having additional betting options, which favor the player. If you will play roulette, always pick the French variant. If that one is not available, stick with the European version. And never play the American variant.
Craps can also be a good alternative, if you don't like cards and roulette balls. Some of its betting options offer quite high rates: The RTP rate of pass line bet is 98.59%, but every betting option has a different rate. So you must stick with fixed betting options in order to get lower house edge rates, which can be boring.
And here is a roulette tip which will help you score more winnings: The possibility of a red/black and odd/even bet is 47.37%. This is a very high percentage – instead of betting on the numbers, bet on the color or whether the outcome will be an odd or even number. You will get better odds.
Why Isn't Slot Machines Among The Most Profitable Casino Games?
You may think that a slot machine is the easiest game to win at casino, but it is quite the opposite: Slot machines are not the easiest casino game to win money. This may sound confusing at first sight, as RTP rates of video slot games are 95% on average, which seems like a good rate. There are even machines out there that offer 99% rates. So, why did we not include them among the most profitable casino games? Simply put, this is due to their unpredictability. It is impossible to increase your winning chances at slot machines, by following simple tactics and strategies. You can become a better blackjack player, you can win more in poker by reading your opponents, and you can even get better winning chances in roulette by betting on certain outcomes. However, none of these will be possible at slot machines. The outcome is determined by an RNG (random number generator) software and nobody, even the programmer of that game, can predict the results and/or increase the winning chance. Slot machines are based on pure luck, and that's why they cannot be in our most profitable casino games list. However, if you are wondering, they are easy casino games to play – they do not require any experience and the winning chances of a beginner and a professional are the same.
The Opposite Of Most Profitable Casino Games: Avoid These
You learned the answer to what are the best games to play at a casino question, but we must answer its opposite too: Which games offer the worst RTP rates? Which ones offer you the worst odds, even if you play at the world's most profitable casino? Well, here is the list:
Keno: 93.04 RTP, 6.96% house edge
Bingo: 94.50% RTP, 5.5% house edge
Scratch Cards: 00% RTP, 5.00% house edge
And these are the maximum possible numbers. If you pick the "wrong" variants, they can be much less. For example, there are keno games out there that offer only 72.00% RTP rates. And bingo games can drop as low as 90.00%. In short, you should avoid playing these games if you want the best odds. They are definitely not the easiest casino games to win and your losses will be much higher in the long run.
FAQ About Best Games To Play At The Casino
There is no single most profitable casino in the world. All online casinos offer different RTP/house edge rates. For example, "casino A" may be offering 99% RTP rate on all roulette games but its card games may have less than 95%. Or, "casino B" may be good at table games but bad at slot machines. The most profitable casinos are the ones that offer competitive RTP rates on certain game categories, there is no single casino site that is best at everything. It is our job the find the most profitable casino game among these options, and we already have the most profitable casinos list for you: Take your pick.
Zero house edge rates mean that the casino operator won't be winning anything from the player, so, no. There will always be a house edge. Even the crypto casinos that run entirely on the blockchain have a house edge – it is very low (less than 1% on all games) but it is still there. The best thing you can do is finding the lowest house edge rates possible. And we already listed the games that offer such rates.
Simply put, blackjack is the most profitable casino game. It offers the best overall RTP rates and the theoretical 100% RTP rate is really there. If you are mathematical savant who can count all eight decks of cards, you can really win all of the blackjack games you play. If not, your winning frequency will still be higher than other casino games. If you want to focus on a single game, it should be blackjack (and the classic version, not the fancy variants).
Let us stop you right there. Even the most profitable casinos are filled with players who have a system, and for some reason, they are still poor. And they want to share this "system" with you just because they are good people, which can be clearly seen that the same system did not work for them. Do not believe in every system, tactic, and "cheat" you hear: The majority of them are useless. Card counting is the most effective strategy for card games, and while there are a couple of other tactics that can be used, most of them are about analyzing your opponent, not the game. There is no system for roulette, craps, and slot machines, period. If someone is claiming the opposite, ask them to put 1.000 EUR on his own "tactic": They won't. Moreover, these false tactics can be harmful, as most of them are based on the Martingale strategy, which requires increasing the wager after every loss. If you are a casual player, stick with simple tactics mentioned in this guide. If you are a professional, you already know what you are doing. In any case, do not believe in "systems".
Start Playing Top Gambling Games Today!
Now, you know which ones are the best games to make money at casinos and which games are the worst: It is time to start playing. Take a look at our most profitable casino's list, pick one, and create an account today. Focus on the options that are listed in our most profitable casino game list and follow our advice: It won't be long before you score your first winning. As always, we wish you good luck: See you at the tables!