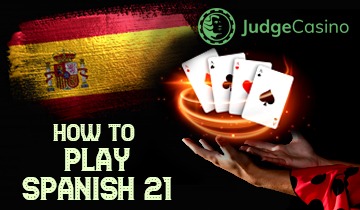 The casino floor abounds with all kinds of table and slot games, developed throughout the years to meet the specific preferences of the player pool.
With the best online casino websites coming to the fore, this has become all the more evident, and many additional game variants became a regular part of the best online slots.
Spanish 21 is definitely one of the most popular options, although it doesn't seem so.
In this guide, you are about the learn this blackjack alternative and why gamblers prefer to play Spanish Blackjack instead of the classic one.
Top 10 Online Casinos where you can play Blackjack [2023]:
Learn How to Play Spanish 21
Blackjack has been one of the most popular casino games since the early days of gambling entertainment. Nowadays, players enjoy a range of variants on the virtual blackjack felt, with Spanish 21 among the top choices.
This version of the standard gameplay is still predominantly based on the original rules of blackjack gameplay. However, just like other such "cousins" of the game – Australian or British Pontoon, as well as Blackjack Surrender – there are specific Spanish 21 rules, a characteristic table layout and even card decks.
In order to learn how to play Spanish 21 blackjack, start from the beginning – the game is played with 6 to 8 decks, but the main feature is the cards. Spanish 21 'how to play' guidelines primarily note that these decks are missing the 10-card in all suits.
Remember this and the following key points and use them to your advantage – getting the hang of the gameplay is practically the basic strategy for winning at Spanish 21.
6-8 card decks with 48 cards;
The 4 missing cards – 10s in all suits;
With 25% of the 10-point cards missing from the deck, the odds improve for the dealer;
The player's 21 always beats the dealer's blackjack;
The game's odds can be influenced in the players favour – one Spanish 21 basic strategy can reduce the odds by 1%, lowering them to 0.40%-0.76%.
Spanish 21 vs. Blackjack
As mentioned earlier, the foundations of Spanish 21 are still deeply rooted in blackjack gameplay. So, it is best to know some basic blackjack rules and strategies, and make use of all the advantageous features of the Spanish 21 card game.
While it has the same game flow, this variant of the famous card game provides players with some extra chances at hitting a win. It may well be a dream come true for those looking for the variant where every 21 total is a winning hand, and a 7-packed 21 offers an additional bonus prize. Still, it finds alternative ways to turn things around for the dealers as well.
In order to learn how to play Spanish 21 and win at it enough to turn it into profit, check out the Spanish 21 basic strategies, rules and all kinds of extra help. All in all, it takes in-depth understanding, much like with any other thing.
Spanish 21 – Rules, Strategy & Tips
Now that you have some idea about the cards you are dealt during Spanish 21, it is equally important to know the ground rules. These are devised with the same principle – based on the original classic blackjack card game, with a few extra twists to give players some incentive. After all, the game creators needed to make up for what is Spanish 21's greatest takeback – the lack of 10s in every card deck.
Go through the rules below, just to be clear on the specific ways to a valid win:
A player's 21 always wins.
The player's blackjack always beats the dealer's blackjack.
The player can double on any number of cards.
Doubling after a split is allowed.
Re-splitting aces is allowed.
Players can hit and double down after splitting aces.
A dealer hits on 16.
A dealer can hit or stand on a soft 17.
Multiple card draws are allowed after splitting aces.
Players can make a late surrender move on the first two cards.
The player can surrender after doubling down, known as 'double down rescue'. In this case, the player loses the amount of their original bet.
Additional payout opportunities are also included. Players have a real shot at winning at Spanish 21 due to the bonus payouts for specific hands – a 5-card 21, a combination of 6-7-8 or 7-7-7 (different or same suits) and more.
Even at that, some players find it difficult to rely solely on the hand they have been dealt. After all, it is widely known that blackjack is among the few casino games that allow players to make use of successful betting systems and gameplay strategies.
Just like the regular blackjack card game, Spanish 21 has a strategy chart that combines all the possible player hands with the best play for each one. While some players may find it difficult sticking to a particular gameplay pattern, it is just as practical to use it for guidance only. Even if you end up playing the hand differently, it is still helpful knowing that you have eligible advice at all times.
Some tips from experienced players, as well as additional tricks and play moves can also come in handy in such situations. Stick around and collect some additional pointers on how to turn the game to your advantage; with the existing Spanish 21 rules of play, it can practically seem like the cards are in your favour.
Spanish 21 – Standard & 'Match the Dealer Side Bet' Payouts
The payouts for the classic blackjack card game are not too different from what Spanish 21 awards its players. However, there are some additional play moves and bonus payouts which change the win amounts in some cases. Hence, it is best to have a clear preview of specific payouts for each possible hand, and make a calculated move with lowest risks and highest wins potential.
Insurance pays 2:1;
Blackjack pays 3:2;
5-Card Hand pays 3:2;
6-Card Hand pays 2:1;
7-Card Hand or over 3:1;
6-7-8 or 7-7-7 Hand of mixed suits pays 3:2;
6-7-8 or 7-7-7 Hand of same suits pays 2:1;
6-7-8 or 7-7-7 of Spades pays 3:1;
7-7-7 of the same suit vs. dealer's 7 face-up card pays $1,000 to $5,000.
As it can be seen, aside from the standard card hand combinations and their payouts, the last few points listed above illustrate the specific bonus payouts players can win. Speaking of which, there is a specific 'Match the Dealer' side bet option additionally provisioned in Spanish 21's rule book. Check out the payouts for this side bet bellow, and then decide on the best ways to put it to practice.
2 suited matches pays 18:1;
1 suited and 1 unsuited match pay 13:1;
1 suited match pays 9:1;
2 non-suited matches pay 8:1.
Bearing in mind all the specific payouts for each potential hand you could be dealt during Spanish 21, the rewarding nature of the card game is more than evident. As long as you put some basic strategy for Spanish 21 gameplay, and follow the rules as accurately as possible, it is bound to be a rewarding experience.
How To Win At Spanish 21
If you are looking at guides on how to win at Spanish 21, you might have come across strategies and tips that have been used at the tables before. There are claims that the Spanish 21 tips and strategies have actually helped players to beat the casino at the tables.
A Spanish 21 cheat sheet or a Spanish 21 blackjack strategy are  some of the most popular ways through which people win at the table. But what are they and how do they work? Is it true that they are keys to winning at the tables and that players can trust them?
Spanish 21 Online Casino Strategy
Spanish 21 tips recommend players to employ the use of the Spanish 21 cheat sheet. What is this? It is a detailed sheet that helps the player know which moves to take at the tables depending on the cards they have or the dealer's card. It advises on the next move that you will need to make so as to beat the casino.
Witty players use the cheat sheet and there are actual cases of players that have actually won by employing these systems. It is important to be careful because some casinos have termed the use of the sheets illegal and players can be banned from the tables if the casino discovers that you are using the strategy in a Spanish 21 card game.
What Is The Spanish 21 Basic Strategy Chart?
Also referred to as a Spanish 21 basic strategy card, it is a guideline that players can use in any Spanish 2 online casino so as to be able to win at the tables. Unlike the Spanish 21 cheat sheet, it employs a strategy that is simple and straightforward for the players.
Players love the strategy chart and once you master it, you can easily manipulate the odds at the tables in your favor. We highly advise players to master the chart using the free versions of the Spanish 21 card game first before they can actually use it at the tables.
Note that casinos prevent the use of these cards and other systems that will help the player have an upper-hand against the casino. Regular practice with the strategy will ensure that you can easily apply it and from here, you can be sure you will bag millions from the highest paying online casinos if you follow the guidelines on the strategy chart closely.
Spanish 21 Rules
This rule specifically refers to the hit, stand and split moves that players are eligible to make during Spanish 21. Just like in the classic variant, learning how to play and win at Spanish 21 starts off with hitting, standing or splitting. Players can make any of these moves any time after they have made their initial bet and the dealer has dealt the initial hand. How to decide on the right move is best made after careful assessment of the risk, the strategy chart suggestions and the specific payout of the potential outcome.
This rule incorporated in the Spanish 21 gameplay may well remind players of a different variant of the classical game – Blackjack Surrender. Either way, the fact that this rule applies to Spanish 21 means players can practically make the surrender move at any time in a successful attempt to save half their bet. In situations when all signs indicate that the dealer is going to beat your hand, this move can end up saving you great value.
The re-splitting rule means that you can split aces, and then re-split your hand again. Players are additionally allowed to double or re-double after splitting a pair. What is more, the late surrender rule just explained can also prove useful and is allowed in such cases. Thus, even if you have put a lot of money into a split hand, you can still apply the late surrender to one of the split halves in order to forfeit only half your wager.
This is a specific side bet type that can be easily found in other blackjack variants across the online casino lobbies. It basically allows players to bet if one or both of their preliminary cards will match the dealer's face up card. The payouts for this side bet are quite enticing, but the odds are just as challenging, which is why amateur enthusiasts looking for fun are not advised to risk big chunks of their bankroll on it. Or, if they want to try, they might want to apply one of the blackjack bankroll management strategies found in this guide.
Super Bonus is a specific bonus payout that players can hit in Spanish 21, and most likely in no other blackjack variant found online. It has quite tough odds to beat – players have a 1 in 668,382 chance to land this bonus in a six-deck blackjack game, that is, 1 in 549,188 chance in an eight-deck game. Still, should you happen to land the bonus, you are looking at some worthy payouts for your troubles.
Spanish 21 Tips
Learn the Spanish 21 Strategy Chart & How to Use It Properly
One of the leading tips by blackjack connoisseurs is to learn everything you can about the game you're playing. Considering that this is a blackjack variant, the strategy chart is practically your cheat sheet, while still allowing you to remain loyal to the game rules. Make sure you pay enough attention and memorize as much as possible of the strategies for each specific hand. This knowledge, paired with proper odds and payout assessment can prove extremely useful during gameplay.
Avoid Being Tempted into Drawing for the Bonus Payouts
The bonuses incorporated in the Spanish 21 card game can be rather tempting. After all, things like the 5-card hand total of 21 are not unknown to happen, and a 6-7-8 or 7-7-7 combination is just as much a stroke of luck. However, while you are feeling lucky, the card outcomes do not depend on any series of events, and may be anticipated but not accurately predicted. Their payouts are just as enticing, but at the risk of going bust, bonus bets are not worth it.
Keep the Surrender Move at a Minimum
The surrender may seem like a smart move, especially if you are new to the game. However, just like in regular or any other blackjack variant, surrendering too often at Spanish 21 will ultimately see you lose more than win.
Don't Be Afraid of Going Bust when Drawing Another Card in Spanish 21
Specifically due to the unique lack of 10-value cards in the Spanish 21 card shoe, drawing one more card is less likely to see players go bust, and could alternately make them winners.
Avoid The Match The Dealer Side Bet
The  Spanish 21 Match the Dealer side bet, as you know, allows players to match each or both of their initial crds with the dealer's face-up card. The risk definitely pays off, from 4:1 to 18:1 payouts to be exact. However, the odds of actually hitting a win with this bet drastically lower winnings, and could see you lose your whole bet to the casino operator.
FAQ about Spanish 21
For experienced players, yes. In Spanish 21, player blackjack always beats the dealer blackjack, and you can reduce the odds up to 0.40% by using the right strategies. Basically, its rules favor the player more.
The general rules are the same: You still need 21 or beat the dealer's hand. However, you can double on any number of cards, double after a split, can use late surrender, and get a bonus for specific hands.
Mainly, the rules of doubling and splitting are different – for example, in Spanish 21, you are allowed multiple card draws after splitting aces. Also, there are additional payouts for specific card combinations, i.e., 6-7-8 or 7-7-7.
Yes, you can. Card counting is a valid tactic in all card games, not just blackjack. By doing that, you can find out which cards are left in the deck and make a more accurate prediction about the dealer's hand.
Spanish 21 Blackjack - A Conclusion
On a final note, blackjack online games are still one of the best ones to play at online casino establishments, just as well as brick-and-mortar ones. It is advisable to consider the overall casino's reputation and trustworthiness, just to be sure you're wagering your money with a credible business.
Nevertheless, with today's certification and approval services and legal authorities, players shouldn't have a hard time finding the top casinos that offer Spanish 21. Once you're there, just make your move, remember to consult the strategy chart and show the rest of the players at your table how to beat the dealer at Spanish 21.
Other recommended articles you might like: