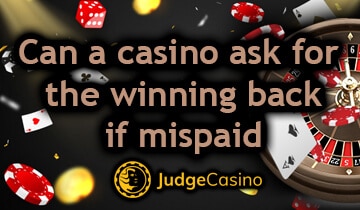 Beating the proverbial house edge is a real challenge for online casino players.
Most of the time, it is the house that prevails, and even when players come on top, they must fight hard for it.
Can a casino ask for the winning back if mispaid on those rare occasions when they have overpaid winnings?
This is the question that we try to answer in this guide while looking at the best-known cases.
Some involve popular casinos that refuse to pay while others focus on the casino claiming money back and players who refused.
Top 10 recommended online casinos [2023]
Are casinos allowed to ask for the winning back if mispaid?
Is it possible to get overpaid by the casino?
The odds of overpaid winnings to happen are slim if you play at a top new casino or any of the operators on the list of safe online casinos. These are professional companies with highly trained people, so the odds of casino overpaid winnings to occur are slim.
What happens when you get overpaid in a casino is still worth considering because you must know what to do. When playing real money blackjack or real money slots, you are less likely to be overpaid by an online casino.
Most of the instances in which you can be mispaid by an online casino is when you bet on sports. In this situation different rules apply.
What happens if you win, cash out and then asked for a refund?
Real life situations when the casino mispaid
To better understand what happens when you get overpaid in a casino, it is worth looking at two real-life examples. These have happened and had different outcomes, so they are both relevant for this matter.
Casino asking for money back and gets it!
In 2014 a Betfair punter who used to bet on sports spotted faulty odds in a match. He placed a bet of £50 in the final minutes of the game and was paid at odds of 12/1. The odds should've been significantly lower, as his chosen team was leading by a few goals in overtime. He cashed out the profits, spent it all on a vacation and then discovered that his Betfair balance was -£593.
The winner decided to ignore the situation and one year later he ended up paying back money to gambling companies. In this case the answer to the can you be forced to pay back money to a gambling company question is: Yes. What he should've done was to contact the bookmaker's internal dispute resolution service or the Independent Betting Adjudication Service.
Casino asking for money back unsuccessfully
A smart punter in Australia spotted an overvalued market in the AFL on the Sportsbet website. He decided to tell his friends and then the information became viral on Facebook. Not only his friends but even random people who were trying to find out how to make money from online casino bonuses picked up the news. In the end, thousands of bets were placed and the total winnings exceeded $9 million.
Sportsbet decided not to pay the winners, but they issued a formal complaint to the Northern Territory Racing Commission. The authorities decided that the bookmaker and casino offering some of the best online casino games to win money in Australia had to pay. The gambling group had no choice but to comply and the winners took all the money they were entitled to.
Frequently Asked Questions about mispaid winnings at casinos:
If you play
real money no deposit slots
, table games or video pokers, this is an unlikely occurrence. The privacy policy and internal rules state that the casino is entitled to recuperate the funds. There is little you can do in this case and appealing to a regulatory body is unlikely to help in any way.
If the money is already in the online account, it will be promptly seized. You don't risk anything since you don't benefit from the money in the first place. If you manage to cash out your winnings and refuse to pay, the case will likely be decided by an independent body such as the IBAS.
Assuming you don't realize that you got overpaid and the casino doesn't notice it either, there's nothing to worry about. If the operator spots the mistake before you cash out, it will take the funds. If the money was already cashed out, it will let you know about the mistake, so you'll no longer be able to invoke unawareness.
As you can see from the two examples above, there is no clear-cut solution. It's important to read the terms and conditions and when contacted, state your position. You can take matters into your own hands and issue a complaint with the regulatory body and wait for a decision.
Overpaid by an online casino – Dream or nightmare
Winning a large sum at an online casino or bookmaker is a dream come true. Some players would be just as happy with receiving funds that they are not necessarily entitled to get. Unfortunately, the casinos will fight you in any way they can to recuperate the money, especially if it's a lot of it.
Depending on where they are regulated and how the licensing body handles the case, the solution can differ. Sometimes the casino gets the money back, on other occasions, it is the player who comes on top. It's a gamble after all!