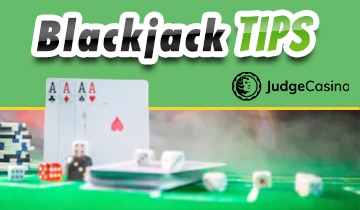 The sight of pocket aces is particularly attractive in poker, but getting 2 Aces in blackjack can be just as good.
In this guide, we will teach you how to act when you get two aces blackjack, to increase the odds of winning.
The information we provide will help you craft an advanced blackjack strategy and in conjunction with proper blackjack bankroll management, reduce the house edge even further.
Basic blackjack rules at a glance
🥇 Best online casinos to play blackjack [2021]
The Role of aces in blackjack
♠️ The ace is the strongest card in this game and the best hands in blackjack imply using it.
♠️ Getting 2 aces in blackjack is not the best case scenario, as the desired companion for the ace is a ten value card. This will produce a natural 21 which is the best hand in blackjack and pays 1.5 the stakes.
♠️ The good news is that what happens when you get two aces in blackjack isn't too bad either. One of the most common blackjack tips and the easiest to implement is to always split aces to maximize your winnings.
♠️ The ace is worth 1 or 11, so how do you count 2 aces in blackjack depends entirely on you.
♠️ Do you automatically win if you get two aces in blackjack is one of the commonly asked questions by beginners. Unfortunately, this is not the case because the value of 2 aces in blackjack is either 2 or 12.
♠️ On the bright side, can you bust with two aces in blackjack is another question with a negative answer. The right thing to do is to split a pair of aces even though the blackjack payout after splitting is only equal to the stakes.
Use Two Aces in blackjack like a pro
Once you understand the basic blackjack hit or stand mechanics and what means two aces in blackjack, you can move on to more advanced questions. What should I do when two aces come in blackjack is the first question to address. In blackjack you always split aces and eights and the only limitations are made by the casino. When you play blackjack for real money, you are usually allowed to split aces only in the first hand. Some casinos deny this option altogether and this can also happen at high limit blackjack.
Splitting aces in blackjack is the obvious thing to do and fortunately allowed by most casinos. As one of the core pieces of advice in any blackjack guide for beginners, it also has an easy follow-up. You only get one card after splitting and the blackjack ace rules prevent you from making a natural after splitting. This means that the resulting 21 will not be subject to the same blackjack payouts of 1.5 the stakes. It goes without saying that if you split you will have to play two hands, so the odds of winning improve but you invest more.
Two aces in blackjack tips and tricks
👉 The probability of getting two aces in blackjack is less than 0.5%, but it is still important to be prepared.
👉 Some of the more complex strategies for double aces in blackjack factor in the dealer's upcard. If the croupier has an ace, you should hit a soft 12 and split if the croupier's card is from two to ace. For other pairs except for 8s, you need to decide if you split or double down, also based on the dealer's hand.
👉 There is a high probability to get ten-valued cards for each ace, since there are so many in the deck, nearly a third. That's why if you get two aces in blackjack, you should split in most circumstances and double down if allowed.
👉 Those who have the ability of blackjack card counting can hit aces if they reach a negative count. This means that the majority of the cards remaining in the deck have low values, so the soft 12 that you make from the 2 aces in blackjack could easily be improved.
When not to split aces in blackjack?
Deciding when to split in blackjack is a very important decision and aces are normally the perfect candidate. The exception to the rule is in European style blackjack, when it is better to hit aces instead of splitting them because there are no hole cards. Also as said above you should hit aces and not split them if you reach a negative count.
It doesn't matter if you play against the algorithms or live blackjack and this applies to both blackjack single deck and double deck blackjack. This is one of the few exceptions to the general advice which is to always split aces in blackjack and at the core of any common strategy.
FAQ: Your questions on two aces in blackjack answered
The split aces blackjack play is a basic strategy that should be used in an overwhelming majority of cases. Whether you play for free or deposit to sites offering
blackjack with PayPal
, cards or wire transfers.
Each ace can be counted as 1 or 11, so two aces in blackjack have the value of 2 or 12. Blackjack split aces also have values of one or 11, so it's easy to calculate the potential value of hands.
The odds of getting 2 aces in blackjack are 1 in 221, so roughly 0.45%. Wondering if the dealer has two aces in blackjack is futile, because the croupier has the same chances of being dealt this hand.
If the croupier gets two aces in blackjack, he won't be allowed to split them. Start from the assumption that his starting hand is 12. Remember that the croupier's second card is hidden until the end of the game so there is not much you can do.
Make the most of two aces in blackjack
Getting two aces in blackjack isn't the ideal scenario, as everyone is hoping for a natural blackjack. There are still plenty of great things to accomplish with such a hand and straightforward ways of dealing with them. The split aces blackjack play is the right thing to do in the overwhelming majority of cases, with only a few notable exceptions. Splitting aces will give you the upper hand and an excellent chance of making 21, which will likely win the hand even though it won't produce winnings equal to 1.5 the stakes.
Other articles you might enjoy: