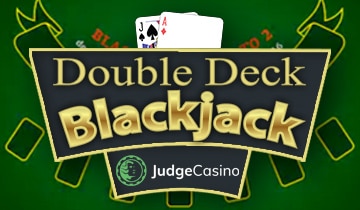 Some online casino games have remained unchanged since they first appeared. For many years, blackjack was one of those.
However, in the last 50 or so years, the game has undergone many tweaks, creating a whole array of different variants for you to play. Double deck blackjack is one such example.
What is double deck blackjack, and how do you play double deck blackjack online? In this guide, we will not only cover the basics of this blackjack variant but also touch upon several of the strategies and systems you can use to help you play the game, such as the soft 14 blackjack hand.
Without further ado, let's see if we can teach you how to win playing 2-deck blackjack.
Top 10 Online Casinos where you can play Blackjack [2023]:
Learning to Play Double Deck Blackjack
Before we delve into the truly nitty-gritty aspects of the game, you need to understand the most elementary aspects of double deck blackjack rules. As players may have gathered, this is a game which is played with two decks, as opposed to the one deck in standard blackjack, and as many as 6 or more decks in other variants.
After the shuffle, 2-deck blackjack is played out in much the same manner as any other variant, although there are a few specific 2-deck blackjack rules which are worth looking at. Bear in mind; it helps if you have a general understanding of how blackjack is played before you read on.
Soft 17: The dealer stands on all 17s in double deck blackjack. So in this particular case the answer to the question when does the dealer stop hitting in blackjack? is that they are forced to stand on a Soft 17.
Double on Any Two Cards: Blackjack players can double down on any two-card hand. This widens the array of strategies open to players.
Splitting: When playing 2-deck blackjack, the rules of splitting are slightly different than you may be used to. Any pair of numerical cards of equal value can be split. How many times can you split in blackjack? though. In this case as many as four hands can be re-split. Two Aces in blackjack can rarely be re-split.
Double After Splitting: Doubling after splitting is permitted in this game, which once again makes it advantageous over other variants.
No Hole Card: In some 2-deck pitch blackjack games, there are no hole cards. Basically, you are not going to be able to see the dealer's cards, and they cannot see yours, so it's a great opportunity to try to match the dealer.
Surrender: Both surrender and late surrender rules were possible in double deck blackjack. Nowadays, you only really find the former, or none. It varies from game to game. Surrendering allows you to fold at the loss of just half your original stake.
Almost all the other rules in this blackjack game are the same as you will find in most other blackjack variants. However, there are a few reasons why blackjack players may wish to choose 2-deck blackjack over its counterparts.
Is This Game Better Than Other Variants?
Double deck blackjack can be far more advantageous than other blackjack variants for several reasons. As with any blackjack game, there are both advantages and disadvantages to playing two-deck blackjack, but there are more pros than cons here.
First, let us look at how the game compares to standard blackjack and another popular variant, 6-deck blackjack.
Going Up Against the Competition
When compared to standard blackjack, players may find it a touch trickier to count cards in double deck blackjack online. The more decks there are, there more difficult the process will be. However, the odds of counting cards in 2-deck vs. 6-deck blackjack are considerably better.
House edges are on insurance bets tend to be lower in 2-deck blackjack, as there are more 10-value cards in the deck. It is also significantly easier to double down in two-deck blackjack, as there are more 10s and faces.
Other twists and turns such as the subtle rule changes listed earlier, generally lower the house edge in this game, as opposed to single deck blackjack.
The Perks of Playing Blackjack with Two Decks
Double Deck is a pitch blackjack game, so the dealer will hold on to the decks. As we've said then, the dealer cannot always see your cards, and you cannot always see theirs – it varies from game to game.
You might think that comparing single deck vs. double deck blackjack would highlight the frailties of this pitched game, but it doesn't. The level of vulnerability in double deck blackjack is no worse than single deck, on account of a few rule changes, which can lower the house edge.
In double deck blackjack, the dealer must stand on a Soft 17. This will likely prevent them from hitting a 2, 3 or 4 on their next hit, lowering the house edge by around 0.22%. Players can also drop the house edge by another 0.11% by being allowed to double down on any two cards. Splitting aces also gives players a slight boost, by ensuring that they won't be stuck with hands such as 12 through 16 when they might easily bust if they hit again.
Compared to playing with four, six or eight decks, which have house edges of 0.61%. 0.67% and 0.70%, respectively, the subtle changes in rules mean that double deck blackjack is played with a house edge of around 0.42 – 0.45% when using basic strategy. Other tweaks on the rules and various adjustments (as mentioned above) can see it drop to approximately 0.20%.
The Odds of Landing a Blackjack
Many players will want to know the probability of being dealt a 21 in 2-deck blackjack. There are several different versions of the two-deck game, so double deck blackjack odds do vary from title to title.
Some games will feature the surrender rule, and others have no surrender rules in play. The only way to find out the true blackjack odds for 2-deck games is to study a strategy chart, and that is where this article is heading next.
Strategies for Double Deck Blackjack
No matter which version of double deck blackjack you choose to play, there is one strategy which is ideal for beginners. It is known as double deck blackjack basic strategy. Of course, if you want to get the house edge down (as much as possible), you need to find a more refined version of 2-deck blackjack basic strategy.
The basic idea of these strategies is to tell players what to do if they land a certain hand. Ideally, you'll want to memorise strategies such as basic strategy and implement into gameplay.
Studying Strategy Charts Can Help
Most blackjack strategies appear in chart format. A typical blackjack chart for 2-deck games will look much like many other strategy charts. In short, there are is a grid of possible hand combinations for both your hand and the dealer's.
Inside the 2-deck blackjack strategy card, there will be a series of coloured boxes, denoting hit, doubling, stand, split, surrender, and so on. It is ideal if players study these charts and if possible, memorise them.
When playing blackjack online games, take note of the value of your hand, and that of the dealer. You can then cross reference those hands with the ones on the chart. Doing so should inform you as to what your best course of action is likely to be.
By studying and memorising a blackjack 2-deck strategy chart, you can then implement those actions into your gameplay.
Two-Deck Blackjack: Counting Cards
Card counting may be easier in single deck blackjack than in 2-deck blackjack. However, it is much simpler in this game than in blackjack games played with more decks. As you will be aware, the trick to counting cards is to estimate what cards remain left in the shoe as the game is played.
There are plenty of card counting resources out there on the net which can help you learn how to count cards in 2-deck blackjack. However, we can point you in the right direction to start off with, which might just lead to speedier double deck blackjack card counting.
The best way to count cards in 2-deck blackjack is to use a no fuss, minimal hassle system, and we'll look at one of the favourites amongst double deck blackjack players now.
Which System Is the Most Ideal to Use?
One of the better blackjack 2-deck systems to use is the KO system, also known as the Knockout Card system.
With the KO system in blackjack 2-deck games, every 2, 3, 4, 5, 6 or 7-point card counts as +1. Aces and tens count as -1. Players increase the value of their stakes when the count is positive and decrease it when the value is negative. That's about all there is to it.
Ordinarily, you would divide the count by the number of decks (so, two of them), but this isn't done with the KO system. Instead, the number of decks influences the starting figure of the count with the KO system. In two-deck blackjack, your count should, therefore, start on -4.
A Few Other Tips and Tricks
Blackjack players will also come across a few other 2-deck blackjack tips when playing online. If card counting in double deck blackjack isn't your cup of tea, we have a few other tips and tricks you can work into your game. Some of these include:
Ignore What You Know About House Edge: As you know, the more decks you add to a blackjack game, the larger the house edge becomes. Your brain will be telling you, therefore, to play single deck and not double deck blackjack. However, single deck blackjack is quite inflexible in terms of rules, something that double deck blackjack is not. This makes the game more advantageous for players who know what they are doing.
Make Sure You Play a Soft 17 Game: Not all double deck blackjack games will see the dealer stand on Soft 17s. However, 2-deck blackjack games where dealers must hit on soft vs. hard 17 cards will work to your advantage. Lear first what does soft mean in blackjack.
Blackjack Strategy Charts and Online Gameplay: What do you do in double deck blackjack when the dealer hits S17? If you've studied and memorised a blackjack strategy chart, you will know instinctively how to play. However, you can't exactly whip them out in the middle of a land-based casino games. Players must, therefore, study those charts. However, when playing online (in an RNG – random number generator – blackjack game), you'll have all the time in the world to decide. You won't need to count cards or study charts to put double deck blackjack strategy into use when playing online.
Know When to Double Down: It may be tempting to double down blackjack with increasing regularity since it can help you in this game. However, players should note that doubling down all the time will rapidly deplete their chip stack, potentially forcing them into an early exit from the table.
Where Can I Find Double Deck Blackjack Games?
As mentioned above, the most ideal way to effectively use double deck blackjack strategy (without memorised it) is to play online. So, who provides two-deck blackjack games at online casino sites which you can play?
Quite a few software providers have dabbled in online blackjack. Bovada's in-house and proprietary software, and Cryptologic are responsible for the game appearing at leading US casino sites.
At European and other worldwide domains, Microgaming's European Blackjack is essentially a two-deck blackjack game. Live dealer blackjack games can be played in single deck or multi-deck variants, although the latter primarily consist of 4, 6 or 8-deck games, not double deck blackjack, at this moment in time.
FAQ about Double Deck Blackjack Games
As the name implies, this is a blackjack variant that is played with two decks. And like all variants, it has advantages and disadvantages too. The general rules and the scoring system are the same.
If you are counting cards, the double deck variant is better as it is much easier to count the cards in two decks. The house edge of this variant is also 0.22% lower than other variants. Overall, yes, we can say that it is better.
This depends on whether you want to count the cards or not. Obviously, counting the cards in a single deck will be easier. Other than that, these two variants are almost the same and the choice is yours.
The majority of blackjack games are played with 6-8 decks, depending on the variant. As can be guessed, this is for preventing card counting: Using this technique is almost impossible if multiple decks are in play.
If You're Ready to Play, Let's Begin!
Playing 2-deck blackjack online is certainly advised before trying your hand at the game for real money in land-based casinos. It gives you more time to get to grips with 2-deck blackjack strategy and should help you learn the ins and outs when opting to play this popular variant.
Inevitably, some players are going to favour the traditional single deck game or those which feature 4 or more decks. However, give it a go by checking out the top array of casinos we feature on our page.
If you're a skilled blackjack player who likes a surplus of betting options and the chance to slap down the house edge, there is every chance that double deck blackjack will appeal to you.