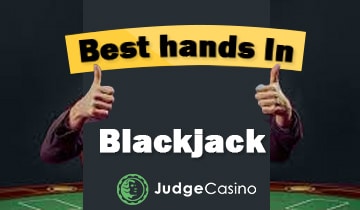 The "showdown" in blackjack starts right from the first two cards you have dealt: According to which cards you get; you can use a different blackjack strategy.
In other words, blackjack is a very dynamic game and unlike poker, you don't need to play it "for a while" to understand what is going on.
With the first blackjack hands, you can even understand whether you have a winning chance or not.
In other words, there are some best hands in blackjack and some worst blackjack hands – if you can understand the difference between two, you can simply continue playing or surrender.
Knowing the bad hands and blackjack winning hands will always give you an advantage.
Top 10 Online Casinos where you can play Blackjack [2022]:
Basic Rules For Playing Blackjack: What You Need To Know About Starting Hands
We need to start with the basics of the blackjack game, in order to tell you why the starting hands are important. There are different types of blackjack, but the general rules are always the same:
• Aces are worth 1 or 11 points, respectively two Aces in blackjack can count as 2 or 12. Picture cards are worth 10 points. All other cards are worth their face value.
• Your goal is to reach 21 points in total, or a total higher than the dealer.
• If you surpass 21 points, you simply "bust", which means losing the game.
They are pretty basic, right? Well, let's continue with how to deal cards in blackjack topic, because that's where things get interesting.
• At the beginning of a round, the dealer gives two cards to the player. He also takes two cards for himself.
• After the first dealing, the player has multiple options: he can hit (ask for one more card), stand (no more cards), double (double the initial wager), surrender (leave the game and get half of the initial wager back), and insurance (insuring the initial wager if the dealer has a blackjack).
• Rules of 21 blackjack bind the dealer too. When does the dealer stop hitting in blackjack? Depending on the variant, the dealer may be forced to stand when he reaches 17 points.
• Each of these options has a different probability of happening, and this is determined according to the first blackjack hands.
Let us explain: If the first two cards of yours are 10s, you already have 20 points in total. Hitting at this point makes no sense – you are only one point away from 21. So, "hitting" is not an option for you – you must decide whether to double or stand. But if you have a 2 and a 3 at the beginning, you only have 5 points in total. Standing makes no sense and you should not double at this point. So, you have different options: You can hit, surrender, or take an insurance blackjack.
In short, all starting blackjack hands give you a different probability on winning the game, and you should make a decision accordingly. And this is why your first two cards matter: They literally tell you what your next should be.
The Best Starting Hands In Blackjack
Alright, we explained why starting blackjack hands are important, so let's see some practical examples. What is the best hand in blackjack? This question does not have a single answer, because there are more than one best hands in blackjack. In fact, we can create a list of 5 best blackjack hands – you can see them below.
21 – The Natural Blackjack
If you can reach 21 points with the first two cards (i.e. a 10 and an Ace) this is called a "natural blackjack" and you win the game immediately. As can be guessed, this is the best hand you can get. Blackjack payout for such a hand is 3:2. There is also the case when the dealer has also blackjack. This is called a push and will get you your stakes refunded. To protect you from a push in blackjack you may take an insurance bet or accept the even money blackjack bet and the game ends immediately with a payout 2 times your initial bet.
The Hard 20
This means your point total is 20 – getting two 10s or a 10 and a Queen will give you this total. You should never split this hand: We will list the best hands to split in blackjack below but the hard 20 is not one of them.
The Soft 20
Your total is still 20, but this time it is a "soft" blackjack hand. What does soft mean in blackjack? It means you have reached this total with an Ace (here with a 9 and an Ace). This is the difference between soft vs hard blackjack hands. Again, splitting is not recommended in this total but you can think about doubling. We will explain the meaning of blackjack double below.
The Soft 18
Your point total is 18 and you have an Ace in your hand (i.e. an Ace and a 7). The recommended move is to stand because you are dangerously close to 21 points. However, such a hand can be doubled, especially if the dealer has a 7.
The Hard 11
You have 11 points in total without an Ace (i.e. 8 and 3). The theoretical return to the player value of such blackjack hands is 0.66%, which means you can win 66 EUR for every 100 EUR you wager. You have lots of different options to reach 21 points and usually, doubling the initial wager is the best move with this hand.
The Worst Hand In Blackjack
Ok, we have seen the best hands in blackjack, now let's take a look at the worst blackjack hands. If the first two cards are one of the following, you may think about surrendering or taking insurance, because winning the game will be significantly harder. In short, the dealer has a better chance of winning that round, but you can try to match the dealer.
The Hard 16 vs 10
Getting 16 points at the beginning (i.e. 9 and 7) is not that bad actually – this becomes a bad hand only if the dealer has a 10. This setup occurs nearly once every 30 hands, so it is a pretty common combination: You have 16 points and the dealer has 10. What to do? Mathematically, the dealer has a higher chance of winning this round, so the best move is surrendering. If the casino does not allow this, you can think about taking insurance. Note that if the dealer has a 7, you must simply hit: In this case, the odds are in your favor.
The Hard 16 vs 9
Another bad hand because the dealer still has the upper hand. In general, 16 is a very "tricky" total for the players: If the dealer has a high card, it is almost always bad. If the dealer has a small card, however, it may be a very good hand. The general rule is:
• If the dealer card is small (2, 3, 4, 5, 6) you should hit with a 16.
• If the dealer card is high (7, 8, 9, 10, Ace) you should surrender. In this scenario, you only have a 26% chance of winning, if you stand. If you hit, your chance of winning is 30%. In any case, the dealer has the advantage and surrendering is the best option.
Blackjack Money Management Chart & Probability Of Winning
Ok, let's show you what kind of winning chances you really have according to your total points and the dealer's card. This way, you can see the true chance of winning and using a proper blackjack bankroll management system.
The table below is prepared by Analytics Vidhya, we take no credit for it. First, take a look at it and then we will explain what these numbers mean.
(*) All values are percentages and show the probability of winning that hand total.
So, what does this table tells us? Actually, it shows how to win casino blackjack. Here is an example to show you how to read the table: If you have 19 points and the dealer card is a 7, you have a 76% chance of winning that hand. (We did not list the totals under 12 points, because there is no need – the percentages are so low, the only possible move is hitting.) The summary of this table is pretty basic: If you have at least 17 points and the dealer card is smaller than 6, the odds are always in your favor.
This table shows the winning probability of specific blackjack hands so you can see when do you bet in blackjack, but it does not recommend the best possible move for certain totals. Well, we can share another chart for that job. Let's continue to explain how to win blackjack in casino topic by giving you a basic strategy chart blackjack.
Legend:
• H = Hit
• S = Stand
• SR = Surrender
• D = Double
Basic Tips And Tricks For Blackjack Hands
• There is an exception to the 16 vs 10 rule. Yes, the suggested move for player 16 vs dealer 10 is to surrender, but there is an exception: If you have two 8s (8 + 8), you should split these blackjack hands even if the dealer has a 10. 8 + 8 is one of the best hands in blackjack. After splitting, you will have two hands that start with 8 points. Even if you lose one, you can still win the other. Although the answer to the question 
how many times can you split in blackjack
varies between casinos and the blackjack variant played. You can split cards once or up to three times, in some variants an unlimited number of times is possible. Apply the same rules for each new hand.
• However, this does not mean that you should split every pair. As a general rule, 5s and 10s should never be split. If you have two 10s, the best possible move is doubling down. 7s and 8s, on the other hand, should be split almost always.
• 17 is almost always the sweet spot. There is a reason why dealers must stand on 17 – after that total, the chance of busting is quite high. Yes, professional players can still hit even if they have 17 points, but if you are a beginner, your default decision should be standing when you reach 17. This is especially true if the dealer card is 7 or less.
• Do not bet more than you can afford. Yes, you can have the best hands in blackjack but there is always a risk of losing the game, no matter how good your blackjack hands are. Check the probability table above: You cannot get a 100% winning chance even with 20 points. So, respect to your budget and do not surpass it just because you have a good hand.
• Prefer online casinos. You cannot practice for free in land-based casinos but this option is available at online casino sites. Moreover, you can safely count the cards and use other strategies – there won't be a "pit boss" watching over you. Playing online blackjack is always the better option, especially at
online blackjack Canada
-based sites.
You must also decide according to the dealer's card too.
These are the best hands in blackjack to double down:
• Hard 9, 10, and 11 (only for certain dealer cards, check the table above)
• Soft 15, 16, 17, and 18 (only for certain dealer cards, check the table above)
If you think that the dealer has a blackjack you can take this bet. And if you "win" (the dealer has blackjack) you get a 2:1 payout. Insurance bets should never be taken though. The chance of dealer having blackjack is incredibly low and betting on this probability is a fool's move.
In theory, every player can count cards in a single deck. Casinos use multiple decks for this reason. You can still do a "light" card counting: just count the picture cards. By eliminating them mentally, you will get a better idea on whether the small or high cards are left in the deck.
Card counting is not illegal. However, casinos do not like players who count cards. And they have a right to refuse offering service to anybody they want. Online casinos do not have this problem – online blackjack counting cards is a "safer" method for this reason.
This means the game has ended with a "tie", both the dealer and yourself have the same point values. Note that the cards themselves do not need to match. The important part is both sides have the same point total. When this happens, nobody wins: You get your initial wager back.
Dealing is the job of the croupier, the player does not touch the cards. If you try to touch the cards, you will be removed from the casino. And for the order, the croupier deals from the left and gives two cards to each player. He then takes two cards for himself: one closed, one facing up.
This is a specific hand which is also called "5 Card Charlie". It means collecting 5 cards without busting. Depending on the variant, doing so results in an automatic win. The only exception is the dealer's blackjack: If the dealer manages to reach 21 points, he will still win against a 5 Card Charlie.
You Have Learned The Best Hands In Blackjack – It Is Time To Play!
That's right: You have learned to read blackjack hands and you have a better idea on your real winning chances now. If you get the best hands in blackjack, you will know it. But more importantly, if you get the worst blackjack hands, you will know it too. Now it is time to put your knowledge to the test: Pick one of our most profitable casino sites and start playing! We already picked the best casino sites to play blackjack online, so there is no need to waste time.
Create an account, claim your bonus, and sit on the tables: This will be a fun and profitable adventure!