April 8, 2019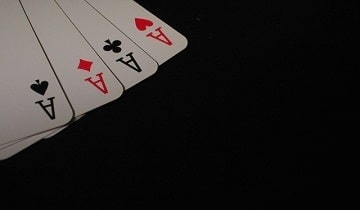 Blackjack is one of the highest paying casino games and also the one of the few that reward analytical thinking and the use of strategy.
The game can be played against real dealers and most online casinos have several tables where players can enjoy the thrills of live blackjack.
Since winning is so much fun, punters are expected to use every advantage they've got to emerge victorious.
Regardless of the strategy chosen, in the absence of proper blackjack money management the odds to succeed are reduced.
Begin by Setting up a Blackjack Bankroll
The first and most important step of any blackjack money management strategy is the establishment of a bankroll dedicated to gambling. This distinct amount should be used exclusively to play blackjack and players should refrain from diverting even slight amounts to other gambling activities. The size of the bankroll should depend solely on the amount players can afford to commit to online gambling. The very nature of this activity makes it subject to risks and punters shouldn't gamble more than they can afford.
Once a decision has been made regarding the amount committed to fueling the bankroll, the other aspects of money management for blackjack should be considered. The size of the bankroll determines how much money players can afford to bring at the tables. In order to increase the stakes, one would have to first increase the bankroll, which is by definition a time-consuming process. Normally, blackjack players are advised not to make radical changes over a short period of times. That's because they are more likely to make the right decision if they can look at a bigger picture, comprised of multiple gaming sessions.
The betting limits should be determined in accord with the bankroll, which is a key element in money management in blackjack. Luckily, online casinos provide players with access to low limit tables, as well as tables for high-rollers. There are plenty of intermediary limits, so as the bankroll increases over time, players can make the transition to higher stakes. In mind that even with the best blackjack money management strategy, you can't expect giant leaps forward, but rather small steps in the right direction.
Choose the Right Blackjack Game
The best thing about blackjack is that even though the game comes in different forms, with slightly different rules, all the versions have a high return to player. Long-term strategies for blackjack and money management go hand-in-hand and are needed, regardless of which type of game is preferred. The odds of winning are largely the same and when the correct strategy is used, the percentages can exceed 99%.
The classic blackjack game is recommended for beginners, because it is the most basic version of all the games belonging to this genre. This is essential for amateurs who are unfamiliar with money management in blackjack and are just learning the ropes. The Internet is a great resource for gamblers and given the popularity of this card game, there's a plethora of strategies available. They can be successfully applied to different types of the game, and all are guaranteed to work perfectly for the classic blackjack version.
Several American versions of blackjack exist, including a few games popular in Las Vegas and Atlantic City casinos. Online blackjack money management is slightly different from what is being used in brick-and-mortar casinos. On the bright side, at the core of these strategies punters will find the same rock-solid strategies aimed at reducing the house edge. A little research goes a long way and punters who spend the time trying to figure out when to stand and when to hit are the ones likely to stay profitable.
Bonuses and blackjack money management
As stated above, blackjack already has one of the lowest house edges of all online casino games. This is of course, true when the ideal strategy is used and players execute perfect blackjack money management. Having said this, the casino still has the upper hand and in the long run, it will continue to dominate the game. Savvy players act on two directions, on one hand trying to improve their skills and perform ever better at blackjack tables. At the same time, they use bonuses and promotions to level the playing field.
The link between the best blackjack money management practice and bonuses might not be self-evident, but it is there nonetheless. As a new player, you have the option of choosing a casino that offers introductory bonuses to those who sign up for an account. These represent just the tip of the iceberg, but because of their sheer size, they are an invaluable bankroll booster. In the long run, additional promotions and ongoing campaigns become available and they can all contribute to a player's long-term success.
Matched deposit bonuses, as well as those offered with no strings attached,  allow players to bet with cash that they don't take out of pocket. This, of course, is essential in minimizing the effects of the casino edge, but it shouldn't affect the blackjack money management bankroll strategy. These bonuses should be considered freebies that enable players to gamble for free. The stakes will be maintained at the same predetermined level, based on their bankroll and standard gambling routine.
Regardless of their nature, bonuses are almost always subject to strict wagering requirements. They need to be met before cashouts are permitted and what usually happens is that bonus funds are kept in a distinct wallet from the funds deposited. In order to meet the play through demands, players might have to make slight changes to their normal gambling habits and even ignore some blackjack money management techniques. Bonus recipients should do whatever it takes to convert the bonus funds into cashable amounts, but remember that this is a temporary situation.
The Role of Blackjack Betting Systems
Blackjack players are traditionally people with analytic minds who appreciate the advantages of playing a game that doesn't rely solely on luck. They are happy to embrace blackjack smart money management solutions and keep an open mind to blackjack betting systems. Online gambling has the advantage of granting players immediate and unrestricted access to this type of information. Knowing how to use these gaming strategies is just as important as learning how to interpret a blackjack money management chart.
First and foremost, players should make a clear distinction between the ideal blackjack strategy used during the game to outshine the dealer. This should be mastered well before players make the first deposit and even before they start looking into blackjack betting money management solutions. It is critical in reducing the house edge as much as possible, by making the right mathematical choices all the time. Standard blackjack strategy instructs players when to ask for another card, when to stand and when to use the special game mechanics such as the double down, split pairs and insurance.
By comparison, blackjack betting systems have nothing to do with the manner in which individual hands are played. These focus solely on maximizing winnings and mitigating losses over an entire gaming session. In this regard, they are farsighted, compared to the standard blackjack strategy, but they still don't have the scope of an ample blackjack money management system. Essentially, these can be divided into progressive and negative betting systems that we shall briefly analyze in the paragraphs below.
Positive and Negative Progression Betting Systems in Blackjack
Contrary to popular belief and in stark contrast with the uplifting name, positive progressive betting systems are actually used less often than the negative progression versions. While it is worth considering them to give some structure to your gaming sessions, they should all be taken with a pinch of salt. It is imperative to understand the rules behind these strategies, so you know when to stop and when to push further. Compared to money management strategies for blackjack, these progressive systems are optional.
The Paroli betting strategy, the one-half-up system and the 1-3-2-6- system are shining examples of progressive betting systems in blackjack. The thing that they all have in common is that players increase the stakes after winning a hand. If they happen to lose, then they return to the standard amount, so they don't ramp-up loses when things don't go according to the plan. The difference between these systems is that the stakes increase by different amounts and players are instructed to stop at different thresholds.
Progressive betting systems don't interfere with the broader blackjack money management strategy and don't have a negative impact on individual hands. At the same time, they don't increase or decrease the house edge, but can produce negative or positive effects, based on how they are implemented. Players who choose to use these systems must set clear winning limits, so they take profits after hitting a certain threshold. The greatest risk is getting greedy and wasting your winnings because you don't know when to stop increasing the bet after successful hands.
Negative progression betting systems, such as the Martingale, the D'Alembert, the Labouchere, and the Fibonacci are routinely used by players. Information about them is looked up just as often as blackjack money management tips, but these systems can lead to terrible consequences. They state that players should increase the stakes after losing a hand until they recuperate all or some of their losses. This highlights a major risk of losing a long string of consecutive bets, ultimately destroying your bankroll.
Intelligent players who use blackjack money management techniques can see the obvious threat and are naturally reluctant to embrace negative progression betting systems. Even if you have a huge bankroll, there is a real risk of hitting the maximum amount accepted by the casino for individual bets. When this happens, players lose the chance of recuperating their losses and tilt becomes a real problem. Remember that bad luck can outlive your bankroll if you use negative progression systems recklessly.
Tips for Blackjack Money Management
Now that we have reached the end of the blackjack and money management guide, it is time to wrap it up. There are many things that players can do to improve the odds of winning and there's no definitive set of rules. However, these tips for blackjack money management are likely to help you overcome most obstacles encountered by casual punters and amateurs.
Establish of Bankroll and Stick to It: Casual and veteran players alike need to have a bankroll reserved exclusively for gambling. It is less important how much money is available, what matters the most is not to meddle with the funds in your bankroll. Don't use them for other games and don't rely on them to cover everyday expenses, investments or other real-life purchases.
Always Play in Bankroll: This is the first and without a doubt, the most important thing to do, if you want to have a chance when playing online blackjack. Use only a fraction of your bankroll and regularly update your bets, so they reflect the available amount. Don't get greedy when things go your way and never chase losses when you run into a bad spell, as both these actions will lead to the destruction of your bankroll.
Learn the game and use the Best Strategy: Even the best blackjack money management system will be useless if you don't use the ideal strategy each hand. Knowing how to manage your resources definitely helps in the long run, but you need to stay profitable during everyday gaming sessions. Understand the rules and play by them, even if you get creative with blackjack card counter money management or progressive betting systems.
Use Bonuses to Mitigate the House Edge: Even the best blackjack money management system will be useless if you don't use the ideal strategy each hand. Knowing how to manage your resources definitely helps in the long run, but you need to stay profitable during everyday gaming sessions. Understand the rules and play by them, even if you get creative with blackjack card counter money management or progressive betting systems.
Conclusion - Be Pacient and Play Like A Pro!
Blackjack money management should be at the cornerstone of any long-term strategy weaved by those who love the popular table game. The importance of setting up a gambling-related bankroll and playing within its limits can't be overstated. Players should pay the same attention to choosing the right game and take blackjack betting systems with a pinch of salt. These can spice things up and make gaming sessions more exciting, but they are not a get-rich-soon scheme. Play the long game, set reasonable goals and show restraint when making changes to your bankroll money management strategy and you'll reap the benefits.