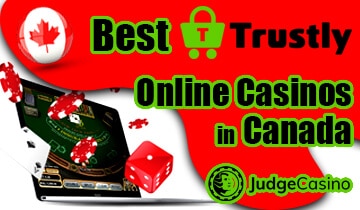 Trustly casinos in Canada, and more recently, Pay n Play casino sites in Canada represent two of the safest ways that you can choose to deposit and play online. As long as you are playing at legit online casinos (and you can find reviews of those casinos on this page), then Trustly and Pay n Play sites are well worth exploring.
What can these payment methods offer you in terms of online betting and security, though? Just how secure and convenient are these options for Canadian players? We are going to take a look on this page and hope to explain everything to you. With that in mind, let's begin…
Trustly's Pay n Play casinos in Canada
If you haven't played at Trustly Canada-friendly casinos, or Pay n Play Canadian casinos by Trustly before, it is understandable that you might have a few questions about what they can offer. In truth, these casinos are not much different from other top sites. Like Microgaming casino Canada sites, they feature great games from leading providers, and all have a strong rating for support, promotions and fair play.
However, these two types of payment methods bring something else to the table – added security. Let us look at the specifics of how each works.
Are you looking for the best Trustly casinos for Canadian players? Below, you will find a great array of those sites, as well as a selection of top Canadian Pay n Play casinos.
🥇 Best Trustly casinos in Canada 2023
Trustly and Pay n Play offer secure Canadian casino gameplay
There are several highlights to choosing to play at a Trustly online casino in Canada, and one of the biggest of those is security.
You do not need a Trustly account to get started, and that makes it really easy for players.

Instead, Trustly is affiliated with a variety of banks across Canada. Provided that your bank is one of those, you can use the payment method.

By using your bank account log-in details, you can rapidly transfer money from your bank to the most popular and most trusted casinos in a flash.
There are no long processing times, but most importantly, you can engage in gambling online without ever having to provide casinos with your bank details. In an age of hacking and internet security woes, this is a hugely valuable resource.
Pay n Play takes things a step further. In principle, Pay n Play uses the same transaction model as Trustly. However, it is ideally suited for no sign-up casinos, no account casinos, and those sites which do not require Canadian players to go through a lengthy registration process. This adds even more security to an already secure option.
How to bank with Pay n Play at Trustly casinos in Canada
Making Trustly payments at casinos in Canada is a doddle. You simply sign-in to your casino account, select Trustly as your deposit (or withdrawal) method, then log-in with your bank details when promoted. How does Pay n Play work, though? Provided you have a bank which is affiliated with Trustly; this is what you need to do…
Step 2
Pay n Play will then pop-up and ask you to enter your bank ID details.
Step 3
After doing so, select the sum you wish to deposit and confirm the transaction.
Step 4
Your sum will then be immediately deposited into an account that the casino has created for you, using the verification data provided by Pay n Play. No sign-up is necessary.
When it is time to cash out your winnings, you can use Pay n Play for this process, too. As it facilitates rapid transaction times, many Canadian Pay n Play casinos also tend to be instant withdrawal casino sites. Here is how it works:
Step 1
Hit the "withdrawal" button from inside your online casino.
Step 2
Pay n Play should be selected. Moreover, your bank details should also be chosen by Trustly.
Step 3
Enter the amount you wish to withdraw.
Step 4
Complete the transaction.
Step 5
Your winning should be immediately transferred to your bank account, without delays and lengthy processing times.
Pay n Play versus Trustly models
There are two models in play here. So, if you find a Canadian online casino which offers both options, which one should you go with? Let's look at the similarities and differences between the Pay n Play and Trustly models.
Which method is ideal for you really depends on whether your casino has a registration process or not.
Everything you need to know about Trustly fees
Even when using the best casino payment methods, there may be fees applied for transactions made using Trustly.
👉 There is a standard fee of 1.5% (minimum $0.80) for players in most countries.
👉 The interesting thing here is that a transfer made using Pay n Play does not see you face any fees at all.
👉 It is the casino you wish to play at which carries the charges for any players using the Pay n Play service.
Comparing Trustly's Pay n Play feature with other payment options for Canadians
Thus far, everything about Trustly's Pay n Play feature sounds wonderful. How does Pay n Play stack up against other popular payment methods, though? Is using Trustly's Pay n Play an advantage worth exploring?
Advantges and Disatvantages of Pay n Play casino sites in Canada
As with any casino payment method, there are pros and con to Canada-friendly online casinos accepting Pay n Play. Here are a few things to note about Trustly's newest payment method:
No casino account is required
You do not need to register for a casino account with Trustly
Total security offered to players
Instant deposits and withdrawals which are free from fees
Not widely available at Canadian casino sites just yet
You must have a bank account with one of Pay n Play's accepted banks
FAQ: Your questions about Trustly/Pay n Play casinos answered
If you still have a few queries about Trustly's Pay n Play, we are happy to help. Below you will find a few simple answers to frequently asked questions concerning Pay n Play.
Yes. There is a Trustly app which allows you to engage in a spot of mobile banking, at all participating
mobile casino Canada
sites. It works in the same way as Trustly, too, so it is a doddle to use.
That depends on the casino, but they are generally low. Typical $1 deposit casino sites in Canada, and $5 minimum deposit casinos in Canada are ideal for Pay n Play. However, even no deposit casinos in Canada have some sort of limits in place.
As well as being able to obtain internet support from your online casino in Canada, you can also access customer support from Trustly via their website.
No. Trustly customers do not need to create an account to use either service. Pay n Play never requires an account, while some Trustly betting sites may require you to open an online casino account.
After visiting the casino, hit the deposit button. You can then enter your bank ID into the box provided. Pay n Play will then use Trustly to verify your identity and send the necessary KYC information on to the casino, thereby bypassing the sometimes tedious registration process for you.
Join top Trustly and Pay n Play casinos in Canada today
If you are ready to play at Trustly casinos in Canada or are eager to try your hand at Pay n Play Casinos in Canada, then you have come to the right place. On this page, you will find an easy to use Pay n Play Canadian casinos list.
This details any of our recommended, trusted and best Canadian Pay n Play casino sites. Each of these sites has been vetted, double-checked and approved as one of the safest places you can play at in Canada today.
Other related articles you might like: