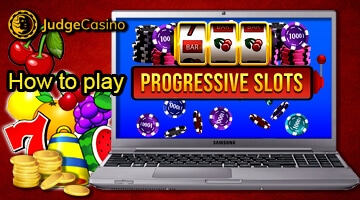 This is not an exaggerated claim, there are dozens of progressive slots that can make you a millionaire with a single spin.
Even a single one makes lots of players millionaires each year: Mega Moolah, which is one of the best bonus slots, pays an average of 60-70 million Euros a year.
In other words, if you choose the right progressive jackpot slots, you have the same chance: You just need to learn more about progressive slot machines (that some consider to be the best online slots).
Well, today is your lucky day because we have prepared this guide for exactly this purpose: Below, you can find the answer to every question you wonder about progressive system slots.
Let's start with a basic question: How do progressive slots work?
Top 10 Online Casinos where you can play progressive slots [2023] - Updated List
What are progressive slots and how do they work?
Understanding progressive slots
require us to start from the basics. So let's start by answering the question of
what is a progressive slot machine
. This term is actually used to denote a feature that regular slots have.
In other words, progressive slots are actually regular slots and they can fall into one of the "classic slots" or "video slots" categories depending on the features they have. But no matter which category they fall into, they have a steadily rising reward. (That is why it is called progressive.)
In other words, in addition to the standard payouts of the slot machine symbols, there is a big reward that can be won and the amount is not fixed. For example, a pirate-themed video slot game will be referred to as "pirate slots progressive machines" if it has a steadily increasing grand prize.
So, how does this happen? Why is the reward constantly increasing? The "secret" of the progressive slot machines is the losing players. Every lost bet feeds the pool: Each game lost will cause the prize to increase even more until a player wins.
So, for example, if there is a progressive slot that has exceeded one million Euros in prizes, this means tens of thousands of players have tried their luck but lost.
How big can progressive jackpot slots be?
The
max progressive payout on slots
can be much higher than you might have expected. In general, progressive slots have no maximum payout limit. In other words, the amount of reward continues to increase with every game played until someone wins.
Sometimes, the reward amount can reach millions of Euros. In this regard, the world record belongs to the Mega Moolah game developed by Microgaming. The biggest jackpot in the world is approximately 18 million Euros and paid in October 2015.
Types of progressive slots
It is possible to divide progressive slots into three basic categories. However, it should be noted that this distinction applies mostly to land-based casinos.
For online progressive slots, these categories do not matter much because they already use a common pool thanks to their digital infrastructure. Below, we will explain what this means in more detail.
Standalone progressive
Description
This category includes progressive classic slots that work alone and not connected to any other game. Games of this type are only available in land-based casinos and are now quite rare. The early period
Novomatic slots
(such as the
Roller Coaster slot machine
game) worked this way.
Local area progressive
Description
In this category, there are progressive slots that work interconnected in a limited area. For example, let's say you are playing Fast Hit progressive slots: A casino can have multiple copies of this game. All of these copies are linked to the same prize pool. This means a game on the north end of the casino can increase the number accumulated in the prize pool of a game on the south end. These types of games are also very old and only found in land-based casinos.
Wide area progressive
Description
This is the most common category today and all progressive slots online are included. These types of games are linked digitally (via the internet) and use the same prize pool. In other words, hundreds of games can work together simultaneously. As can be guessed, the prize pool in this type of games grows very quickly. All modern progressive slots (e.g. new Lightning progressive slots) work this way.
How often do progressive slots payout?
It is not possible to give a clear answer to this question for two reasons: First, only the developer can see the win/loss statistics. Second, even if you can see these statistics, they have no meaning, because there is no way to know when progressive slots will pay.
So, you cannot predict when the payout will take place by looking at the results of the previous games: Each spin is independent of each other and the winner is determined completely randomly.
Let's share some gambling data about Mega Moolah so you have an idea: This game paid twice in 2020. It paid 17 million CAD on April 5, 2020, and 14 million NZD on May 8, 2020.
In other words, it never paid during the first four months of 2020, but paid twice in a row in a month. Nobody knows why, because the results are completely random.
You can't win if you don't play. So start playing Mega Moolah at the newest Microgaming casinos. If you were also wondering when is the best time to play slot machines at a casino, here's the answer.
How to win progressive slots?
The way to win the jackpot prize is different in every game. So there is no single rule that applies to all
progressive slots
: Each game uses its own rules.
You must check the paytables to find out the winning conditions. For example, if you are playing at a Playtech casino and choose Playtech slots, like the Captain America slot machine or the Age of the Gods slots, each of them has a paytable, and here is explained in detail how to win the jackpot.
That being said, it is possible to say that there are two common ways to win the jackpot:
By placing a particular set of symbols. For example, placing 5 wild symbols on the reels at the same time allows you to win the prize.
As a completely random event. You can win the prize at any time during the game.
Fixed vs progressive: Are progressive slots better?
There are also games that have a grand prize but with a fixed amount. In other words, the amount of prize is predetermined and does not increase with every game played. These are called "fixed" jackpots.
When compared with progressive casino slots, it is possible to say that they have some advantages. For example, their RTP values are higher, so you are more likely to win the grand prize. However, the amount of this prize will never reach the level of progressive slots.
This is a personal preference: If you prefer low reward but a high chance of winning, play fixed jackpots. If the important thing is the size of the prize, choose progressive jackpot slots.
Top progressive slots list
If you want to make a quick start, you can use the list of the best progressive slots below. We picked these games after analyzing the current highest progressive slots lists of online casinos and trying them ourselves.
We believe that these are truly the best progressive slot machines you can play. And we also picked the best casinos to play them so you don't waste time: You can see the list of casinos that offer you these games (and all other new slots) in this guide too.
Mega Moolah: And here comes the king: Mega Moolah is truly the biggest (and most popular) progressive slot you can find. As mentioned above, it still holds the world record for the biggest payout. It is one of Microgaming's  5 reel slots and has 25 paylines. In addition to four progressive jackpots, it offers the chance to win up to 15 free spins and 225.000 coins. You can find it at all casinos on our list of Microgaming casino Canada sites.
Elvis: Developed by WMS, Elvis is a unique game: It contains 6 reels and each reel can hold 12 symbols. There are two different free spin rounds and two bonus features that pay multipliers. The RTP rate is 95.72%, which is more than satisfying for a progressive slot.
Megabucks: Megabucks is the world's first wide-area progressive jackpot system, developed in 1986 and by IGT. It has lots of variants but the most famous one is the original, which is only available in land-based casinos. Each spin costs three dollars and the grand prize seems to be always above 10 million USD. (At the time of this article, it was 14.816.439 USD.)
Hot Shot progressive slots: This one is developed by Bally and released in 2018. Hot Shot progressive slots free online contains 40 betways, multiplier payouts, and offers an RTP rate of 96.03%. It is actually a fruit slot machine with five different jackpot pools.
Wheel Of Fortune progressive slots: Another "land-based only" slot by IGT online casino software. While there are many Wheel Of Fortune online slots, none of them contain a progressive jackpot pool. The one you can see in land-based casinos, however, offers one. And if you are looking for progressive $1 slots, you found the best: This game costs only a single dollar per spin. It is a 3 reels slot with only a single payline.
Safari Spirit progressive slots: Developed by Ainsworth Gaming and released in 2013, Safari Spirit contains 5 reels (just like Peggle slots) & 30 betlines. You can win up to 20 free spins and a 2x multiplier during the slot machine bonus rounds. The variance of the game is medium and its RTP rate is 94.32%.
Jumpin Jalapenos progressive slots: Progressive slots are often developed by "older" companies: New generation developers like Endoprhina and Thunderkick don't give them much room in their portfolio, but companies like Bally and WMS have multiple progressive jackpot slots. Indeed, the Jumpin Jalapenos slot was also developed by WMS and is quite similar to the other progressive slots of the company. It is played on a 4x5x5x5x4 grid, offers 50 betlines, and comes with a 91.10% RTP.
Wonder progressive slots: This refers to the "Wonder 4" progressive slots series, which contains multiple games. And the series is called Wonder 4 because of two reasons: First, there four separate progressive jackpot pools. Second, you play four different slot games at the same time (on a split-screen). These games are only available in land-based casinos.
Quick Hits progressive slots: This is also the name of a famous slots series with lots of games, all developed by Bally. The majority of the games in the series contain a progressive jackpot pool and some of these pools are connected to each other. We recommend starting with the "Ultra Pays" version, which offers up to 7.776 ways to win and multiplier payouts.
Mystery progressive slots: This is not actually the name of a game, but a feature found in some progressive slots. When the prize amount in Mystery slots reaches a certain figure, the payout is made automatically. The games are programmed to make a payout after reaching a certain amount (i.e. $ 10,000). As an example, we can show the "Ocean Life" slot developed by Arrows Edge. Progressive jackpot slots developed by some new generation companies (e.g. RTG and Rival) have this feature.
We constantly update our lists of games and casinos; you don't need to use a progressive jackpot slots tracker. Just make sure to visit us often and find new progressive slots & casinos each time. From Netent slots (like the Jack Hammer slots) to Pragmatic Play, we always pick the best payout slots for you.
Progressive vs non-progressive slots: Which one should you prefer?
This is a personal question as both types of games offer a different experience and you have to try it personally to see which one is right for you. It makes no sense to choose a winner in this comparison: You should try and see for yourself.
In general, we can say that regular slots pay more frequently, but the amount of payouts is lower. So if you want to win often but less, choose them. If you join a $5 minimum deposit casino Australia site regular slots are more suitable for you, as a low budget player, because you can win a prize much faster, before blowing their entire bankroll.
For example the Thundercats Slot is a non progressive slot but its prizes can peak at 400x times a stake with the maximum limit per spin.
Progressive slots can make you a millionaire, but each spin will cost more and your winning time will be much longer. In other words, you need to spin a lot more until you win something. This requires a higher bankroll.
If you have the budget to play high roller slots, you can easily try progressive slots too. Ainsworth runs a progressive jackpot network, and several of the progressive Ainsworth slots share jackpot prizes. Some of the most succesful jackpot prizes are "must-win" games, with prizes to be won before they reach $100 for example.
In any case, you have to decide according to your personal preferences and bankroll. There are also Blueprint slots and Nextgen Gaming slots with jackpot prizes.
Progressive slot machines tips: Increasing odds of winning progressive slots
Your
chances of winning progressive slots
are completely random. However, by using some
progressive slots advantage play
techniques, it is possible to increase this chance slightly. In this regard, we recommend using the tips below:
Prefer games that have not paid for a long time. If a game that generally pays around 10,000 units reaches 100,000 units without a payout, it means that someone will win in a short time. In such games, you have a higher chance of winning the jackpot.
Play with the maximum bet. Almost all progressive slots require you to play with the maximum bet to activate the jackpot. Others clearly state in the paytables that the chances of winning will increase if the stake increases. In any case, play with the maximum bet as long as possible.
Practice with free progressive slots. Free demos have the same rules and chances to win. In other words, you can understand how a progressive slot works and whether it suits you without taking any risks.
Pros and Cons of playing progressive slots at online casinos
Very big payout numbers
You can be a millionaire, literally
Simple rules, easy to learn
You can play on mobile
All online casinos have them
Lower RTP percentages
You need a bigger bankroll
Frequently Asked Questions about progressive online slots:
Any of our recommended casinos will do. Have a look at the list of
free slots Canada
casinos, if you are playing from Canada. They offer you the chance to play free progressive slots no download, without any limitations. You can switch to progressive slots online real money anytime you want.
It means that the grand prize of the slot machine keeps increasing with every game played. It is not a fixed figure and it can reach a quite high amount, sometimes millions.
This is up to you. They are one of the most popular slot games and as fun as regular slots, but the payout frequency won't be that frequent. In other words, winning will take longer and require a bigger bankroll.
All of the online progressive slots will pay sooner or later. So, in a way, all of them "must pay". However, no one can say when this will happen. But it is possible to say that you have a higher chance in games that have not paid for a long time.
Prefer games that have not paid for a long time, make sure the RTP rate is over 90%, and play with the maximum bet as long as possible. Other than that, there is no magical progressive slots strategy that will "guarantee" a winning, such a thing is impossible.
Yes. In general, progressive jackpot slots RTP is lower than regular slots. Naturally, this affects the payout frequency. However, since the prize is progressive, this is normal: You can't expect to win as fast as in regular slots.
Sure. Modern progressive jackpot slots (i.e. Evolution Gaming slots) are compatible with all devices & platforms. You can easily play on mobile and have the same features: Mobile progressive slots are as advanced as their desktop "cousins".
Find must hit progressive slots, play them today!
After reading our "progressive slots explained" guide, you now know much more about progressive slot machines. You know how they work, how they pay, and most importantly, how to win them.
It is time to put your knowledge to the test: We listed the best casinos to play hundreds of progressive slots, so pick one and start trying your chances today. The next spin can make you a millionaire: Good luck!
Other related articles that you might like: