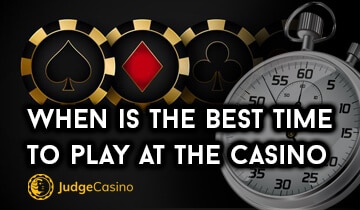 When is the best time to play slot machines at a casino?
You may have heard that certain times are the best time to go to a casino over others.
Whether that is true or not depends on whether you are looking at a land-based casino or an online one.
Even so, we'll cover both topics in this guide, so you can learn when is the best time to play 3D slots and other slot machines in 2023.
Follow our review as we take an in-depth look and provide you with all the answers you seek. Read on to find out more…
Top 10 online casinos where you can play slots [2023]
Learn when is the best time to play slot machines at a casino in 2023
Does such a thing as the best time of the day to play slot machines really exist? Is it nothing more than a popular folk tale?
The time of day you play "can" matter, especially when you try to play a popular casino slot machine in a land-based venue, but for the most part, it does not. That does not mean to say that there are no other time-related elements that can make winning easier.
Does timing really matter?
Key things to note about playing online slots
Do casinos change their pay rates at specific times?
You might have heard that online casinos alter their pay rates at night to keep players wagering. This is not true at all. The best online slots have their payouts determined by RTP and variance.
These algorithms "can" be changed by the casino, but that would affect them when they are audited and checked for fair play, so they do not do it. In terms of pay rates, there is no best time to play slots at a casino. However, you can determine which slot machines pay the best to improve your chances of success. Let us look at these options next.
Things to consider if you want to increase your winnings
Ignoring the best time to go to a casino and win for a moment, let us explain
how to compare slot games
to give you an increased chance of success.
RTP and variance: RTP (return to player) is a theoretical value. It tells you how much a casino keeps of each bet (their edge) and how much they return to the pot for you (and everyone else) to win. By contrast, variance (also known as volatility) determines how frequently a game pays. You always want RTP rates to be over 96%. Low variance slots pay out regularly, but with small wins. Highly volatile ones pay out less frequently but do so with larger wins. High-stakes casinos can offer both but tend to feature a greater array of highly volatile slots.
Number of lines: How many lines should I play on a slot machine? Naturally, playing with 100,000 lines is better than 20-line slots. But it also depends on how much each stake costs. You need to ensure that your prizes are not too severely reduced in value just because there are a lot of lines active.
Number of symbols: The number of symbols plays a part, too. The more specials you have on the reels, the more likely it is that "junk", "blocker", or "useless" symbols will get in the way of a winning combo.
How jackpots are triggered: How a jackpot is triggered can be something to look at. A progressive which pays out a prize for landing five jackpot icons on any line with any stake is better than one which pays out only if you land five icons on a specific line with a max bet in play.
Randomly triggered features: The best bonus slots are usually those with plenty of features. Slot machine bonus rounds are determined at random, but not really. Every game is run by algorithms. By playing free slot demos, you can learn "how often" they are typically triggered. Playing free games is ideal for helping you discover if a game is worth your time, if it gives you a decent chance of success, or to practice how to win a slot tournament long before you wager real money on it.
Frequently Asked Questions on when to play slots:
Now, let us return to the main point – when is the best time to win on slot machines? If you still believe that a time of the day is more prosperous than another, and we cannot dissuade you, then at least check our FAQ guide for more information.
The best time of the day to gamble (for jackpot slots only) is the time when fewer players (globally) are playing.
Saturdays and Sundays are not the best days to play slots. It does not matter whether those are jackpot or
mobile slots
. These days are when most people are free and have time to bet themselves.
Some Daily Drops and Wins Jackpot slots are more likely to pay out at the end of the month. This is also the time when slot tournaments conclude. Apart from that, there is no benefit to only playing
real money slots
at the end of the month.
Not really. As we discussed with the best time of the month to play slot machines, there is no proof that playing during a certain time of the year is more beneficial than others. Of course, playing when a progressive prize is potentially worth far more than usual will not hurt - but that can be at any time of the year, really.
Find the best times to play slot machines at a casino
There isn't much evidence for when is the best time to play slot machines at a casino, as we've touched on. However, by using the advice we have given above, such as playing free online slots with bonus rounds, you can improve your odds of success.
Nip over to our selection of top new casino sites to claim real money no deposit slots bonuses today and start improving your chances of success at any time of the year.