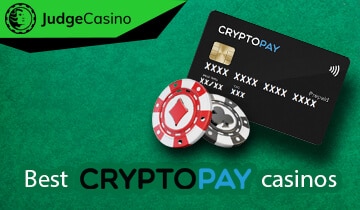 Cryptopay is a modern and intuitive Bitcoin wallet that allows players to deposit at online casinos.
Its partnership with Visa means that gamblers can use this financial instrument to load their account at any operator that accepts these credit cards.
Since the company behind it is registered in both Wales and England, it enjoys an excellent reputation and can be trusted internationally.
In this guide, we teach you how to play at a Cryptopay casino, talk about fees, deposits, and withdrawals as well as mobile gambling.
Top 10 online casinos that accept cryptocurrencies [2023] - Updated list
Cryptopay Casino updated guide for 2023
How does Cryptopay work for casinos?
The simplicity of playing at Cryptopay online casinos is one of the main reasons why punters use this payment method. The first step is to sign up for an account with Cryptopay, which requires sending the documentation that must be verified.
Once an account is ready, punters gain access to the app and can use the virtual Visa card to deposit. You can deposit and withdraw funds from the online casino Cryptopay using this payment method, so it acts as a two-way street. In a nutshell, this payment method acts as a middleman for depositing fiat currency and digital money to online casinos that accept Cryptopay.
Features that make Cryptopay unique
Step by step depositing via Cryptopay
We have reached the step of the Cryptopay casino review where we look at the ways to deposit. Once you have an account up and running, there are only five steps to complete to load your account with cash. Depending on the currency chosen, the funds can reach your account in a few seconds or a few hours.
Step 1
Choose the card option from the list of accepted payment methods
Step 2
Enter the details inscribed on the front and back of your card
Step 3
Select the amount you want to deposit and confirm the transaction
Step 4
Confirm the payment in your banking app to transfer the funds
Step 5
Place your bets and enjoy the gaming experience
Step by step withdrawing via Cryptopay
Cashing out profits from established and new Cryptopay online casinos is just as easy. The waiting time is also short, especially if you choose instant withdrawal casino sites. There are even fewer steps to complete when depositing funds and this is what is expected from you.
Step 1
Choose the Cryptopay debit card as a withdrawal option
Step 2
Input the amount you want to cash out and confirm
Step 3
Wait a few hours for the funds to reach your card
How secure and legitimate is CryptoPay?
Swift and secure deposits & withdrawals
If you sign up for an account at the best Cryptopay online casinos you'll be able to deposits instantly. This means that funds will reach their destination within seconds whether you deposit in fiat currency or digital money.
This will enable you to play Bitcoin roulette, Bitcoin slots, MoneyGram and Bitcoin blackjack and also take advantage of time-limited promotions. When players are eligible for an online casino Cryptopay bonus, they will receive the extra funds right away, so they can start meeting the wagering requirements.
The advantage of using this Visa-style solution for payment is that you can easily find online casinos that take Cryptopay. Cryptocurrency fans understand how is the online casino industry better with Bitcoin and use digital money routinely.
You can deposit in other currencies in addition to Bitcoin, deposits, and withdrawals can also be made with BTC, LTC, ETH, and XRP. Once you find an online casino that uses Cryptopay you should know that certain fees apply. These are smaller than the industry average so you will enjoy the same advantages as if you are playing at a Skrill casino or at Trustly casinos (including Trustly Casino Canada-based sites).
Pros and cons of using CryptoPay at online casinos
Gambling at a casino Cryptopay is totally secure
Convenience is ensured because of the Visa-style option
Many operators on the online casino Cryptopay list
Not available in many countries due to restrictions
Frequently Asked Questions about CryptoPay casinos:
Learning how to use Cryptopay at online casinos takes only a few minutes and you can use it securely. Playing at licensed casinos is important when you want to learn
how to recover lost money in casino
.
You can deposit funds instantly at any online casino Cryptopay and withdraw in a few hours. The waiting time depends on the chosen currency, but the security of transactions is just as high in any case.
As we've mentioned in our Cryptopay casino review, you can deposit in other currencies besides Bitcoin. BTC, LTC, ETH and XRP are digital money alternatives, and punters can also use USD, EUR or GBP.
There are small fees you need to know about after learning how to use Cryptopay at online casinos. These are small, but players can frown upon the prospect of being charged commission at all.
You can deposit on smartphones and tablets powered by iOS and Android devices, as this is a mobile-friendly payment method. It is possible to try the games for free or on real currency on handheld gadgets.
Take crypto betting to the next level with Cryptopay
Betting digital money is now possible at most online casinos and there are multiple payment methods you can use. The advantage of gambling at a Cryptopay casino is that you can deposit and wager not only in crypto but also in fiat currency.
Fast, secure and inexpensive deposits make this financial instrument one easy to recommend to both casual and veteran punter. Give Cryptopay casinos a chance and you'll be pleasantly surprised how reliable and easy to use they can be.