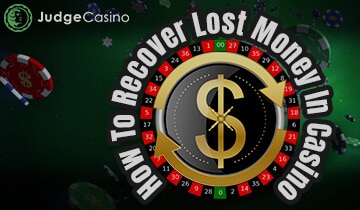 Go ahead and type "I lost all my money at the casino" on a random search engine. You will see hundreds of results – this is one of the common search phrases of all gamblers.
We all play, we all win, but we also all lose: Lost money at casino is a situation that will happen to you too sooner or later.
Since we cannot escape from it, let's try to look at this problem from different angles: Why did we lost a lot of money at casino? How can we cope with lost money at casino situation? And more importantly, how to get back money lost at casino, is it possible?
You may also wonder: "Can a casino ask for winning back if mispaid?"
In this article, you will find the answers to these questions and more.
Let's Start With The Basics: The Reasons Why You Lost Too Much Money At Casino
So, you gambled and lost – don't worry, we have been there too. Do you know how much does the average person lose in a casino? According to statistics of Nevada Gambling Commission, 73% of all visitors gamble at a Las Vegas Casino with an average budget of 578 USD, and lose 500 USD per trip, in general. Basically, nobody goes bankrupt but nobody becomes a millionaire too. So, why is that? What is the reason for "lost my money at the casino" situation? There are a couple of reasons for that:
You did not pick the right games. All casino games have an RTP (return to player) rate. This percentage shows how much money you will lose on a game in the long run. Here is an example: If the RTP rate of a game is 92% and you invest 100 USD, you will be able to recover 92 USD of that investment in the long run. In other words, your losses will be limited to 8 USD. Now, if you pick a game with a low RTP rate, you will lose more – that's expected and normal. For example, keno and bingo games have terrible RTP rates. And slot machines are not that good either: The average RTP rate of video slot machines is somewhere between 92% and 95%. Blackjack and video poker, on the other hand, offers 98% RTP percentages and more. In short, card games always offer better odds and fewer losses. If you only played slot machines (or keno/bingo), it is normal to lose than the average. These games are designed for that.
You played too much. Las Vegas is filled with people who shout "I just lost money at the casino". Believe us, we have seen lots of examples. The majority of these players did not know when to leave the table and surpassed their budget. Managing your gambling budget is a very important part of responsible gambling: If you allocate 100 USD for gambling activities, for example, you must stop when that budget depletes. If you continue to play just because it is fun, you will lose more than you can afford. Always respect your budget: Otherwise, you will go bankrupt pretty easy.
You believed in the gambler's fallacy. There is a reason why casinos always win. All casino games are designed to favor the operator in the long run: Statistically, the casino will always have the advantage. Believing in the gambler's fallacy will make you forget about this fact, unfortunately. What is a fallacy, you ask? It is a belief without any basis – basically, it is a "feeling". Let's think that you are playing roulette (even Pinball roulette) and the result was "red" for the last 10 rounds. You think that the probability of "black" is increased in the 11th run, right? Well, that's a gambler's fallacy because the probability of a specific outcome did not change at all. The red/black bet has a 48.75% chance of happening, and this rate "resets" with every spin. It does not increase or decrease, and yes, the result of the 11th spin can be red too: The probability is still the same. This applies to all casino games by the way, not only roulette. So if you are thinking that "your luck is about to turn", you are wrong: You always have the same winning chance, and the casino tables do not favor a specific outcome.
Basically, you lost money gambling because of at least one of the reasons above. So, what is the next step? How can we cope with this loss?
Top 10 Most Trusted Online Casinos in 2023
How To Cope With Gambling Loss: It Is Not The End Of The World
Coping with gambling loss can be challenging, especially if you are a beginner. Believe it or not, this can be as hard as grieving for the loss of a relative. In order to cope with your gambling losses, you must first accept that losing is perfectly normal while gambling. Everybody loses, even professional players. So accepting that losing money gambling is not the end of the world is important: This happens to every player out there. But if this is especially hard for you and you feel an urge to keep gambling, you may have an addiction problem. In this case:
Stop gambling immediately. There is no such thing as "less gambling" for addicts. You must stop gambling, period. Take advantage of the responsible gaming practices of online casinos. You can put self-exclusions on your account and limit your budget, game time, and even the game categories you can play. Use these tools to limit yourself.
Do not try to cover your losses by playing more games. We said "stop gambling" for a reason. The majority of addicts keep gambling because they think that "playing one more game will cover all of their losses". This is wrong and a dangerous approach. If you continue to gamble, you may lose more: There is no guarantee that you will win this time. And continuing the same habit will just make the problem bigger.
Face the consequences. Losing money at gambling will have lots of consequences, especially if you surpassed your budget. Your stress levels will increase and you will have problems in relations with your loved ones. Almost 99% of addicts try to hide their losses but this will just make everything worse. When gambling online this is even more easier and is just one of the reasons of why online gambling is more dangerous than casino gambling. Talk to your loved ones, make sure they know about the situation, and face the consequences. Yes, it will be hard but it is mandatory: Recognizing your problem and sharing it with your loved ones is the first (and most important) step of coping with gambling losses.
Get professional help if needed. No matter where you live, you can find an organization that is ready to help you with your problem. It can be Gamblers Anonymous, Gam Care, or Problem Gambling CA – there are professionals out there who are ready to help you, free of charge. Join one of these programs and don't hesitate to ask for help.
Once again, the suggestions above apply to addicts – not casual gamblers. If you are fine with the fact that losing is a part of gambling and there is no way to avoid it, there is no problem: As long as you respect your budget and control yourself, gambling can be a fun hobby.
Will A Casino Give Your Money Back?
And now, let's continue with the obvious question: How to recover lost money from casino? Is this possible? Can you still take something back for lost money at casino?
The short answer is no. And you already know this: No casino (or online casino) will refund your money just because you lost. Remember that these are called "games of chance" for a reason. The operators do not guarantee any winnings and you cannot take your losses back. Do you go to the betting booth after losing a sports bet and ask for your money back? It is the same principle: Lost money online casino (or land-based casino) won't be refunded, period.
There is only one scenario in which the answer to how to recover lost money in casino question is yes: Fraud. If your account is hacked and a third party used your balance to play games, then yes, the casino may choose to refund your losses. However:
This is not mandatory. The casino may not choose to refund your losses even if you can prove that your account is hacked.
Proving a hack is harder than you think. The majority of players who lost try to use this excuse, and we do not know even a single case where the casino accepted a hack really happened.
So, while possible in theory, it is near impossible to recover your lost money at a casino because of a hack. However, we have a suggestion for you: If you play at online casinos, you can win back a certain percentage of all your losses automatically. This is called a "casino cashback bonus": By using it, you can save some of your losses at all games. For example, there are online casinos out there that refund 25% of all losses every week. Yes, it is not the solution you want, but it is still an option. More importantly, this is the only legal way of getting a refund, so we advise you to benefit from this promotion.
Claiming A Chargeback: Is That A Method Of Recovering Lost Money At Casino?
You know how chargeback option works: If you used a credit card to pay for something, you can always put a chargeback order and get your money back – as long as you did not receive the goods. In this case, the refund is done by the bank itself, not the merchant. So, is this a way to recover lost money at casino?
Simply put, no. Chargeback feature is useful, but only if you did not receive something for the payment you made. When such a claim is issued, the payment provider asks the merchant to send the proof of delivery. If you purchase a PC, for example, and the seller cannot prove that the delivery is made, sure, you can get your money back.
However, online casinos do not work like that. When the payment provider asks them to send proof, all they need to do is sending logs that show you really played those games. Casino sites do not guarantee to win – they just sell you a service which allows you to play games.
And as long as they are able to prove that you really played those games, there is no fraud. The payment provider will reject your chargeback claim and cancel your card. In addition, the casino will cancel your membership. In short, this scenario won't end well for yourself: Do not chargeback casino losses.
The same thing goes for e-wallet payments too. They are even pickier than the banks, and we do not know of a single case where the e-wallet provider accepted the chargeback claim for gambling losses.
Overall, this "method" does not work. The answer to how to recover lost money in casino question is still "you can't". Use the chargeback bonus if you want constant refunds – that's the only thing you can do.
FAQ about Recovering Lost Money At Casinos
Unless there is a fraud (i.e., someone stealing your account info), no casino will give your money back – this is not how gambling works. You can use cashback bonuses to get some of your losses back.
The official statistics of the Nevada Gaming Commission show that the average gambler loses 500 USD per trip to the casino. There is no official information about losses in online casinos.
Once again, there is no official global information about this, but a new analysis made by the Wall Street Journal shows that 89% of gamblers lose money in a casino. Heavy gamblers lose more: 95% of them lose money in the long run.
If you are living in the US, yes, but only if you itemize your deductions on Form 1040 and kept a record for all your wins and losses. Also, the deduction cannot be bigger than your reported gambling income.
No, not really. If a casino goes bankrupt, this is because of management problems, not because it was "unlucky". All games are designed to give the edge to the house (casino) in the long run.
Learn From Losing Money At Casino And Prevent It In The Future
Losing money at casinos is not the end of the world and it can even be a good thing: It makes you put things into perspective. You realize gambling is not just about becoming a "millionaire": Moreover, you realize that this is not possible for the 99% of the gamblers.
Just because there are celebrity gamblers who win millions of dollars does not mean that you can become one too. And those celebrities win money from sponsorship deals, not from playing games. Gambling should be a casual hobby and never an addiction. Losing money will make you understand that and keep you grounded, you can take a con inspiration from the gamblers who lost it all.
As long as you follow the suggestions we made in this article, you can prevent heavy losses in the future. Yes, the answer to how to recover lost money in casino question is you cannot, but if you play wisely, there will be no need to recover any losses. Play safe, play wise, and respect your budget: Good luck!