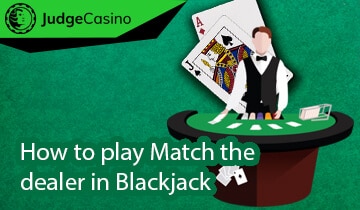 Match the Dealer Blackjack games are commonplace at leading casinos. What is Match the Dealer in blackjack, though? Moreover, you are probably wondering how to play Match the Dealer blackjack?
When playing blackjack, Match the Dealer is an optional side-bet that you can place. It has the potential to be one of the most profitable of all blackjack side bets out there in 2023.
If you want to learn more about the option, discover the truth behind Match the Dealer odds, and more, then our review is for you. Let us begin our guide by looking at the side bet itself.
Top 10 online casinos where you can play Blackjack [2023] - Updated list
Match the Dealer Blackjack explained
You are probably wondering how to match the dealer in blackjack? Well, come to that in a moment. First, we need to understand what it is we are dealing with.
When you try your hand at Match the Dealer Blackjack online, it is essential to know that you are not playing a game, per se. Instead, you are wagering on a popular side bet.
Assuming you know how to play blackjack at a basic level, you will quickly understand how a Match the Dealer bet works.
A quick blackjack analysis will show that you are looking to match the dealer's upturned (face) card with either of your first two cards with Match the Dealer blackjack rules.
The better the match, the more you will win. Now, let us see how this really works, with a step-by-step walkthrough.
How to place Match the Dealer Blackjack bets
Match the Dealer: Blackjack vs Spanish 21
Match the Dealer in blackjack can be found in basic European, American, and Classic Blackjack games, but there are also Match the Dealer Spanish 21 options. Each has a varying number of decks affecting the odds of success when playing online blackjack with real money.
In Spanish 21, you can expect payouts of up to 12:1 with eight decks, while in conventional games, they can rise to 28:1. However, Spanish 21 removes four tens in each deck.
The house edge with Match the Dealer bets in Spanish 21 is just 3%, making it one of the lowest reported house edges of any side-bet. In short, Match the Dealer bets in conventional blackjack pay more but have a higher house edge than in Spanish 21, where the house edge is lower, but so are the payouts.
Qualifying Match the Dealer Blackjack Hands and Payouts
The pros and cons of Match the Dealer Blackjack side-bets
You can play blackjack with Match the Dealer strategy
There are free blackjack Match the Dealer games you can practice on
Match the Dealer blackjack tips can be found across the internet
While live dealer blackjack casino games are plentiful, Match the Dealer isn't guaranteed to be available at live casinos
Blackjack card counting and betting strategy options such as Martingale blackjack betting systems don't tend to work here
FAQs: Your questions on Match the Dealer Blackjack answered
Here are some commonly asked questions concerning Match the Dealer betting when playing blackjack online.
Any casino that gives you variants and is licensed and secure, and if you play on the go, one with a blackjack app with Match the Dealer.
No. Match the Dealer Blackjack games in Las Vegas casinos are common, but not all US casino sites offer them. You will not often find the game in
online blackjack tournaments
, either.
A card match will result in a win based on the paytable in the game and the type of match you have.
Should I play Match the Dealer in blackjack? All side bets are risky, but this one is a good bet in terms of house edges.
Spanish 21 has a lower house edge, but Classic Blackjack games offer better odds and payouts.
Play Match the Dealer Blackjack online today at leading casinos
Now that you know how Match the Dealer Blackjack works at online casinos, it may be time to engage in a spot of online gambling.
Do not hesitate to check out our other top guides, such as: is online blackjack rigged? and advanced blackjack strategy if you need additional help before choosing one of our tops, recommended online casinos today.