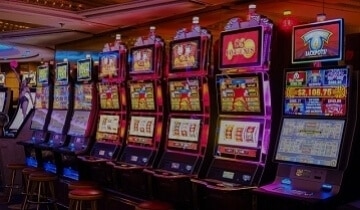 Let's start by explaining what do lines mean on slot machines. This is actually a literal term and these are real lines. You cannot see them but they connect both sides of the reels and pass over multiple slots on each reel.
These are the lines you land the symbols on – in order to qualify for a winning, you must land the same symbols side by side on any of these lines. They are also used to define the type pf the slot machines.
For example, 50 line slot games contain 50 paylines, as it is obvious from the name. This number can be anything: There are even 100 line slot machine games out there.
In general, fruit games contain very few paylines (i.e. 1 line slots) and video slots (like Centre Court slots) offer much more (i.e. 25 line slot machine games). So far so good, right? Well, let's continue with the obvious question: How many lines should I play on a slot machine?
Many casino players will open up a slot machine, adjust their stakes and start spinning. Very few players change the number of lines they play with, and in many modern slots, the number of lines available cannot be adjusted at all.
Sometimes this is because there are very few lines – you cannot change 3 line slot machines, for example, because this is already a low figure. But sometimes, the provider simply does not offer that option.
Of course, if you reduce the number of lines you play with in a slot, you can get away with cheaper bets. But you also lower the chances of landing a win. Few players, therefore, are ever going to play with less than the maximum number of allowed paylines.
What they can do, though, is pick a slot with the number of lines they wish to play in the first place. What is the correct amount of lines you should play with in an online slot, then? That is the topic of this piece.
Top 10 online casinos where you can play popular slot machine games
The Most Common Options
Firstly, we need to look at the most commonly offered numbers of paylines in slots. Naturally, classic slots (fruit machines or Lucky 7 slots, for instance) typically come with anything from 1 to 3 lines. Playing with 5 is a possibility, although the prizes may be smaller, with more symbols likely to appear on the reels. For video slots, it is an entirely different situation.
Most video slots will offer at least 15 to 30 paylines, with 20 line slots and 25 line slots being the most common figure. Other commonly offered numbers of lines include 50, 100, 243, 1,024, and 4,096 paylines. Lately, colossal payline structures (such as the BTG's MegaWays slots system) have started to appear, too, and these can offer tens of thousands of lines. Then there are those slots which feature no lines at all, more commonly known as Reactor or Cluster Pays slots. They require players to land wins by grouping clusters of symbols.
All of the above can be deemed to be the industry standards for paylines in slots. So, how do you determine which is for you? To determine that, there are a few things to look at and note…
There is Less Flexibility With How Your Bets are Structured
The more paylines that feature in a slot machine, the less flexibility there will be with wagers. It would be impracticable to have players wager on each line in 243 payline slots individually. As a result, the paylines tend to be fixed. This hampers your chances of gaining total control over how your bets are constructed.
But You Have Increased Chances to Win
The more paylines you have active, the more likely you are to win. Naturally, this sounds as though playing with the maximum number of lines is an advantage. That may not be the case. It is entirely possible that a provider may lower the value of their prizes to compensate for the increase in ways to win the surplus of paylines offers.
Watch Out for Expanding Paylines
Some slots feature expanding paylines. These can be misleading. A slot which uses an expanding payline structure may advertise 1,000 paylines, but that doesn't mean that you will get to play with all 1,000 of them. In reality, you'll be playing with a lot less, perhaps even as few as 50.
In slots with expanding paylines, the paylines only tend to expand when a special feature has been triggered. This won't happen often, as you well know. In fact, you may end up paying more than 50p per spin in a 50-line game, just for the "hope" that you can expand the number of lines available.
The Same Is True of Random Lines/MegaWays Slots
Just like with slots that feature expanding paylines, slots which offer a random number of lines (such as the MegaWays payline structures mentioned above) claim to provide as many as 30,000 or more paylines, but in reality that won't be the case.
The number of lines you can play with is randomised on each new spin. You may not get anywhere near that many, so you must make sure that the wager the game is asking for is fair in relation to the lines you actually get. One good way to do this is to check to see what the minimum number of lines is that the slot offers, and how that compares to your stake.
What About Cluster Pays Slots?
Cluster Pays slots are tricky to gauge. They offer no lines, and instead pay out winnings not with symbols on a payline, but when they appear together in a group. Since this makes it very difficult to gauge the RTP (return to player) rate and variance of slots, players won't have any clear idea whether they are getting good value for money regarding their odds of success.
However, Cluster slots tend to be cheap and usually offer players the chance to win multiple times on a single spin, due to having a collapsible reels structure.
Do a Spot of Mathematical Homework
The best way you to judge how many lines you should play with is to do a spot of mathematical homework. Most 25 line slots can be played for 25p per spin (with all lines active). This means that each line can cost you as little as 1p.
Now take a 243 ways to win slot (like Party Time slots), or a game with an alternative number of lines, and divide your total stake by the number of lines featuring in the slot. This will give you a rough idea of how much you are spending per line.
However, this still doesn't tell you the whole picture. You also need to stack those figures up against how much the slot pays. It may turn out to be that a slot with 243 lines is cheaper per spin but offers less value for money concerning prizes than a 25-line slot which is more costly to play.
So, How Many Lines Should I Play With?
So, considering all we've mentioned above, how many lines should you play with? Ultimately, the following is generally considered to be good advice:
If You Like to Control of the Pursestrings: Play a slot which has flexible wagers and adjustable lines. This will allow you to determine how much you wish to pay on a per line basis. Your prizes will likely be adjusted for your bets.
If You Have a Shoestring Budget: If you are operating with a limited budget, it is advisable to play with as many lines as possible, even if this means potentially smaller cash prizes being available. The chance to win anything at all is going to be beneficial to players on small budgets.
FAQ about Lines on Slot Machines
These are actual lines that connect both sides of the reels. You can see what they look like after scoring a win. To qualify for a payout, you need to land the same symbols side by side on any of these lines.
Yes, because there will be more possibilities to land a winning combination. However, more lines also mean higher bets: You need to spend more money on each spin. You should decide according to your bankroll.
While this is a personal choice based on how big your bankroll is, we recommend using the maximum bet value in each game, especially if the paytable is dynamic and/or there is a jackpot prize. The more you invest, the bigger the payout will be.
If you are on a limited budget, adjustable payline slots will be the better choice because lowering the line numbers will also lower the overall bet amount. Fixed payline slots do not have this advantage.
Always Try Before You Buy…
Now that you have some idea what you want, it is time to put that to the test. Before you decide to wager your hard-earned cash on real money slots, why not put your logic on trial by playing a slot for free?
There are plenty of free online slots and demos out there which will allow you to tinker around with different payline and wagering strategies. This will enable you to determine just how many lines is ideal for your betting strategy and budget.
If you were also wondering when is the best time to play slot machines at a casino, here's the answer.
Other related articles you might like: