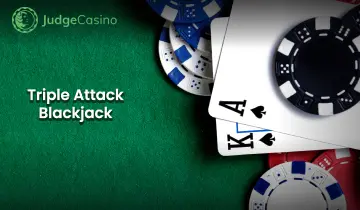 In this interesting blackjack variant called the Triple Attack Blackjack, the player can place three separate wagers on their hand both before and after the dealer, and the player each receives their first cards.
There is also a side bet that is optional. If you are wondering how to win triple-attack blackjack, read our triple-attack blackjack review that serves as a triple-attack blackjack game guide. Our website will also teach you what is surrender in blackjack, the martingale system in blackjack, and more.
Best online casinos where you can play blackjack in 2023
What is triple-attack blackjack and how does it work? 🤔
Triple Attack Blackjack online would be the offspring of Blackjack and Stud Poker if they were to have a love child in the middle of the night. It has all the traditional components of a standard blackjack game but uses stud poker's street betting style. Together, they provide quite a treat for card players who enjoy advanced blackjack strategy and are not intimidated by a challenge.
Players greatly benefit from the opportunity to make subsequent bets on a hand as it evolves. More information about the game modifications is provided below. The final outcome is a blackjack triple attack game with an RTP of 98.82%. The house edge for triple attack blackjack is 1.18%. Read on to find out the best hands in blackjack, top triple-attack blackjack casinos, and triple-attack blackjack tips.
Rules of triple attack blackjack
The rules to how to play triple attack blackjack are predominantly identical to live blackjack.
Handpicked tips on how to win at triple attack blackjack
As you might expect, the strategy for the demo version of triple attack blackjack would be a little more difficult than it is for traditional blackjack. So, make sure you know how to play blackjack before getting on board with this one. Every new card dealt may indicate that a different course of action could be taken.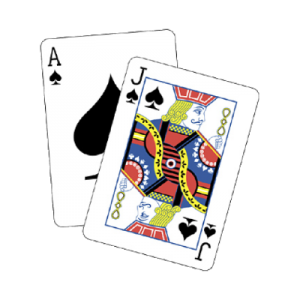 It is required that the first attack is by the first bet. The dealt cards determine the likelihood of the second and third attacks.
If you are dealt a face card or an ace, you should only make the second attack. Depending on your card and the dealer's up card, a third attack wager may or may not be launched. 
The number of cards you can eventually wind up with as a consequence of doubling and splitting allows for a wide variety of playing strategies.
Before you decide where to play triple-attack blackjack, make sure you go through a long list of triple-attack blackjack casinos to have a grip on the norms of the game and the possible bonus offers associated.
Side bets and a paytable for triple attack blackjack
Three additional side bets serve as the perfect play for triple attack blackjack. Two of them, suited royals and triple match, are the typical hand-condition bet types. The third one is the insurance side bet.
Suited Royals Side Bet
This wager assumes that the player's opening pair of cards will match in terms of the suit. Better still if they are suited face cards or a suited K+Q.
Triple Match Side Bet
Premised on the player's first two cards and the dealer's up card, this optional stake is made. The player must have at least a pair of these three cards in order to receive payment. The highest payout is for suited three-of-a-kind, followed by suited pairs and three-of-a-kind.
Player's First 2 Cards + Dealer's Up-Card
Insurance side bet
The guidelines and Insurance paytable are distinctive in triple attack blackjack live dealer.
Insurance bets are normally only available when the dealer is showing an Ace or a 10. By default, the cost of every Insurance wager is set at equal to half that of the initial wager. There is a higher payout of 5:1 if the dealer's blackjack card counting is suited in addition to the standard 2:1 payout for a blackjack.
The triple attack blackjack odds of the dealer having blackjack are relatively low even though Spanish decks are used (face cards only; no 10s). This would seem to reduce the edge. As a result, the edge on the insurance bet increases from the standard 5.88% to 6.01%, which is bad.
Best triple attack blackjack strategy for 2023
Ace splitting strategy
If you are familiar with blackjack betting strategy 1326, you will know that naturally, splitting aces is always a good idea. What exactly do you do after splitting them is the concern. You have three options in the triple attack blackjack simulator: Stand, Double, or Re-Split aces (if dealt another pair of Aces).
Whether or not you are permitted to "Double for Less" will have no bearing on how you should approach this. The dealer should be questioned about this rule. When advised to do so, always place the absolute minimum wager possible if you can double for less.
The second and third attacks
If the first card is a 10 or an Ace, only then can you make the second attack wager.
Relying on your hand and the dealer's up card, the following triple attack blackjack betting chart will indicate whether or not you should make a third attack. N = No; Y = Yes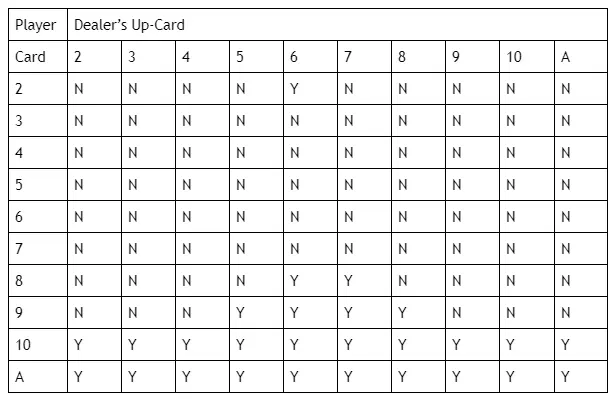 Pros and Cons of Triple Attack Blackjack
Enjoyed in casinos all over the world
Game rules are similar to that of classic blackjack.
There are three negative rule alterations.
Frequently asked questions about Triple attack blackjack
Triple Attack Blackjack has been a moderately popular casino table game at most popular online casinos. Blackjack, in general, is a crowd favorite owing to the promo codes and vouchers that most online casinos offer.
Triple Attack Blackjack has all the traditional components of a classic blackjack game but uses stud poker's street betting style. It comprises 48 cards, and the tens are missing.
Yes, Triple attack Blackjack can be found at land-based casinos too, though its popularity seems to be higher at online platforms which offer exciting No Deposit and First Deposit bonuses.
Yes, Triple Attack Blackjack can be played on mobile phones and desktops alike. Mobile gambling usually has Mobile Bonus codes which could be used while playing on mobile.
There are no special bonuses associated with Triple Attack Blackjack originally. However, the casino websites hosting the said game might offer some bonus or promotional offers in association with it.
The Suited Royals is the best side bet to go for while playing Triple Attack Blackjack. The other popular ones are Ace Splitting Strategy and Insurance Side Bet.
To wrap up
This must be among the trickiest variations of blackjack available and definitely not a blackjack for beginners. If you find traditional blackjack boring and too simple, give triple attack blackjack for real money a shot for a change of pace. In comparison to traditional blackjack, online mobile blackjack will require more focus to win.
To wrap it up, Triple Attack Blackjack gives the player two opportunities to raise their initial wager. The cards are not dealt in reverse order, and bets are placed before, after, and after the dealer's face-up card is dealt in the game. To be eligible to bet once more on the Third Attack, the player is not obligated to make a wager on the Second Attack.
For putting up this defense, the house receives hits on soft 17s and pushes on all dealer draws up to 22, not suffering a setback. Check out our list of casinos with triple attack blackjack featuring Atlantic City blackjack, Down under blackjack, and zombie blackjack for the experience of a lifetime.