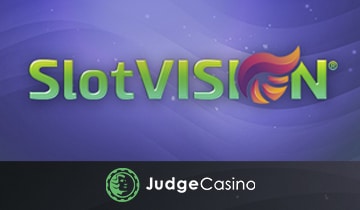 SlotVision belongs to the new wave of software developers for online casinos, as it was founded in 2019.
A fresh face in the competitive gambling industry, it has the headquarters in Cyprus, where it is also licensed to supply all sorts of games to an international audience.
Its collection of slots is relatively small, which makes perfect sense given the sheer novelty of this developer.
On the bright side, it makes up for the lack of games through originality, effectively providing savvy punters with an original alternative.
The Latest Technologies to the Rescue
It's always difficult for a new software developer to close the gap separating it from established companies with a sizable portfolio of casinos. What they lack in numbers, SlotVision slots compensate through fine graphics, originality and cool visuals.
These games can be enjoyed on mobile devices powered by all the important operating systems, with or without downloading the casino app.
At the first glance, players will notice the shiny and somewhat glamorous nature of SlotVision games, before they even get to appreciate the gameplay.
The software developer sent out with a portfolio of only a dozen slots, but several others were added over a short period of time. At the time of writing, the SlotVision review, the collection inches closer to the psychological threshold of 20 games.
Given the rate at which new games are being added, there's plenty to look forward to and the games under development are announced on the official website.
The software developer is working on several fronts, as it provides these modern games to increasingly more casinos. Signing partnerships with new operators is the top priority of SlotVision, in its quest to expand its market share.
Colorful Slots for Casual Punters
The top software developers are more concerned about providing veterans and savvy punters with a multitude of worthy alternatives. SlotVision slots are aimed mainly at casual and recreational players which explains the absence of progressive jackpot games.
Instead, the supplier of casino games has developed games that dazzle the eye with colorful reels and glossy backgrounds. A lot of attention was paid to the visuals, with sharp images and animations that look equally well on PCs and mobile devices.
In regard to the themes covered, the developer doesn't hesitate to walk down the less traveled paths. The characters populating the reels of SlotVision slots are exciting, sexy and quickly get prospective players interested in their stories.
The narrative behind these visuals is rather shallow, but by the time players realize it, they fall in love with the gameplay. Sometimes, there is more than meets the eye to SlotVision games, on other occasions it is less but at the end of the day, their slots never disappoint.
Try the SlotVision Games on Mobile
The advantage of being a new software developer and dwelling mainly on slots is that you can start from scratch instead of updating an existing product. The lineup of slots available is thrilling and rich in special features, bonus rounds and unique mechanics.
Tiger Princess, Buffaloes Duel, Immortal Gladiator, Zodiac Magic, Flaming Fruits, 7s and Diamonds, Eastern Lotus, Fairy's Luck, African Safari, Secret Temple, Majestic 6, Platinum Heart, , Steampunk Queen and Wall Street Tycoon can be played on their platform.
Wild and scatter symbols are to be expected when spinning the reels of SlotVision slots, ready to boost winnings and trigger bonus rounds. Some of their games have mirrored reels, sticky and expanding wilds, as well as multipliers that can turn a small bet into a sizable payout.
It is customary for these slots to offer potential payouts of up to 100 times the investment. Some games such as Majestic 6 go even further and those who spin its reels can secure a reward of up to 500 times the stakes.
Useful information about the games is displayed next to the reels, so players can make an educated decision. This includes but is not limited to the slots volatility, the payouts tables and the maximum winnings, which can sway punters in one direction or the other.
While working on this SlotVision review, we have had the chance to try low and high volatility slots, suitable for risk-averse and bold punters.
SlotVision Slots Partners
SlotVision didn't waste any time and since opening shop at the beginning of 2019, it has signed some major partnerships. The first agreement was reached with iGamingPlatform in autumn, which allows the software developer to provide its games through their celebrated platform.
This will give them the perfect opportunity to prove the quality of their slots to an international audience and increase their market share.
The other key deal struck by SlotVision will bring its portfolio of slots to 1xBet, a major Asian-facing gambling operator. Famous for its celebrated sports betting platform, 1xBet also runs a popular casino which will now feature SlotVision slots among those provided by other developers.
Tens of thousands of players will have the opportunity to try these games for free or real money at the casino they know and trust. For a new software developer such as SlotVision this acts as a springboard to more clients.