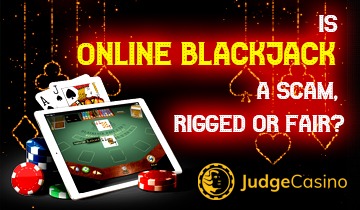 Casino games come in different flavors and appeal to a different audience, based on experience, expectations and personal preferences. Blackjack is a classic card game, equally popular at brick-and-mortar casinos and online, because of its interactive nature and high return to player.
It carries one of the lowest house edge and when perfect strategy is used at every hand, it virtually removes the advantage the casino has over the player.
All these qualities apply of course, only to those games that are perfectly fair, truly unpredictable and whose outcome is determined exclusively by chance.
This brings us to the timeless question "Is online blackjack rigged?", or can we trust the casinos with our money when playing this game? Since this is such an important question to ask right off the bat, we found it worthwhile to take a closer look at this sensitive matter. You may also wonder why is counting cards cheating in Blackjack. Read further to find out.
If you keep reading this article, you will find out if and when are online blackjack games rigged, as well as how to find fair and trustworthy games.
Best Online Casinos where you can play Blackjack:
Who is inspecting and certifies online casinos and their blackjack games?
Casinos will naturally tell you that their games are perfectly safe, but in the absence of an objective third party, these reassuring statements mean nothing. In order to operate lawfully, online casinos need to apply for a license with one of the international regulatory bodies. There are plenty of preferred jurisdictions where gambling operators choose to apply for a license, but some are more respectable than others.
For example, the United Kingdom Gambling Commission is widely regarded as one of the strictest authorities and they hold casinos to the highest standards. Other casinos choose to apply for a license in Malta, Gibraltar, Curaçao or in the very countries where they have the headquarters. In order to mitigate the online blackjack rigged threat, you should always gamble only at licensed casinos.
How do online casinos perform audits for the online blackjack games?
Being granted a license by one of the aforementioned regulatory bodies is an important step for any online casino. Gambling operators are still expected to do their due diligence and provide players with games that are certified fair.
There are two ways to do it and both involve an audit, with some casinos choosing to perform this process in-house. This is easier for them and less expensive, but also far less transparent than by working with a third-party auditor. eCogra is a great example of a respectable testing agency that monitors the fairness of casino games among other things. Operators that work with these auditors have their seal of approval on their website and they're unlikely to run an online blackjack scam.
How to find respectable casinos and enjoy fair games?
Players can narrow down the search for casinos offering legitimate online blackjack by playing at licensed and audited casinos. They can also identify the best operators by going over the reviews available over the Internet. In order to make an educated decision it pays off to read several reviews to avoid the risks of biased articles. Some reviewing websites are more reliable than others, so this is another thing to keep in mind when looking for a secure place to gamble.
Casino reviews written by players might also expose the instances when video blackjack rigged games happen. It's important to learn how to filter out the texts written by disgruntled customers from genuine reviews written by objective players. There are known cases when online blackjack games were rigged and the scam was exposed and many of those casinos are now blacklisted. The time spent researching the market is worth it because you'll find the fairest blackjack sites while avoiding bad actors.
Are some casino software rigged? How to Choose the Fair Ones?
The threat of electronic blackjack rigged games has prompted many players to switch from random number generator games to their live dealer counterparts. This doesn't mean that the RNG types of blackjack can't be trusted, especially if you play at casinos powered by legitimate software developers. Netent, RTG, Playtech, Betsoft and Evolution Gaming are some of the best-known producers of honest blackjack games. Their games have been tested by all important auditors and the results confirm the fact that their software blackjack games are fair.
The next logical question to ask is "Are online blackjack games fair at all casinos powered by these developers?". The answer is surprisingly simple and it is based on the information you have read in the previous paragraphs. Developers provide the same software to all their partner casinos, so it all comes down to the licensing jurisdiction and auditing process. If all the conditions are met, then the software blackjack rigged threat is virtually nonexistent and players can fully enjoy the games against the RNG.
How's online live dealer blackjack different than the RNG version? Is it better in terms of fairness?
Now that we have determined that playing against the random number generator doesn't increase the risk of an online blackjack scam, we can move on to live games. This type of blackjack is played by the same rules and the only difference is that instead of algorithms, you compete against real dealers. Top casinos use the latest WebCam technology and action is broadcasted in real-time from luxurious studios. Players can see everything that happens in real time and even interact with the dealers while they play.
Initially, many players who were worried of online blackjack rigged games chose these tables, but the reasons have changed. If you undertake research, by reading reviews and choosing a casino that is licensed and audited, you have the same chances to win at live and RNG blackjack tables. The only real difference is that you can experience the thrills of brick-and-mortar casinos if you choose to play against real dealers. The bottom line is that the risk of live dealer blackjack rigged games isn't greater or smaller than it is when you play against the software.
The theoretical return to player at blackjack
One of the main reasons for why blackjack is so popular is that it has one of the highest RTP, which stands for return to player. This means that the house has the lowest chance to win compared to other games, even though the casino is still narrow favorite.
If players use the optimal strategy every hand, then the return to player can exceed 99% at any site with fair blackjack. Keep in mind that online casinos provide players with different types of blackjack, with the rules slightly tweaked to ensure diversity.
Using the perfect strategy for online blackjack or at least something close will greatly improve the odds of winning in the long run. In theory, players should still lose eventually because of the tiny house edge, but at least they have a fighting chance.
By playing exclusively at casinos offering fair online blackjack and by using mathematics and proper blackjack bankroll management, lucky players can actually profit. The learning curve is steep, but this is an effort worth making because it can improve the odds of winning.
Are they really rigged or is it just your fault?
People are always tempted to blame others for their failures, so it comes as no surprise that many equal internet blackjack a scam. Instead of asking themselves "is online casino blackjack fair and am I doing something wrong", they prefer to blame the game. Because of the house edge, small as it is, the casino is supposed to always win in the long run. This is something to be expected when playing online blackjack, as the only thing you can actually do is to mitigate the house edge as much as possible.
Players shouldn't be frightened by the live blackjack scam and instead tried to understand why and how often they can win or lose many times in a row. Many terrible strategies, such as the martingale have led players to ruin, as they lost everything during a lengthy losing streak. In many cases, the online blackjack rigged claim is just an excuse to justify their own errors. This can give some players the peace of mind they seek, but doesn't make the statement any truer.
How the cards are used and shuffled in the regular and live online blackjack?
An online blackjack scam exposed will almost always cripple a casino and utterly destroy its reputation. That's why trustworthy operators only work with software developers they can trust, such as the ones listed above. When playing against the RNG, the cards are shuffled by an algorithm that does this automatically and randomly. By comparison, when playing live online blackjack, the croupier will deal the cards and also shuffle the deck. This is done by placing the cards into a shuffling machine in the table. Players can see how fair is online blackjack by watching the process as it unfolds in real-time.
Is playing blackjack in a casino app is the same as on casino website? Are they as fair?
Mobile gambling is a big thing and not surprisingly, Internet casinos offer blackjack on smartphones and tablets. Once you have identified which online blackjack games are fair and what casinos can be trusted, you can try them on mobile devices. It makes no difference if you play live blackjack, virtual blackjack, video blackjack or electronic blackjack on desktop computers or on smartphones. The most fair online blackjack apps will simply act as an interface between you and the games for enhanced convenience.
More questions you might have regarding the fairness of blackjack:
There are plenty of gambling operators where online blackjack fair games are offered. To find them, you need to focus on casino licensed in trustworthy jurisdictions, with games audited by independent third parties and powered by respectable software developers.
If you want to reduce the risks of online blackjack rigged games, then you should definitely read many reviews. Find out which operators are blacklisted, which have complaints against them and which offer online blackjack fair. Can online blackjack be rigged? Yes but you can avoid those games with research.
No, not really. They are just as fair and as long as the casino itself is honest, live dealer blackjack and software driven games are just as reliable. Can live blackjack be rigged online? Again, there is always the risk of rogue casinos attempting something like this, so stay safe and play at respectable operators.
There is absolutely no reason to believe that the mobile versions of the games are less reliable than the desktop ones. Blackjack apps can't be rigged if you download them from the official website and play at a licensed casino. Mobile friendly casinos offer provably fair blackjack games where players can test the fairness themselves.
It definitely does! Understanding the odds of winning, the mathematics behind blackjack and making the right choices every hand is essential. Instead of fearing internet blackjack rigged games, you should accept and understand the house edge. Employ perfect bankroll management and you can expect a RTP of more than 99%.
If it is because of a long losing streak, a terrible bad beat or an overall dissatisfaction with the game, then you are probably making excuses. Analyze the strategy you are using, improve your bankroll management and take a break. Don't chase losses, stay grounded and don't hesitate to ask for assistance from specialized organizations.
Some online casinos will try to cut corners and even cheat in order to enhance the house edge. Identify these rotten apples, go over many reviews, read what others are saying and steer clear of shady operators. Don't take chances with unlicensed casinos and those that don't have the games certified fair.
Why you should trust online blackjack games?
The random number generator is checked for fairness by independent auditors.
Online casinos are licensed by strict regulatory bodies.
The house edge is low and most players making online blackjack scam claims lose because of poor decisions.
There is always a risk of the software being manipulated
Even real croupiers can try to cheat at live dealer blackjack tables
Some licensing jurisdictions don't really use their authority to monitor casinos
Conclusion
We hope that you have enjoyed reading this article and now you have a better understanding about the online blackjack scam allegations. It is always a good idea to stay on your toes and be ready for everything, but it's a mistake to create excuses for your own errors. Each time you have second thoughts, verify the online casino, the way they are audited and the games RTP.
These should clearly indicate if your online blackjack game is fair or a scam.