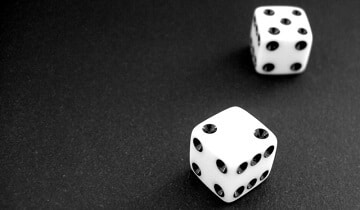 Live casinos are on the rise: This exciting technology keeps growing every day and more and more players prefer to play against real dealers.
There are no limits at all – no matter where you live in the world, you can join a live online casino right now and start playing the most profitable casino games.
But, what is this technology really about? More importantly, which ones are the best live online casinos to play?
In this comprehensive article, we will answer all of these questions and give some tips & tricks on live gambling. Let's start rolling the dice against other people, with real people: Live casinos online truly offer an amazing experience and you can pick one from our recommended 100 best online casinos list!
Best Live Online Casinos [2021] - Updated List
First Things First: What Is A Live Online Casino?
Imagine that a casino decides to put a webcam in front of a game table and starts a broadcast: All members can join this broadcast from anywhere in the world and play games by using a standard interface they already know from desktop games. Well, this is exactly what a live casino is. These are real buildings with real dealers, broadcasting games 7/24, and everything you see on the screen happens in real time. Sounds exciting, right? Other than slot machines, every casino game can be played this way.
Each broadcast can host more than one player, so you will be playing with gamblers like you – your table friends are also real. You can communicate with them via written messages (you can even send messages to the dealer) and socialize in the meantime. Live casinos are the best thing if you want to live authentic casino experience: They offer you everything that can be seen in brick-and-mortar casinos, but from the comfort of your home.
How Does Live Casino Games Work?
Magic! Just kidding. Have you ever made a video call? We are sure you did – live casino games use the same principle. The broadcast is always active and you can join it anytime you want. There is a screen in front of the dealer (you can see it from your point of view) which tells him/her the decisions of players. So, for example, when you press on the "stand" button in a live blackjack game, the dealer can see this from his/her screen. He is also able to see the written messages of players from the same screen. Everything happens in real time but there may be a slight lag if you are too far away from the broadcast's location. No worries though, you won't even feel it most of the time.
How To Play Games At Live Online Casino Sites: Step By Step
Step 1: Pick one of our recommended best live online casino websites and become a member.
Step 2: If there is a bonus, make sure to claim it before starting to play.
Step 3: Complete the deposit and visit the "live casino" section of the website.
Step 4: Pick any game you like. Best games to play at live online casinos are the ones you like the most. Roulette, baccarat, blackjack, poker… Take your pick.
Step 5: Click on the game and wait for it to load.
Step 6: The interface will nearly be the same as desktop games – greet other players and the dealer, and start playing. Note that you should wait for the dealer's instructions every time: For example, don't click on any buttons to place a bet before the dealer tells you to do so.
The Most Popular Providers Of Online Live Casinos
There are a lot of live casino online providers but we can say that two of them are the most popular ones:
Evolution Gaming: Founded in 2006, Evolution Gaming is probably the first live casino games developer in the world. It is a UK-based company and known for its casual live dealer games, such as Monopoly Live and Lightning Roulette. At the moment, they offer the most number of live casino games and they are the biggest live gambling operator in Europe.
Ezugi: Licensed by Curacao eGaming and audited by iTechLabs for fairness, Ezugi is one of the oldest providers in the live online casino gaming industry. They have nearly a monopoly in Asian live casino market and they are able to offer 20 different live dealer games. The company has 100 dealers and works with many well-known casino brands in Europe.
Note that these companies do not have a casino site of their own, they just provide live games service to online casinos. They have offices all over the world, and once you hire them, you get the full package: They take care of the infrastructure and broadcasts.
Tips And Tricks: Things To Know About Live Online Casinos
There Is A Pit Boss. If you have a complaint, don't waste your time with the dealer: Live casino tables have pit bosses too and you can direct your complaints to him/her. Just notify the dealer that you want to talk to the pit boss. You will be taken from the broadcast and have a one-on-one chat with the manager. He/she will review the game and make a decision. Dealers are real people too and they can make mistakes.
Record The Broadcast If Possible. If you don't like this decision, you can always complain to the authorities. Recording all of your game sessions is a good idea in case you need to do this. You must use separate software for this job but once you set it up, it can work automatically in the background without interrupting you.
There Is An Etiquette. Yes, just like brick-and-mortar casinos, there is an etiquette for live casino online sites too. Don't worry: No dress code needed but you still need to act like a decent gambler. Make your decisions fast and greet other players and the dealer when you join a broadcast.
You Can Take Notes. You are playing in the comfort of your home: Take notes, keep track of previous hands, even use an app/website to analyze the best move for you. All of these are legal.
5 Reasons To Prefer Live Online Casino Games
You Can Play Any Time You Want. Live online casinos work 7/24, just like desktop casino sites. You can find a game to join at any time of the day, no matter where you are living in the world. Time zone differences do not matter: Dealers work in shifts and the tables are always active. It is possible to play at midnight, dawn, or any time of your liking – some dealer will always be waiting for you.
It Is A Heaven For Table Games. You can play poker and blackjack at every casino site, but how many Spanish 21 match the dealer games are there that can be played against the computer? What about French Roulette, can you find this variant that favors the player at desktop casinos? Well, you can find all of these and more in live casino websites. All card and table game variants are there: Best live online baccarat games offer side bets; best online live roulette casinos offer "Le Prison" rules. You cannot find this variety in desktop casinos: Live games are the way to go if you are a table player.
Higher Table Limits. Let's be realistic: Most of the desktop casino games offer very low table limits. In fact, even the highest ones we see were no more than 500 EUR. In order to play with higher limits, you must be invited to the "VIP Clubs". Well, this is not the case for live dealer games: The table limits are always high and you don't need to be a VIP player to join. Even the high-rollers prefer to play live casino games and you should too. Against real dealers, the stakes are always high. And if you want, you can always find a game table with lower limits.
Playing With And Against Other People. Interaction with real people is a thing that cannot be imitated by desktop casinos. Playing against "computer software" is not as fun as playing with real people. The spirit of brick-and-mortar casinos can be found at live casino websites too, and this is one of the reasons that make them attractive. Have you ever dreamt about visiting Vegas? Well, you can at last, and you don't need to physically go there: You just need to find a broadcast.
Bonuses Are Still There. For some reason, most of the players think that live online casinos do not offer any bonuses. This is wrong: The promotions you know and like are available at live casinos online too. In fact, some of them (like cashback bonuses) offer higher rates. You can still enjoy and benefit from different campaigns that offer you a live casino bonus.
Pros And Cons Of Live Dealer Casinos
Playing at a best live dealer online casino has a lot of benefits, as can be seen. But there are a couple of downsides too, as in everything in life. Let's take a closer look at these pros and cons and present them in a list, so you can clearly see what is going on.
Authentic casino experience - enjoy the benefits of a "real" casino within the comfort of your home.
Social gambling. Playing live dealer games is also a social experience - communicate with the dealer and the players at the table.
Good-looking dealers. This part is for male players only but we had to mention it: Dealers at live casinos are usually very attractive women and it is a real pleasure to play against them.
Satisfying payouts
Lots of software providers. The future of the gambling industry lies within live casinos – get the latest features by playing live dealer games.
Slower gameplay. Live dealer games have a slower pace when compared to their desktop variants. However, this is not really an impediment, as the act of the dealer waiting for your decision makes the whole experience authentic.
The "language" problem. English is the most common language, therefore you must be speaking at least basic English to properly understand the action at the table.
How To Choose The Best Online Live Casinos
While choosing among online casinos with live dealer, we recommend focusing on these features:
Software Quality: High-quality software and providers directly affect your gambling experience. We recommend sticking with live casinos that work with well-known providers, such as Ezugi and Evolution Gaming.
Dealer Quality: Dealers should be professional, helpful, and not afraid of talking. Nobody likes to play against a "robot". Sure, every dealer will have a different personality but overall, they must make you feel like playing in a real casino.
Games Selection: We only recommend live casinos that are able to offer at least 40 live dealer games to their members. If the number is lower than this, you will get bored pretty quick. The rule here is "the higher the better" so make sure you are getting a lot of live games.
Online Security: And of course, always check the left side of your browser's address bar and make sure that you are seeing a green lock icon at there. This means the connection is encrypted and your confidential information is secure.
Or, you can simply select a website from the best live casinos of 2021 list in this guide and start playing: There is no need to waste time.
FAQ About Online Casino Live Services
To simply put, yes, they do mean the same thing. A dealer is a person who deals the cards – he or she represents the casino. In a way, you are playing the game against him. However, note that there are live casino games that do not contain a dealer too. A simple example will be the Wheel of Fortune games: You just see the wheel in these games and there is no dealer.

So, when someone says "live dealer game", you must understand card and table games that are played against a real person, the dealer. The "live casino game" is a general description, which includes games that do not contain a dealer. The difference is not that big, but it is there.
Yes. As mentioned above, mobile devices (cell phones and tablets) can be used to join these broadcasts and play all of the games, as long as they have access to the internet. Speaking of which, you don't need "amazing" speeds: In our tests, we have seen that even 3G connections are enough to play live casino games. (Of course, the higher the speed the better.) We will have two recommendations in this regard:

• Prefer Android based devices, if possible. Some of the live casinos build their broadcast infrastructure on Flash and/or design the interface of the games on this platform. As known, Flash is a little problematic on iOS-based devices. Most of the live casino sites switched to HTML5 technology but there are still some "old" sites out there who use Flash. Since Android does not have a problem with this technology, it will be the best option to play live dealer games. Note that the best live casinos we recommend to you run on HTML5, so you can use any device you want.

• Prefer big screens. Let's be honest: While it is perfectly possible, playing at live casinos won't be an ideal experience if you are using small-screen devices, especially the ones that do not offer more than 4.x inches. This is problematic especially for "big table" games, such as online casino live roulette: The wheel simply does not "fit" the screen. Using devices with 5.x inch screens and more will provide a better experience.
No. "Real" games can only be played with "real" money, to simply put. All other casino games are actually software and it is possible to switch between virtual and real currencies. Moreover, it is easy to define a virtual balance to players. Live casino games, on the other hand, are "hardware" and do not have this feature: Everything on the screen happens in real time and having a virtual balance does not make sense for this reason. A live dealer casino can only run on real currencies, just like its brick-and-mortar counterpart. However, don't forget that you can still create a free balance with the help of bonuses and play these games with it. So, while the currencies must be real, you can still get those for free.
This is a personal decision – every player has different tastes and needs. If you ask our opinion, we think that card games such as poker, blackjack, and roulette fits the theme of live gambling the best. You always face the online casino dealer in these games – moreover, you compete against him/her. Therefore, we prefer playing them. However, you can prefer, for example, playing best live online roulette too. Or, you can try your chances on casual games such as Wheel of Fortune and Dominoes. We recommend trying all of the games in a live internet casino and find out which one suits you the best. As mentioned above, other than slot machines, you can play any casino game in live casinos.
As long as you are using a modern browser (Chrome, Firefox, Edge, etc.) you are good to go – nothing else is needed. To be on the safe side, we recommend updating/installing the latest version of Adobe Flash too. Thanks to technology, you don't need to download and install software nowadays: Everything runs in real time. Moreover, on all operating systems – you can be using Microsoft Windows, MacOS, or Linux. No matter what your operating system is, a modern browser is the only thing you need to play at online casinos with live dealer.
Absolutely. There are online casinos out there who offer bonuses exclusively for live dealer games. And for the rest, you can use the bonus funds for playing live games too. There are a couple of things you need to be aware of, however:

• If a bonus is offered for live casino games only, usually the rates are lower than other promotions. For example, if the welcome bonus of the desktop casino offers a 100% match rate, the bonus rate for live casino section will be lower than this. This is a general practice and comes with the nature of live dealer games. Note that, in this case, you will also be asked to complete the wagering requirement by playing live casino games.

• After completing the wagering requirement, you can use your bonus funds received from standard offers to play live dealer games too. This is a good trick if you want to get the highest match rates.

• Live casino bonuses are focused on cashback promotions mostly. While the sign-up packages offer lower rates, cashback bonuses for these games are better than the desktop variants. If you are going to benefit from a cashback offer (most casinos allow you to activate only one type of bonus) make sure it belongs to the live casino games, as you will be refunded much more.
There are two ways of doing this: You can spend hours on the internet to find the best live dealer casino and spend a fortune by playing games to see the service quality, or you can simply pick one of our recommended best online live dealer casinos. We already spent this time and money so you don't have to: Leave the selection job to professionals and focus on enjoying games. We know what we are doing: Our team has a combined experience of half a century in the gambling industry and some of us worked at live casinos before. We are more than qualified to pick the best ones for you: Pick any live casino in this guide (and on our website) and start having a good time, it is that simple.
This depends on the casino's policy. Most of them offer the "spectator" feature, which means you can watch the broadcast without placing a wager. In this mode, you cannot communicate with other players and the dealer – watching the game is the only thing you can do. However, some of the casinos do not have such a feature and to join a live dealer game, you must place a wager.

If you are really interested in seeing how do these broadcasts look like, we have a simple recommendation: Visit Twitch website, select the "casino" category, and you will see dozens of live casino game broadcasts from the world. Note that these broadcasts are made by players, not the casinos themselves. But they will still give you a good idea about how do these games work.
As a general rule, no, there are no table limits. Online casinos do not put a limit on how many slot machines you can play at the same time, for example, and this does not differ in live dealer games too. As long as you have enough bandwidth and budget, you can play at as many tables as you like. However, you should also be aware of these things:

• There is no "pause" button in these broadcasts. If you fail to place your wager in time, the dealer will simply pass you. And if you fail to do that more than one time, you may be kicked out of the room. Playing at too many tables at the same time will lower your response time, so makes sure you stay within your limits.

• Likewise, card and table games require your full attention. Yes, you can play at a dozen tables at the same time, but are you sure that you will be able to make the correct decisions in all of them? You should determine the table limit for yourself – it is never a good idea to play at too many tables at the same time.
No. The idea here is to see the dealer and the table – they don't need to see you. As explained above, you play live casino games by pressing on buttons, and a webcam is not needed at all. In addition, you won't be needing a microphone too, for most of the live games. But make sure that you are able to hear the dealer – that's the only requirement needed.
Again, this depends on the casino's policy about this subject. However, the general practice in situations like these are:

• If you did not place any wager, you will simply be kicked from the room and the balance before your disconnection will be waiting for you in the next log in.

• If you placed a wager and disconnect before making a bet selection, the dealer will keep playing the game and assume that you made the best possible bet that favors you. For example, if you are playing blackjack, the dealer will assume you picked "stand". If you lose while being disconnected, you will lose the wager too.

Here is a pro tip: If you get a disconnection while playing from your PC, switch to your mobile device and join the same room. The game will recognize you and you can continue playing where you left off.
In general, no – this type of bonus is specific to desktop casinos. As explained above, a live dealer online casino requires real currency to work, and no deposit bonuses do not fit this concept. Welcome, cashback, and reload bonuses are possible, but you won't be finding many no deposit bonus offers for live casinos. (This is not a fixed thing of course; you can still manage to take advantage of this bonus from time to time – we are just stating the general situation.) However, you can still use the bonus funds you get from the no deposit offer of the desktop service to play live dealer games too.
Yes. Not only Bitcoin, but it is also possible to use all kinds of cryptocurrencies too. A Monero casino,
Ethereum casino
,
Dogecoin casino
, Zcash casino… You name it, we can find a live crypto casino for you. Cryptocurrencies are monetary units too after all, and they can be used in live dealer games too. We will mention a couple of things, however:
• Most of the live casinos will convert your cryptocurrencies into "casino coins" after the deposit is completed. This is normal: Blockchain transfers are not instant but the broadcasts are. The conversion is made so you can place a wager instantly.
• Some of the popular cryptocurrencies may have too high blockchain commissions. Note that this is not related to the casino: The blockchain itself takes out these fees. If you are on a limited budget, make sure to pick "unpopular" cryptocurrencies, as they much lower blockchain commissions. Doge Coin, for example, is the best option for this.
Play At The Best Live Casinos Today!
Now, you know which ones are the best online live dealer casinos: It is time to create an account and start playing against real people. Live gambling represents the future of this industry and we are sure that live online casinos will continue to grow. You should join this revolution today and see for yourself: Playing card and table games against real people with other players is a unique experience and once you give it a go, other casino games will look "boring". We shared the best online casinos with live dealers in this guide and show you the most appropriate websites to start this journey: It will be a fun and profitable one, we guarantee it! Don't forget to visit us often as we regularly update our lists and reviews. We wish you the best and hope to meet you on tables!