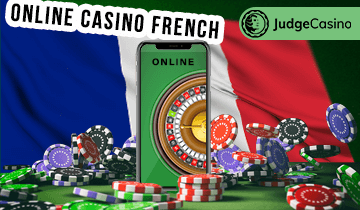 Playing at online casinos in France is a touch trickier than playing at the best online casinos in the world in other European countries.
Online casinos for French players which are licensed by the state are nearly impossible to come across, owing to France's notoriously strict gambling laws.
Even so, that doesn't mean that it is impossible to play your favorite games on the internet for real money when living in France.
In our guide to French casinos, we'll reveal all and show you how to get started at playing casino games online in France in 2023.
Let's start by looking at those finicky French gambling laws and what you can do about them to play online.
Top Online Casinos in France [2023] - Updated List
French Online Gambling Laws in 2023
The current French gambling laws date back to 2010. Under this act, land-based lotteries and bingo games are run by the FDJ (Francaise des Jeux). Other betting entities such as PMH (Pari Mutuel Hippodrome) and PMU (Parimutuel Urbaine) supervise other aspects of gambling.
Online gambling falls under the jurisdiction of the Authorité de Régulation des Jeux en Ligne (ARJEL). This does not make casino gaming online legal in France, though.
The online gambling laws in France specifically cover sports betting, online poker, and betting on horse races. ARJEL doesn't hand out licenses to online casinos, and they consider games such as slots games of chance. In France, only bona fide games of luck, such as poker are deemed illegal.
Is online casino gaming illegal in France then? Not exactly – it really depends on what you want to play.
Gambling in France in 2023
Even though gambling at online casinos in France is, by and large, illegal, the country does not prosecute its citizens who decide to play at offshore online casinos.
ARJEL and other French gambling authorities go to great lengths to prohibit access to offshore casinos, but many can still be accessed from inside the country.
An offshore casino (also known as a foreign casino) is a site which is based outside of France and naturally licensed and regulated elsewhere, too.
These sites may still offer their services to French players, provide gameplay in French, and for all intents and purposes, are essentially French casinos. However, they are not legal in terms of France's online casino laws.
Playing at these online casino sites in France is something many citizens choose to do, and as we've said, there is no punishment for doing so. If land-based casino action isn't your cup of tea, and you fancy playing online, this may be the option you wish to take.
A Quick Note on French Gambling Tax Laws
There is a law in France which governs how much a player has to pay in tax when they win. Admittedly, these laws aren't tailor-made for casinos in France which operate online.
Instead, they are designed for land-based venues. However, when playing at offshore online casinos, French players may still wish to consider declaring their winnings.
The general rule is that if you win over €1,500 in prizes, there is a flat tax rate of 12% which must be declared as income. However, any winnings from French lotteries are naturally tax-free.
Top Online Casinos in France: What To Expect
A considerable number of online casinos accept French players, even if the laws of the country say that they shouldn't. To appeal to French players, many of these sites go the extra mile and ensure that they offer services which are as user-friendly as possible for players in France. A typical French online casino will provide the following:
Licensed, Legal and Secure: As mentioned, a French casino won't be licensed in France, but it should still be licensed, safe and secure. Any casino which is licensed out of Curacao, Gibraltar, Malta or the United Kingdom will likely fit the bill.
A Great Array of Games: Players in France have varying tastes when it comes to games, so the selection at online casinos should meet those requirements. Expect to find all manner of casino games for you to choose from, with titles from many leading providers. We'll look at games in closer detail in just a moment.
Customer Support: Customer support should be provided in the French language. Moreover, these casinos will also offer you a range of options to obtain help, including live chat, e-mail, and phone assistance.
Languages and Currencies: French players will want to play and navigate the casino site in French. Moreover, they will also want to use the Euro currency, as this is convenient. Most casinos which accept French players fit the bill in terms of both language and currency.
Banking Options: Players in France tend to favor specific payment methods over others. Any casino which wants to appeal to these players will carry the options which suit those players the most. Again, we'll look at these in closer detail in a just a minute or two.
Offers, Bonuses, and Deals: Every top online casino offers promos and bonuses. You're going to be looking at a combination of welcome bonuses, match deposit bonuses, free spins, no deposit bonuses, loyalty bonuses as well as prize draws and competitions when playing at the best French casinos.
Things to Keep in Mind When Playing at a French Casino
As we've touched on, players won't have any luck trying to find an online casino in France which is licensed by the state. They just don't exist – yet. Instead, players need to find an offshore (foreign licensed) site which accepts players from the country.
You may find that ARJEL has blocked access to some of the biggest casinos and betting exchanges, but in many cases, you can get around this blacklist problem by using a good VPN (a virtual private network).
Our page also features many top French casinos which are not on ARJEL's blacklist and so open and accommodating to French players. Once you've found a site, it is time to deposit and play.
Popular Casinos Games with French Players
Online casino sites for French players offer a wide range of games, spanning many popular genres. Of course, some games have proven more popular with nationals than others. Don't be surprised to find the following games at your run-of-the-mill French online casino.
Online Slots: These form the majority of games at French casinos and are partially the reason why France has no state-licensed sites. The French authorities consider slots a game of luck. They include 3D slots (like Demi Gods III), classic slots and fruit machines, video slots, mobile slots, and games which offer progressive (un-fixed) and non-progressive (fixed) jackpot prizes. A typical French casino will carry over a thousand of these types of hugely popular games.
Roulette: Both American and European roulette games are popular in French casinos. Given a choice between the two games, European roulette tends to come out on top with players. It had just a single zero pocket (as opposed to American roulette's two zero pockets) which means that the half-edge is halved. Don't be surprised to find roulette variants aplenty at French casinos.
More Specifically, French Roulette: French roulette is naturally a big hit at online casinos which accept French players. This game will often include the Tiers du Cylindre (racetrack) bets. Although largely similar to European roulette in almost every way, French roulette can be played using the proper, French names for the bests, which is naturally ideal for proud French speakers.
Table Poker: Poker games are considered legal in France. Of course, you could just pop into a state-licensed online poker room to play, but you can find poker games at offshore casinos, too. These tend to be far less complicated and are played against the computer, with no other human players included. These table poker games include classics such as Texas hold'em poker, three card poker, casino hold'em, Caribbean stud and more. These can span both RNG (random number generator) and live dealer platforms.
Live Betting and Live Dealer Games in France
It is possible to play live casino games online in France. Using an HD video feed which is streamed from a real-to-life French casino (or a gaming studio), players can experience the most realistic online casino games yet. They can include
Live Poker: Live poker games typically revolve around hold'em or stud poker games. They can be found in both live casinos, and online casinos, as well as legal and licensed French online poker rooms.
Live Baccarat: Live baccarat games are also popular with French players. These punto banco games come in low-roller, mid-roller, and high-roller variants.
Live Blackjack: Blackjack is (or at least was) a quintessentially French games. Also known as Vingt-et-Un, it (and many variants of it) can be found in all online casinos which accept players from France and offer live casino games.
Live Roulette: As mentioned above, live dealer roulette games for French players can include American, European and French roulette, as well as other variants much like blackjack.
Top Banking Options for French Casino Members
When playing at online casinos using real money in France, you are likely going to need to deposit. After all, even valuable no deposit bonuses will only get you so far. Depositing, banking and withdrawing at French casinos is a doddle.
The Euro (€) is used in virtually all offshore French casinos, and these sites excel at offering payment methods which appeal to French players. These include:
Bank Transfers: Send a transfer to the casino using your online banking service provider. Major French banks can sometimes be included as possible payment methods at online casinos in France.
Credit/Debit Cards: Make an instant deposit using your VISA, MasterCard, Maestro or VISA Electron credit or debit card information.
Euteller: An instant banking option particularly popular with Finnish players (French players can use it, too, though). It excels at offering fast, mobile-based deposits, but cannot be used for withdrawals.
HiPay: Hi-Pay is a French global payment service provider. Based in Paris, Hi-Pay is hugely popular with French players and guarantees secure, a protected transfer service to players in France.
Neosurf: Neosurf is a French established company, founded in 2004. When using Neosurf vouchers you don't need to register or give your ID. Just find a Neosurf casino and insert the 10- character code to make instant deposits.
Neteller: This hugely popular e-wallet is accepted at seemingly all major casinos, including those in France. It offers instant deposits times, and withdrawals often take less than 48 hours.
PayPal: PayPal is only starting to re-emerge at casino sites after a lengthy absence. However, this option is ideal as most players already have a PayPal account from shopping at online websites and boutiques. An online casino PayPal withdrawal is always a secure and safe method to get your casino winnings into your account.
Cashlib: is a new payment method available in France, the company is based in Luxembourg with a cover all over Europe.
Play at Top French Casinos Using the Euro Currency
As you can see, there is a wealth of online casinos for France-based players to choose from. The best casinos online in France aren't actually based in the country, as we're sure you're aware by now.
With so many top sites offering their services to French players, you'll be spoilt for choice. What you need is a page which showcases the best casinos online in France. As it happens, your page offers you just that.
FAQ about Gambling in France
Gambling is legal in France but only for some types of gambling. The legal options are sports betting, online poker, and betting on horse races. Online casinos are considered illegal according to local laws.
Yes, they are. The tax for online horse race betting is 13.2% (7.1% for land-based horse race betting.) The sports betting tax rate is 9.3% and online poker winnings are subject to a 2% tax rate.
There are no restrictions for playing at offshore gambling sites, so you can use any method you want. However, to be on the safe side, we recommend staying away from bank transfers and using e-wallets & credit cards instead.
Since 1987, the legal age for gambling in France is 18. Before that, the age limit was 21. This includes all types of gambling, including sports betting, both online and land-based.
Choose a French Casino and Start Playing Right Now!
You don't have to settle for a far-flung and risky site just because the French gambling authorities and ARJEL aren't as open to online casino gaming as you are.
There is no punishment when playing online in France, so you are free to grasp your favorite casino games with both hands, albeit at offshore sites.
Playing at online casinos in French has never been easier with our page. Check out our selection of the best online casinos in France for free, and read our reviews to find a site which suits your needs.
Our recommended casinos are regulated and checked for security, safety, and fair play. These all cater to players in France, accept the Euro currency, and they offer the French language to boot. But wait, this is not all, from our experts you can find more valuable info like the online casino Netherlands industry.
If you want to play at leading online casinos and you need a top offshore, French-friendly domain to do that at, start browsing our French online casino pages to find an ideal site today.