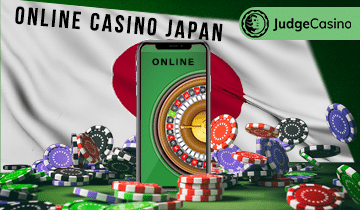 The online gambling space in Japan is restrictive to many forms of gambling, and the only games players can wager they receive tokens instead of money. This is a similar fashion to other Asian countries that have had an anti-gambling culture for many years.
Japan online gambling is governed by chapter 23 of the Japan constitution, which bans almost all forms of gambling. However, that doesn't mean that the Japanese don't bet completely.
Offshore online casinos in the recent past have expressed interest for the Japan market by offering a Japanese localized betting page, convenient payment methods, to mention but a few attractive offers.
The presence of cryptocasinos is also something enticing to Japanese players since this an area the government has very little control. In this guide, you will learn more about how gambling in Japan works, best online casino japan, and much more.
Top 10 Online Casinos in Japan [2023]:
History of Gambling in Japan
Gambling in Japan has its roots back in the eighth century with the first person said to gamble being Emperor Temmu. He played a dice-like game referred to as sugo-roku (double sixes). When his successor took power, sugo-roku was banned.
However, gambling habits had already been infused in people such that during the 794-1185 period, Heiankyo residents were so much obsessed with gambling and it had become rampant across the city. Heiankyo residents would gamble on everything and anything, including cockfights.
Over time the habit took the wrong turn and illegal activities such as robbery, brawls, and killings were experienced in the city. Between 1225 and 1284, the authorities by then instilled a measure to prohibit gambling by introducing nice edicts that regulated gambling. It was during the same period that professional gamblers emerged and they were referred to as bakuto.
In between 1603-1867, laws were passed to safeguard the Samurai (the ruling class) against gambling. However, they ignored and pursued the gambling way of life. Another law was passed at around 1711 and was meant to punish bakuto by having them reimburse what they had won if reported by any person who had lost on a wager. But by 1718, there was the need to pass another law since gambling had gone out of order and the state by then passed a law to differentiate heavy betting with light gambling with the latter being accepted.
Gambling continued in a similar fashion up to 1907 when Japan enacted the law as per chapter 23 of its constitution that banned all forms of gambling. Since then Japan has remained a gambling free hub considering its government plays 'parental' role over its citizens. The only legalized form of wagering must have been approved by the government or conducted by the municipals.
However, Japanese players in the recent past have opened accounts with offshore gambling companies who have shown interest for the Japan market.
Gambling authorities in Japan
Gambling in Japan is overseen by multiple governing bodies who manage different games. The same bodies are responsible for issuing Japan online casino license for different game providers. The following is a breakdown of the different categories of games and the bodies that oversee their conduct.
Local public safety commissions oversee these games and require every operator of the games to have a license issued by the commission. This is per the Amusement Business Act.
Every operator of any lottery activity in Japan is required to get a license from the Ministry of Internal Affairs and Communication. Gambling laws in Lottery Ticket Act govern lottery activities and at the moment the Japan law permits only 47 cities and 47 prefectures for the lottery license.
Though it looks like a western thing, Japan laws allow for horse racing betting. However, you have to get a license from the Japan Racing Association (JRA) while local municipalities man the local competitions. The Ministry of Agriculture, Forestry and Fisheries oversee both the national and local competition.
The Ministry of Land, Infrastructure, Transport and Tourism is the body responsible for the regulation of boat racing in Japan.
Japan Sports Council is the body that oversees the running for the Japan soccer league. The body falls under the Ministry of Education, Culture, Sports, Science and Technology.
How to fund Japan casino sites
There are several ways you can fund your online casino account in Japan. The following is a compilation of the most common methods you can deposit money to your account. Except from cryptocurrencies, these payment methods allow a player to wager using Yen as well as other currencies such as USD, EUR, and Pound.
These are digital monies whose value depend on the demand and supply of the coin. Cryptocurrencies are an increasing area of interest by many players because of privacy and security. Some of the widely accepted cryptocurrencies by online casinos are Bitcoin, Litecoin, Dash, Monero, and Ethereum.
Neteller is an e-wallet service that Japan players can use to fund their accounts. Neteller allows for instant deposits and withdrawals and is a common payment method with many internet gambling sites.
This is a prepaid card service that some Japan casino online use it. This payment method allows players to fund their online casinos account without the need of owning a bank account or a credit card.
ecoPayz allows a player to spend at Japan online casinos and ecoPayz casinos with convenience since you can spend money using virtual accounts or virtual cards. The EcoCard, a product of ecoPayz, is a prepaid card linked to an EcoAccount which can be used for online purchases. You can use it also for online gambling and you can find it at our list of EcoCard online casinos.
Mobile casinos in Japan
Mobile casinos are a new way to play online casino Japan. Smartphones have been considered the breakthrough in IoT. Smartphones have revolutionized many industries gambling included. With smartphones, players can open an account, fund an account, and play from mobile devices. There is technology advancement that ensures the gameplay is smooth and you will not necessarily require additional software to play the games. Live casinos in Japan are accessible from mobile.
The best Japanese casino online has a mobile app that allows for more smooth playing. Playing from the mobile app is much better than from the browser since most of the functionalities have been optimized for mobile. The current online casinos that allow Japan players to offer a wide variety of games all accessible from the phone. Online slots Japan, baccarat, roulette, sports betting, and much are some of the offerings from top 10 Japan online casinos.
Best live casino in Japan
Online gambling Japan legislation is a grey area in Japan and all online gambling operations are conducted by offshore casino operators who have recently shown interest in the Japan market. The recent casino entrants on the Japan market have been offering players customized services such as bonuses, promotions, japan themed games, and Japan language. Live casinos have also been an attraction to many Japanese players with the online casinos offering advanced video streaming services and high-quality studios. The croupiers speak Japanese to make the conversation with the players easier. Some of the live online casino games in Japan are baccarat, roulette, and blackjack.
What to look for in Japanese online casinos
Before settling for an online casino, it is important to go through the following checklist before signing up with an online casino.
Licensed Japanese casinos online offer players a lot of security in case the casino becomes insolvent. This is because players are assured they will be reimbursed their money. Besides the money guarantee, players are also assured that the games are fair and transparent an authority monitors the operations.
The game selection and the providers
You don't want to go through the hustle of depositing money to your account, verifying your account all to end up with limited games from limited providers. Many players prefer to play from online casinos with a wide variety of games so that you can beat boredom and have fun.
Check out the payment methods and cash out policy
The payment method offered by a casino should be convenient for the player. You don't want your money to go through many third parties before it reaches you or your casino. At the same time casino should have a fair payout policy that sees players get their money to their account in the fastest time possible. Although this may depend on the banking method, the casino should involve bureaucratic processes in processing player's withdrawal and they should offer multiple payment methods some which are instant.
Best online casino japan usually provides players with reliable customer service contact options. The options provided are supposed to be conducted in the Japanese language to avoid the need for a translator. Customer service is a vital service in almost all sectors of business gambling included. A reliable customer service program gives players a sense of relief once they encounter a challenge in their course of gaming.
Japanese Fighting & MMA Betting
Fighting is a sport a lot of Japanese relate to. From the famous sumo to judo, fighting is a sport that the Japanese relate a lot. The sport is organized with bodies formed responsible for overseeing the running of the sport. Some of the fighting and mixed martial arts (MMA) sports that Japanese can bet on are:
• Karate
• Kendo
• Judo
• Iaidō
• Aikido
• Shooto
• Pancrase
The future of online gambling in Japan
Japanese online gambling laws are very stringent at the moment. However, that doesn't mean the laws are going to like that for a lifetime. The government has received immense pressure to accept money inflow from taxation just like its Macau counterpart has been collecting tax revenues from Gambling activities.
The current online gambling Japan practice allow for borderless gambling. With the inception of cryptocurrencies, players from any part of the world can open an account with casino online from Japan without sharing personal details. There is nothing much the government can do about this online force and the best way to handle such pressure is to create laws that regulate gambling. Such trends are likely to be an eye opener for the Japan government to act.
Some of the Japanese casino games operate in the unregulated market and open way for tax evasion. For instance, Pachinko (パチンコ) which is almost similar to slots operates in an unregulated environment and there has been untaxed revenue that operators have been benefiting. Pachinko is said to earn almost the same amount of revenue as Toyota.  Amending the Japan online casino laws to legalize gambling will enable the government to seal such loopholes that promote tax evasion and illegal gambling activities.
Gambling has been used in the past by many countries as a way to attract tourist, boost development, and create jobs/business opportunities. Japan isn't any different from this wave that has seen as a positive thing resulting from legalizing gambling. Gambling looks rather a fashionable thing that is associated with a certain class of life. Considering all these factors, it is likely that in the future that Japan will bow down and open its door for both online gambling and land-based gambling.
Japan Online Casino FAQ: Everything You Need To Know!
No, at the moment, online gambling is prohibited in Japan.
No, both of them are illegal in Japan.
You can play roulette, blackjack, slots, and poker, just to mention but a few.
Cryptocurrencies, Neteller, ecoPayz, and Paysafecard are the most recommended payment options.
Yes. Most casinos have mobile responsive browsers and mobile apps.
Conclusion
Japan online casino laws, like in the online gambling Malaysia industry, are a big influence in deciding the direction the online casinos will operate in Japan. The current laws are against most forms of gambling. However, with the recent wave of many territories accepting online gambling, Japan will likely give in. The Japan economic slump and slow recovery will likely see the government accept online gambling as a form of government revenue.
Japan, unlike many other jurisdictions, is concerned with gambling addiction, and gambling operators will likely need to adhere to strict laws to maintain their license. It's an undeniable fact that Japanese love video games and they spend a lot on video games. With players showing interest in eSports betting, it is likely that new Japan online casinos will introduce eSports to their game library to blend with the gaming culture of Japanese players
The internet casinos in Japan are currently also showing interest in the Japan market and sites are working on having a dedicated Japanese themed page. Some slot games themes are based on Japanese culture; therefore, players will relate with ease. The time is ripe and from the recent happenings and news from the Japan government, you are likely to see online gambling legalized in Japan.