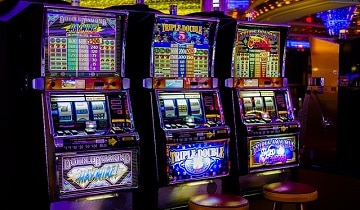 Everybody likes to play slot machines but more importantly, everybody likes to compete: This is the basis of slot tournaments. A slot machine tournament is one of the most popular events in online casinos, and nowadays, you can find them at every website. Back in the "good old days", they were quite exclusive: Most of the casinos organized maybe two tournaments in a year and you need to purchase a "ticket" to join.
This is not the case anymore: Slot tournaments can be seen in casinos almost on a daily basis, and they are free to join. And they are enjoyable events too, since you get to compete with other players and win satisfying prizes.
The simplest answer to what is a casino slot tournament question is that they are events that award the players for doing a thing they already do: Playing slots. But let's not get ahead of ourselves: In this article, we will examine these events closely, answer the what is a slot tournament how does it work question, and give you lots of useful tips to win these fun events. You can also find out how you can improve your winnings with our ultimate guide on how to get lucky at the casino.
Top 10 Online Casinos where you can play online slots [2023]:
The Definition Of Casino Slot Tournament
So, what are slot tournaments? Or, more importantly, what is a free slot tournament? These are events that are organized by online casinos and allow you to compete against other members, by playing slot machines. Or, in other words, they are multiplayer competitions where every player tries to score the highest point. There are three common features of every slot tournament:
A theme. This can be anything: Christmas, ancient Egypt, pirates, superheroes… The world of slot machines is big enough to use every theme available, even aliens.
Pre-selected slots. The casino selects a couple of slots that suit the theme, and only these slot machines are included in the tournament. The number of slots can be anything and even dozens of games can be the subject of the event.
A time frame. Slot tournaments are available only for a certain period of time, i.e. a week. At the end of that period, the event automatically ends and the winners are announced.
To simply answer what is a slot tournament question, players start to play the slot games included in the event and try to score the highest point. And to answer the how does a slot tournament work question, getting points can be done by winning or betting: Each slot tournament is different in this regard, which we will explain below.
How Do Casino Slot Machine Tournaments Work
After this basic information, we can start talking about how do slot tournaments work. First of all, every slot tournament has two important things to keep track of: The leaderboard and the prize pool. The leaderboard shows the top players and their points – by keeping track of it, you can see how close you are to win the event. It is usually updated in real time, so make sure to watch it while participating in the event. The prize pool shows the awards of top players: The winner does not get all of the prizes. Usually, top 10 players share the prize in the pool and the first player in the list gets the lion's share. But the casinos can include as many players as they want during distribution: We have seen even top 100 players getting a prize in a slot tourney.
This prize can be anything: Cash, bonuses, free spins, a trip to Hawaii… Options are endless. Here is a sample distribution of a slot tournament in which the prize is 1.000 USD, to answer the how slot tournaments work question:
The first player gets 400 USD,
The second player gets 200 USD,
The third player gets 100 USD,
The rest of the seven players share the remaining 300 USD,
Other players who are in top 20 get free spins and/or personal bonuses.
This is a simple example to show what is a slot tournament like, but you get the idea. If you play your cards right, you can always get a prize. We cannot guarantee that you will be in the top 3 every time, but we can show you the ways of getting a prize – but before doing that, let's talk about types and rules of slot tournaments.
Types Of Slots Tournament
Players who ask the what is a slot tournament question are usually not aware of there are different tourney types. We can say that there are two main types of slot tournaments and knowing them in detail is important, because they will also answer how do slot machine tournaments work question.
Buy-in Tournaments. These are "archaic" events that are not seen anymore. These type of events require you to purchase a "ticket" in order to participate in the tournament. In other words, there is an entry fee. Don't bother to ask how does slot machine tournament work question in these type of competitions – they don't exist anymore and we don't recommend joining them.
Freeroll Tournaments. This is the most common type you can see in every online casino. There is no need to pay a fee to join, you can just start to play the slots included in the event. You don't even need to press a "join" button – playing these games will automatically add you to the event. How to play slot machine tournaments question is especially important for these type of competitions, because you will see them the most.
General Rules Of Slot Machine Tournaments
Knowing the slot tournament rules is important, because the rules will answer two more questions: How to play a slot tournament and how to win a slot tournament. The rules are explained in the "terms & conditions" section of the event, so we recommend reading this first. The most important thing you need to check is the rules of getting points: Are they bet based or win based? In order to learn how to win slot machine tournaments, you must know how to win points – they will be the key to increase your leaderboard status.
Betting Based Points: You gain points by placing a bet. Whether you win the slot or not is not important. You can lose every spin you make, but if you placed big bets, you can still get enough points to rise in the scoreboard.
Winning Based Points: You gain points by winning the slots you play. Each winning combination will give you different points and the more you win, the higher your place will be in the scoreboard.
After learning how to win slot tournaments by reading the rules, you can start playing. But before doing that, take a look at our slot machine tournament tips to learn how to get a prize every time.
Winning Tournament Slots: Tips And Tricks
There are a couple of slot tournament tips that will help you during these events – we can call them the "slot machine tournament strategy" too. Make sure to follow these recommendations while participating in tourneys:
Always Pick Winning Based Point System. This is the most important slot tournament strategy we can provide to you: Never participate in a tournament where points are bet-based. Some player will always have a bigger budget than you and this is the only thing needed to win this type of tournament. The guy with the bigger wallet can win the event, even if he cannot win any spin. Bet-based tournaments encourage you to spend more continuously and this may result in lots of problems. Winning-based tournaments are the way to go, as they only require being lucky. In this type of tournaments, you can almost always enter the top 100, which will result in getting a prize. And who knows, if you are really lucky, you can be in the top 3.
Check The Time Limit And Your Budget. Read the rules and find out how long the slot tournament will last. If it is active only for three days, for example, and you don't have the budget to play games that will award you the necessary points in that period, simply skip it.
Check The RTP Rates Of Games. This is especially important in tournaments with a winning-based points system. RTP (return to player) determines the payment frequency of slots included in the tournament, and if these values are lower than 95%, you may not get enough winnings in that time period. Make sure all games included in the event offer an RTP rate of 95% and above.
You Can Use Your Mobile Device Too. After joining a slot tournament, you can keep playing games on your mobile device too. Using a desktop PC is not mandatory and by using your mobile device, you can keep getting points anywhere you like. Speaking of which, make sure that all slots in the tournament support mobile operating systems.
FAQ about Slots Turnaments
By following us. The Analyze Casino team finds and reviews all kinds of slot tournaments for you. However, we recommend only the best ones: We personally test and approve each and every slot tournament before suggesting it to you.
Yes, especially if it is a prize-based tournament. Bet-based tournaments can be won by simply wagering big amounts, but prize-based ones will require a lot of play time. Even if you are in the top 10, you can lose your rank.
Yes, especially if you are in this tournament with professional players and also if are some promotions available for this tournament.
So, first, you need to be ready, you can start by hitting the button fast to play, keep your finger on the spin button, be patient, take a break and at the end keep your finger crossed.
How To Find The Best And The Latest Slot Tournaments
By following our website, of course. We regularly update our content to inform you about the largest slot machine tournaments and give you a head start over other players. Moreover, we examine all of these events in detail and makes sure that you attend only the fairest ones. Slot tournaments are fun and profitable, as long as you know what you are doing. Well, now you know how to play slot tournaments and more importantly, how to win them. Start spinning those reels and come back often to learn about the latest slot tournaments!