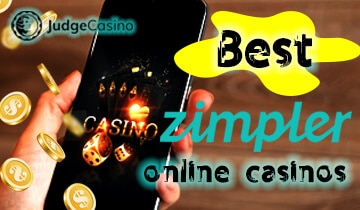 If you live in Sweden or Finland, you can use one of the best casino payment methods for all your online gambling needs: Zimpler casino. A Zimpler casino will allow you to make deposits and withdrawals with your local bank account, phone bill, or credit card without any fees.
Moreover, you can easily do this from mobile too: There are lots of mobile casino sites that support this payment method. However, Zimpler works a little different than usual and can be used in certain countries only.
In this Zimpler casino guide, we will tell you exactly how it works and answer all your questions about Zimpler online casino sites. Moreover, we will give you a list of the best Zimpler casinos too. There are lots of things to talk about, so let's start!
What is a Zimpler casino payment?
Zimpler is an electronic money transfer service established in 2012 in Sweden. Basically, it is a Fintech company approved by the Swedish Financial Services Authority (FSA) that uses a Rapid SSL certificate for all money transfers. The way it works is a little different than usual. Unlike legit online casino PayPal or pay by mobile casino sites (like Siru Mobile casino and MoneyGram sites), it uses your bank account, credit card, or mobile phone carrier to complete money transfers.
In a way, it works like Trustly. You create a Zimpler account, add your bank account or credit card as the funding source, and make all payments with it. It is also possible to pay with your phone bill, in installments. You authorize the payments via SMS code. However, Zimpler casinos are still a little different than Trustly casinos:
Let's continue with a list of the best online casino websites that support Zimpler. We checked all websites that support this method and picked the top Zimpler casino sites for you. You can see the list of Zimpler casinos we recommend below and pick any of them to start playing right now. If you want to learn more about these websites, visit our Zimpler casinos review section.
🥇 Best casinos accepting Zimpler in 2023
A Zimpler casino Sweden Exclusive: Zimpler GO
Zimpler GO is a special service available in Swedish online casinos only, at least for the time being. It works very much like the Pay N Play feature by Trustly. An online casino offering the Zimpler GO feature, like Pay N Play casinos, offers three advantages:
You don't need to register for an account. You just use your Zimpler GO account to join: All of the required information is automatically sent to the casino by Zimpler. Basically, it is like you are joining a no account casino

site. 

You don't have to verify your identity and/or send documents for this job. Your identity is automatically verified by the system. 
You can make instant deposits and withdrawals. Basically, online casino withdraw to bank account process happens lightning-fast and there is no need for an "approval" period.
Making a deposit at a Zimpler casino
And now it is time to explain the Zimpler casino deposit process. Don't worry: While Zimpler casinos work a little different than usual, making a deposit is extremely easy. Just follow the steps below:
1️⃣ Before you start, make sure that you have a BankID and an account at one of these banks if you will use the "bank transfer" option:
Swedbank, Nordea, Handelsbanken, SEB, Danske Bank, ICA Banken
. If you don't have a BankID, you cannot play at a casino with Zimpler.
2️⃣ Pick a Zimpler casino from the list above. Once again, you are not limited to Zimpler casino Finland sites: You can choose any casino you like, as long as you have a BankID.
3️⃣ Visit the website of that Zimpler online casino and create an account, as usual. Log in with your credentials and open your profile page.
4️⃣ Click the "Deposit" link and enter the deposit amount. At the next step, you will see a list of all available payment methods: Choose "Zimpler".
5️⃣ A new browser window will open and you will be redirected to the official Zimpler site. First, you will be asked to enter your phone number. Second, you will be asked pick a payment method: bank account, credit card, or phone bill.
6️⃣ No matter which one you pick, you will be asked to enter your BankID. If you selected "bank transfer", you will be asked to select your bank (from the list we shared above).
7️⃣ If you picked the credit card, you will be asked to enter your card number.
8️⃣ If you picked the phone bill, there is nothing to enter: You already gave your phone number at the fifth step.
9️⃣ Lastly, you will be asked to verify the transaction with an SMS code.
🔟 After all of these, you don't even need to "submit" anything: The deposit will be completed instantly.
Making a withdrawal at a Zimpler casino
Step 1
Log in to the Zimpler casino and open your profile page again. This time, click the "Withdrawal" button.
Step 2
Enter the amount you want to withdraw and select "Zimpler" as the preferred payment method.

Step 3
Once again, the official Zimpler website will open in a new window. Select your bank and enter your BankID. You cannot use phone bill and/or credit card for withdrawals: You can only use a bank account.
Step 4
That's all: The Zimpler casino will send the funds to the selected account almost instantly.

Step 5
And the good news is, after making this once, you don't have to re-enter your BankID every time. In the future, you can just select "Zimpler" as your withdrawal method and nothing else will be needed.
Fees and limits of Zimpler casino payments
What else can you use at Zimpler casinos?
If you are looking for alternatives (especially to use at minimum deposit casinos), we can offer two options: 
EcoPayz

: This is an e-wallet that is quite popular all over Europe and there are lots of

ecoPayz casino Finland

sites to choose from. You can also use PayPal, Neteller, and Skrill of course, but give ecoPayz a chance: It is as good as others.

Rapid Transfer: If you want to use your bank account but also take advantage of e-wallet services, Rapid Transfer is a good option. It is provided by Skrill and uses your bank account to transfer money, just like Zimpler. However, unlike Zimpler, it supports more than a hundred banks all over Europe and you can create an account as a user. Plus, there are lots of Rapid Transfer casino Finland sites you can choose from.
Should you play at casinos accepting Zimpler?
Instant deposits & withdrawals
Extra security that comes with BankID
Very easy to use
Works on mobile without a problem
Only Swedish and Finnish citizens can use it
Supports a limited number of banks
FAQ about casino Zimpler payments
Zimpler is approved by the Sweden FSA and uses RapidSSL to secure all transfers. It also uses BankID for extra security. It is one of the safest methods you can use.
No. Zimpler is a payment platform available only to online merchants. End-users (players) cannot get customer support. If you need help with a payment, contact the customer support of the Zimpler casino.
No. It only has advanced back-office software for merchants. Since end-users cannot create an account, there is no need for a mobile app too.
Yes. You can also pay with your credit card and/or phone bill. If you choose to pay with your phone bill, the deposit will be made instantly and you will pay back with your bill, in installments.
No. As long as you have a BankID, you can use it at any online casino that supports it. This payment option can be used anywhere in the world, as long as you are a citizen of Finland or Sweden.
You can use a prepaid phone number to pay with bank transfer and/or credit card. However, you won't be able to pay with your phone bill: That option requires a regular phone number, not a prepaid one.
Best Zimpler casinos are waiting for you
Check our desktop and mobile casino list to find the best Zimpler casinos: There are dozens of Zimpler online casino sites out there but only a couple of them are worth your time and money. We already selected them for you so you can start playing right away, and use this payment method even for some exotic countries like Online Casino based in Slovakia. Get your BankID, pick a Zimpler casino, and start having fun today: Good luck!