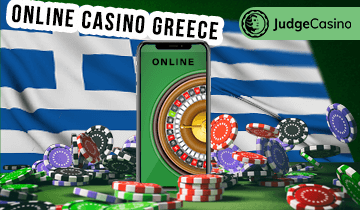 Greece, like several other EU countries, has been something of a quagmire for players over recent years.
Rules and regulations have come and gone, to be replaced by new laws, only for those laws to be subsequently replaced by others, and so on.
Any player eager to try their hand at online casino gaming in Greece would be right to feel confused.
Fortunately, our guide to the Greek gambling market will straighten things out for you.
In just a few short paragraphs, we'll have you up to speed with the latest online gambling laws in Greece, and what that means for playing at Greek online casinos.
So, without further ado, let's dive into the topic with a classical Greek gambling history lesson.
Top 10 Online Casinos in Greece [2023] - Updated List
Greece's Up and Down Love Affair with Gambling
The Greek authorities have had an up and down love affair with gambling. For many years, the Mediterranean country put online casino gaming in Greece under a state monopoly.
These strict and stringent laws aimed at bolstering local online casino sites in Greece over those located elsewhere. For many reasons, this didn't work out as planned.
The European Union (EU) for one, takes a very dim view of monopolies in general, as they breach their fair and open, single market policies. Secondly, Greek players weren't impressed with the paltry array of sites they could play at. Something needed changing.
The Greek Gambling Laws Change Again
In 2011, the Greek gambling authorities decided to act. Seeing as players in the country had the deemed the best online casino sites in Greece to be those licensed and located elsewhere, new regulations were brought in. However, before the laws could be made active, the authorities had a u-turn.
It wasn't until 2018 that a second set of legislation was finally passed to put an end to Greek state monopolies and open up the Greek gambling market. Where does that leave us today? Is online casino gaming legal in Greece, you might ask? Fortunately, the answer is yes.
The Current Greek Online Gambling Laws and Regulations
Since 2011, around 24 casinos (based outside of Greece) have been offering their services to Greek players with interim licenses. Many other offshore online casinos that players in Greece registered at were deemed illegal and blacklisted.
New laws in 2018, mean that the Greek Ministry of Finance now directly regulates the market, and issues full licenses to operators who wish to open online casino sites in Greece, but still, beside that, a lot of payment methods are available here, like Cashlib.
This does come at a cost, though. A $4.6m dollar fee no doubt puts some operators off going for the license. That license fee only applies for sports bets. Obtaining one for casino gaming costs operators a further $1.3m, for a five-year permit.
As well as that, deposits of $580,000, three years' worth of financial accounting and a prospective 35% tax on gambling revenues mean that only a handful of major operators are prepared to set up shop in the country.
Provided players choose one of the licensed 24 (or so) online casinos, gambling online in Greece is perfectly legal. However, other alternatives do exist.
Not all offshore casinos have been blacklisted by the authorities, and popping along to one of these offshore online casinos in Greece is something that many Greek players take advantage of.
Gambling Grows Amidst Greek Economic Turmoil
Hefty taxes on winnings and a lack of options (as many operators aren't prepared to may such a costly fee) have turned many Greek players to offshore casinos.
On top of that, the collapsing and fragile Greek economy (which has struggled for years) has turned more than a handful of Greeks to gambling online.
Online casino gaming in Greece is made possible via both officially licensed and regulated sites, and offshore ones.
There is no penalty for playing at offshore casinos, although Greece does try to blacklist those sites it finds offering their services to nationals.
Gambling in Greece: An Online Casino Guide
Now that you're caught up on the legality of gambling in Greece, it is time to see if we can help you register at the best online casinos in the world. Our page lists an ample number of licensed and offshore online casino sites for players in Greece to enjoy.
Many of these top sites all excel at offering Greek players what they are looking for. These can include:
Greek-Friendly Currencies and Banking Options: Both offshore and licensed Greek online casinos accept the Euro (EUR) currency, and are known to accept banking options which are Greek-friendly. These primarily consist of credit cards such as VISA and MasterCard, as well as Skrill, Neteller, and Paysafecard e-wallets. Other money transfer options may also be available, such as bank transfers, and these vary from site to site.
Greek Gameplay: While online casinos in Greece naturally offer gameplay in Greek, you will find that several top offshore casinos can also cater to players' need in this department. They are also able to offer you a range of casino games online that Greece-based players will enjoy.
Multilingual Gameplay: For players in Greece who speak other languages and prefer to use alternative currencies, these options are found in offshore casinos. These can include Italian, Russian, Bulgarian, and, of course, English. The same cannot always be said for licensed Greek casinos.
Other Options: Like everywhere else, players have choices open to them when playing at a Greek online casino. For instance, mobile casino action in Greece is possible. Live dealer games can also be played at mobile casino Greece sites, while the same types of promotions and support are accessible to players in Greece, just as they would be elsewhere.
You don't have to be playing at a Greek online casino to play in Greek, or to access top games. Of course, while it is recommended that you play at a licensed Greek casino, it is essential to know that you have other options open to you which are just as good, if not better. This situation is similar at online casino Russian sites.
The Ever Changing Greek Online Gambling World
While the current Greek gambling laws do legalise online casino gaming in Greece, they aren't perfect. If they don't prove popular with Greek players, it is possible that the authorities will have a rethink and change them.
They have done it numerous times before, so nothing is out of the question with the topsy-turvy Greek gambling industry.
In the future, it might be the case that Greece decides to blacklist all casinos which don't have a Greek gambling license, which would force Greek players to choose a local casino to play at. However, for the time being, things are likely to stay as they are.
FAQs for Players at Greek Online Casino Sites
Most of the critical aspects of Greek gambling laws have been mentioned above. However, you may still have a few lingering questions. We've answered a few in this short but concise FAQ guide to online casino gameplay in Greece.
Yes and no. If you're playing at an offshore site, there are no official taxes on winnings, but you are still legally required to declare your winnings as an income. How many people do that, though, is debatable. If you play at a Greek-licensed casino, there are 15% taxes on winnings worth between $116 and $580. Win over $580, and you'll get lumped with a 20% tax rate. Any winnings worth less than $116 are free from taxes. It is no wonder that many Greek players choose to play at offshore sites.
If you're going to be playing at a casino licensed in Greece, bank transfers are arguably the most optimal way to deposit, preferably using Greek banks. However, when playing sneakily at offshore casinos, many players naturally prefer e-wallets. Bitcoin casino gaming is also possible, although again only at foreign sites.
Any online casino which is licensed out of Greece is also regulated. However, since almost all 24 interim license holders are based offshore, they tend to be regulated by authorities such as those in the UK, Malta or Gibraltar. These are arguably better regulators than the Greek Ministry of Finance.
Again, this is something of a yes and no answer. Greek licenses are handed out to any casinos which apply for them and are based in the European Union, and they do not typically accept US players.
Start Playing at Greek Online Casinos Today!
Hopefully, the myriad of puzzling Greek gambling laws has been made a little clearer here. Now that you know what options are open to you, and what potential taxes you might pay on winnings, you should have a clearer choice about where to play.
We'd suggest starting out at one of our recommended Greek licensed or offshore sites (you can find them on this page) if you want to play at online casinos in Greece. All are regulated, safe and secure and can provide you with a thrilling experience when playing internet casino games.