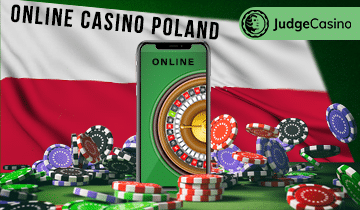 Poland has a very well developed market in lots of industries: This country owns the largest stock market in East Europe Zone and has a very high rating on the Human Development Index.
A high-income economy, free university education, and free health care: Poland offers all of these and more. However, when it comes to Poland casino sites, the country starts to lose its focus, unfortunately.
While gambling is legal and regulated in the country, there are still some problems with regards to online gambling in Poland, and it may be hard to find an online casino that accepts Polish players. Well, worry no more: We are here to help you, as always.
In this article, we will talk about casino Poland sites in detail, explain the legal situation as of 2019, and give you a list of best online casinos for Poland players, so you can start playing immediately. Let's start!
Online Gambling In Poland: The History
Up until 2009, gambling was kind of a "grey" area in Poland. It was not illegal but also not completely legal, there was simply no legislation about it. Law Act on Gambling Games, or Ustawa o grach hazardowych, if you prefer the Polish version, published in 2009 and made a lot of things legal: brick-and-mortar casinos, slot machines, card games, and even bingo games. It was quite a liberal law but did not cover the topic of online casino Poland websites – they were still in that "grey" area.
In 2016, however, the government decided to change the Gambling Act a little bit. Unfortunately, these changes were not positive at all. As of 2019, this is the situation of online gambling in Poland:
Brick-and-mortar casinos are legal and slot machines can only be offered in these buildings, as well as any other casino games.
Sports betting and online sports betting are legal.
Bingo games are legal.
Poland online casinos are, unfortunately, not legal. (More information about this is available below.)
Legal Online Casinos Poland: Do They Exist?
Simply put, no. Yes, land-based gambling is legal in Poland, and a couple of brick-and-mortar casino buildings (as well as online sports betting sites) exist, but unfortunately, the answer to is online casino legal in Poland question is no. This country legalized only online sports betting, and not the casino sites. You cannot get a license because there isn't one. Moreover, according to the law, offshore online casinos are considered illegal and censored by the local ISPs. In other words, there is a "blacklist" of casino online Poland sites and the ISPs have to keep track of this list, as well as local banks. After the government puts a new online casino Poland to the list, both have 48 hours to "ban" it: The banks cannot accept payments from that site and the ISPs must censor its address. This creates a weird situation: Land-based gambling is legal, online sports betting is legal, but for some reason, Poland casinos online are not legal. Online gambling industry in Poland is limited to sports bets. Don't worry though: If you follow our instructions and prefer our recommended casino sites, you can still play at Polish online casinos – we will explain how to do this below.
Online Gambling Laws Poland: Say Hello To The Monopoly
So, who regulates the gambling market in Poland? More importantly, who is in charge of the online casinos in Poland? The answer to both questions is the same: Minister of Finance. This ministry can issue licenses for land-based casinos, betting parlors, and bingo tournaments, for some reason. According to law, only one brick-and-mortar casino building can exist in a single location up to 250.000 citizens, so in theory, there can be up to 150 land-based casinos in Poland. (The real figure is 43, by the way.) And nobody is interested in gaining a bingo saloon license, so those do not exist in the country at all.
So, what about Poland casinos online? The law says that online gambling activities can only be offered via Totalizator Sportowy Sp, a state-owned operator. So this government-owned company is the only operator that can offer online sports betting services. If you read the Gambling Act letter-by-letter, the same agency can choose to offer legal online casino Poland websites too, at least in theory. However, in practice, such a thing does not exist and Totalizator Sportowy Sp has no plans on offering legal casino online Poland services. Simply put, online casino in Poland is a topic that the government monopoly has no interest in. As a result, offshore online casinos are the only option of Polish players. And while playing at them requires a little effort, it is still possible. Let's find out how you can play on new Poland online casinos, shall we?
So, How To Find Top-Rated Online Casinos Poland?
The first thing we should do is to find online casinos that accept Polish players: As explained above, local banks are banned from accepting gambling payments, and some of the casino sites do not accept Polish players as members, for this reason. Second, we will evaluate all of these online casino Poland sites in detail and find out how good they really are.
Well, we already did all of these and more. Best online casino in Poland may not exist due to legal reasons, but best online casino Poland sites are still available. And we picked them according to our high standards, which include:
No limitations. Our casino online Poland sites will accept you as members and will offer their entire game collection without a restriction. You will be able to access all of the services and games. Moreover, you will be able to benefit from all bonuses and start playing with an advantage.
Game variety. When it comes to game numbers, we believe in "the more the merrier" principle: Any of our casino online Poland sites are able to offer at least half a thousand games, and more than a thousand, most of the time. You can play literally hundreds of online casino games Poland and never get bored. Moreover, these will be the latest and popular games of the most respected providers in the industry.
Local payment options. While evaluating payment methods, we make sure that our carefully selected online casino Poland sites are able to offer localized options, such as PayU, Przelewy24, TPay, and Dotpay. And of course, pre-paid card services such as AstroPay and Paysafe, so you can continue to make deposits and withdrawals without a worry.
In short, we select our casino sites according to the specific needs of Polish players and offer you geo-targeted reviews. In order to play Poland casino games online without interruption, you can pick any of the Poland casinos online mentioned in this article.
Poland Casinos Online FAQ
At the time of this article, it was possible to access any of our recommended Poland casinos online freely. So, at least for now, you do not need to use any VPN. However, this situation may change in the future, as the government actively keeps adding new online casino Poland sites to its "blacklist". If such a thing happens, you may need to use a VPN service in the future. If this happens to be the case, we recommend using free VPN services such as WindScribe and TunnelBear.
Yes. The casino operators must pay 50% of their annual income as tax. (This rate is only 2.5% for sports betting operators, for some reason.) Players also need to pay taxes for gambling winnings: If you win less than 85.528 PLN, you will pay a flat 18% income fee. If you manage to win more, you will pay a 32% tax + a fixed 14.839 PLN fee.
Due to restrictions on banking, you should always prefer pre-paid card services (such as Paysafe Card) for depositing money. They cannot be tracked and blocked. And to withdraw your winnings, we recommend two methods: Cryptocurrencies if you know how to use them, or e-wallet services such as Neteller and Skrill. Cryptocurrency transfers cannot be tracked and blocked in any way, but they are a little complex to use. E-wallets are more practical and the recipient information will be listed as the payment provider itself, not the casino site. In any case, do not use bank transfers: They will be blocked at some point.
Find New Online Casinos For Poland, Create An Account Today
We can find you an online casino to play, no matter where you live in the world: We are that good. And this applies to online casino Poland sites too, of course. In this article, we explained everything you need to know about online gambling and Poland online casino sites; and we even listed the best casinos to play. Now, it is your turn: Create an account at one of our recommended casino online Poland sites and start playing today!